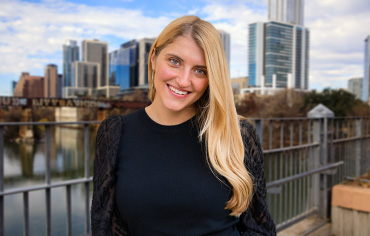 Are You Buying or Selling? I'd Love to Help!
As a full-time Realtor and having successfully executed numerous transactions representing both buyers and sellers, Becky has a profound understanding of the Austin real estate market.
Becky will be your biggest supporter and advocate; she puts her clients and their interests above all else in each real estate transaction. Her attention to detail, transparency, responsiveness, and professionalism are only a few other reasons why clients love working with Becky.
Strong and genuine relationships are at the heart of Becky's business. Through concise, clear, and frequent communication Becky truly goes above and beyond to ensure that her clients feel entirely confident, comfortable, and excited about the buying/selling process.
Becky lives in Kyle with her fiance, David. When not working with clients or out keeping up with market trends, you can find Becky at the local OrangeTheory, sipping on her favorite coffee at Summer Moon, or attempting to tire out her two dogs, Pisco and Sadie.