2020 Texas Real Estate Market Year in Review: What Happened Out There?
Hello and we hope you're doing well! This year has been one for the books every way you look at it and the Austin real estate market was no exception. We received confirmed market statistics from our friends at Independence Title, which are available for download here. These stats certainly didn't surprise us, but they were absolutely unprecedented (we've been using that word a lot lately.)
Real Estate Market 2020 Highlights:
The number of new listings on the real estate market didn't really change.
Demand for Austin real estate was WAY up.
Prices increased dramatically in the real estate market as a result.
We expect more inventory to hit the housing market, but it might not satisfy the demand.
Demand will continue to increase until the national news cycle changes.
First – The # of New Listings on the Texas Real Estate Market Didn't Really Change

While it certainly didn't feel like it, new listings to the Austin real estate market remained relatively unchanged in 2020 vs 2021, with only a -1.2% decrease in new listings to the market. Given that we're seeing an incredibly tight real estate market, this was hard to believe until we dug a little deeper.
Second – Demand Was WAY Up in the Texas Housing Market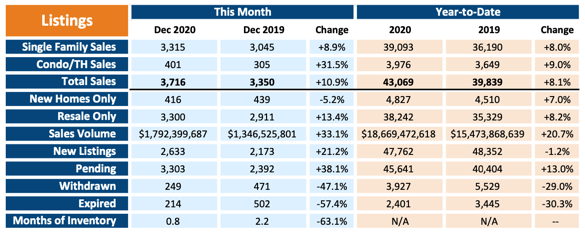 We saw a +10.9% YOY increase in sales in December & a +8.1% increase for the year in Austin properties. It's important to remember that properties effectively exit the market when they are pending, so we generally look to pending units as a better measurement of demand. 2020 saw an overall increase of +13% in pending units. December 2020 saw a 38.1% YOY increase in pending listings. Since there was no significant change in the # of new listings & a massive increase in pendings, we saw a historically low inventory level at 0.8 months of inventory. It's important to remember that anything <3 months of inventory is a seller's market.
Third – Prices Increased Dramatically in the Texas Real Estate Market as a Result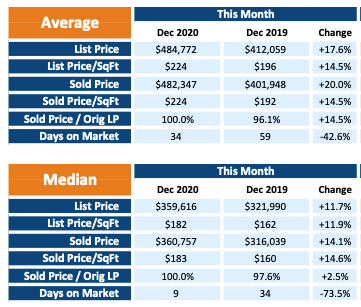 The incredibly tight inventory caused the most rapid appreciation that Austin has ever seen. Median Sold Price increased +14.1% to $360,757 and Avg. Sold Price increased an unprecedented +20% to $482,347. Median Days on Market dropped to 9 days on market. Effectively, sellers sold faster than we've ever seen & at higher prices than we could have expected. Buyers are understandably frustrated.
What Do We Expect to Happen in The Texas Real Estate Market?
We absolutely expect more inventory to hit the real estate market in Texas, but we're not sure if that inventory will satisfy the demand. The earliest leading indicator that we track is inbound marketing call volume. Looking at our past 30 days of data, we've seen a 331% increase in inbound marketing call volume. This indicates that demand for real estate in Texas will remain incredibly strong through the spring.
It's important to understand how impactful the news cycle is to the local real estate market. Right now, Austin is in major headlines across the United States as "the place to move." Potential relocation buyers see these headlines and contact agents, and they begin looking for homes & making offers. At some point, the news cycle will change & Austin's inventory shortage will be covered at the national level. When this happens, it should help alleviate some demand in certain price points. Rather than being viewed nationally as a mecca for affordable housing, buyers will learn that we have a housing shortage and aren't, well, that cheap anymore.
It's important to understand that all real estate is hyperlocal and changes in different sub-markets. We also see changes throughout the year in real estate with the seasonality of the Austin market. If you'd like to learn more about any specific sub-market, please don't hesitate to reach out to our Texas real estate company for more information.
Contact us online or give us a call at 512-833-5445 to speak with a representative from our team of professional realtors in Austin, Texas.
Thanks so much!!!
Additional Readings
:
January 2021 Austin Market Update: What's Happening Out There