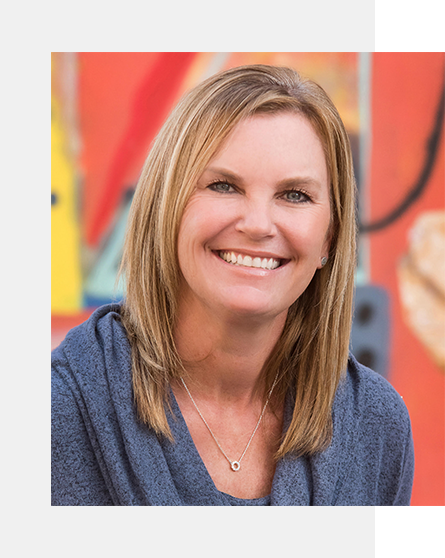 A tale of persistence, self-discovery and pursuing your dreams
Tara McGuire, REALTOR at Bramlett
Residential Real Estate
Company Stats
Year Started in Real Estate: 1999
Joined Bramlett Residential: 2015
3 Agent Team w/ 1 Assistant
Results
2021 Transactions: 81
2021 Transaction Volume: $61.1M
2022 Austin Business Journal Residential Real Estate Award Winner
"My goal this year is to not exceed my goal," quips Tara McGuire, who has been a REALTOR with Bramlett Residential Real Estate since January 1, 2015. "My team's goal is $50 million. We are currently at $35 million."
While Tara makes this statement with a twinkle in her eye and a bit of a playful smile, there is also a serious undertone to those words, which reflects a deep level of self-awareness.
You see, Tara has never been someone to stay still. A goal has been reached? Why not push yourself a little harder so you can blow that goal out of the water? It's a hunger that she continuously feeds, thanks to a passion for what she does coupled with a level of self-motivation that can sometimes make it hard for Tara to take a break and enjoy the fruits of her labors.
"I enjoy the success of selling homes," she says. "I really do love what I do."
With such a high level of self-motivation and desire to achieve, however, it can be sometimes difficult for Tara to turn her mind off and put real estate on the back burner. Simply relaxing and achieving the ideal work/life balance can be a challenge.
"I recently googled 'hobbies for retirement'," Tara jokes. "I can't pick up a book and read. My yard is picked up. Everything is organized. I just don't know what I would do with my time if I wasn't doing what I do."
I enjoy the success of selling homes. I really do love what I do.
Tara McGuire
REALTOR at Bramlett Residential Real Estate
Taking it Back to the Start
The Beginning of It All
Tara started her path in real estate 23 years ago. As part of Keller Williams Realty, she grew a team that soon came to be recognized as the number one real estate team internationally. Eventually, along with her business partner at the time, she formed her own brokerage and ultimately expanded it to a team with nearly 100 agents.
While at her brokerage, Tara focused primarily as serving as the company's COO. As the COO, she was responsible for handling the systems and lead generation as well as training agents, overseeing compliance and running the admin team. While she didn't actually help clients directly with buying and selling homes, she was responsible for training her agents to effectively meet the needs of the company's clients.
Despite the booming growth of the business, Tara and her business partner decided to part ways in 2011. It was then that she decided she wanted to make a change.
"What do I do with my life?" she asked herself. "Do I do consulting? House flips? Do I become a real estate agent, where I can be responsible for nobody but myself?"
Though she understood the back side of brokerage, she didn't want to make cold calls or take on the responsibility of starting a new brokerage firm. So, she reached out to several agents and ultimately chose to bring her expertise and enthusiasm to Bramlett Residential Real Estate.
Moving Forward and Onward
A Match of Fate
At the time when she joined Bramlett Residential Real Estate, the company was comprised of only one other agent and its current co-owner, Eric Bramlett. Bramlett was, however, looking to expand his firm by adding the perfect REALTORS to bring on board to his team.
"I liked that he was laid back," recalls Tara.
She also enjoyed the collaborative spirit of the company, where she could have input in developing the company's systems while also being left alone without a lot of hand holding.
"Eric has a crazy amount of systems in place," she marvels. "Everything is written down and all online for agents to know how to do everything that they need to do. The instructions are very detailed."
But the number one thing that Tara loves about working with Eric?
The leads.
They are high quality agents who care a ton about their agents and don't have egos.
Tara McGuire regarding Bramlett Real Estate REALTOR
at Bramlett Residential Real Estate
"The leads are very good," she says. "Leads are very expensive to get. The average conversion rate of a typical real estate lead is maybe around 2 percent, which means there is a lot of cold calling involved."
With Eric's company, Tara says there are not only a lot of leads, but there are a lot of good, high-quality leads. Overall, she believes the conversion rate with the leads provided by Bramlett Residential Real Estate is more like 25 percent rather than the typical 2 percent.
"I still don't know how he does it," Tara says with a bit of a chuckle.
But the systems and the leads aren't the only thing that keeps Tara working as a part of the Bramlett Residential Real Estate team.
"They are very particular about who they hire. They make sure they are a good fit," Tara says. "They are high quality agents who care a ton about their agents and don't have egos."
With a culture of collaboration and a mentality of abundance, Tara says "everyone wants everyone to be successful" at Bramlett Residential Real Estate. The culture is so positive and supportive, in fact, that new agents coming on board with the firm have wondered out loud if it is too good to be true. Tara has had similar thoughts herself, but has been around with the firm long enough to know that good things really do happen for those who aren't afraid to seek something new and better – and Bramlett Residential Real Estate is just the place to do it.
The Secrets of Success
Bringing Her A-Game
When it comes to her success in the real estate industry, Tara largely attributes it to her personal philosophy as a REALTOR.
"I am very honest. I don't sugar coat anything," she remarks. "I am super transparent, down to earth and care a whole lot."
After partnering with her new husband, Craig, and working with some of his clients on his behalf, Tara jokes that she found it to be a "total eye opener" to discover the differences in their approaches. While her personality is more direct and efficient than that of her husband's, both Tara and Craig always strive to represent the best interests of their clients.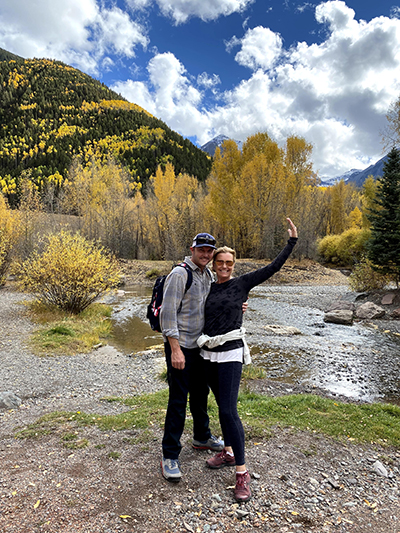 Tara hiking in Telluride, Colorado with her husband and business partner, Craig.
"It floors me if I get someone who is unhappy. It hurts me so bad, but it is typically due to miscommunication," she says. "I am hugely motivated. I am hugely efficient. And I care a whole lot."
It is this motivation and efficiency that made it possible for Tara and her team to complete a total of 81 transactions in 2021 with a volume of $61.1 million. It is also what led to her becoming a 2022 Austin Business Journal Residential Real Estate Award Winner.
Yet, despite her impressive numbers, it is the human impact of her job that ultimately keeps Tara motivated.
"It melts my heart because, at the closing table, clients will be like, 'Oh, gosh! We are so happy we met you!'" she says. "To read their reviews, that is where I get the pat on the back and the 'feel good'. I am helping them achieve their goals."
Finding Time for Fun and Family
Achieving Balance
Despite her insistence that she is not sure what she would do with her time if not for real estate, Tara's life is clearly one that is full of abundance and adventure to any outside adventure. Having remarried over 5 years ago to her new business partner and husband, Craig, the couple are now building their own real estate team. Still fairly new to real estate, Craig initially got his license primarily so he could help Tara with her work overflow.
"I was coming apart at the seams," Tara recalls.
But Craig took to real estate so quickly that he became number three in the brokerage in his second year in the industry.
"Craig killed it," she says, with a hint of pride and admiration in her voice.
That same pride overflows to almost uncontrollable levels when Tara talks about her children, Mason (aged 21), Aden (aged 19) and Samantha (aged 16).
"They are so amazing. Every day I am in awe of their accomplishments and so incredibly proud of how responsible they all are. I'm so excited to continue to see them grow in their success!"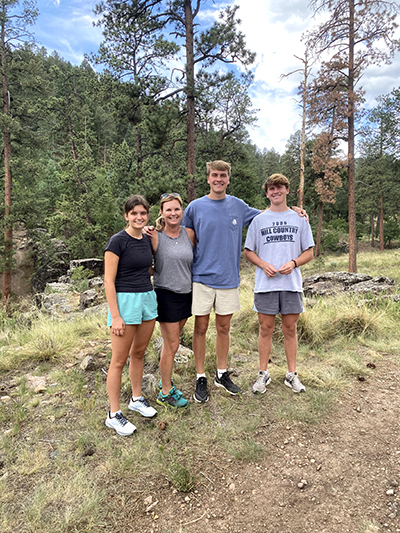 Tara and her children Samantha, Mason and Aden
Tara and her husband also recently purchased a vacation home in Durango, which they got to visit about six times last year while still keeping up with their clients and meeting their needs. While there, the couple enjoys skiing and exploring the local hiking trails. She and her husband have also started to regularly play pickleball with Tara's sister and her husband, while golf has increasingly become a hobby of interest for her.
"But not too frequently," Tara says about playing golf. "Due to the time commitment."
It seems that the thought of being tied up for four hours for a round of golf is a bit of a problem for someone who is always on the move and looking for ways to best meet the needs of her clients.
And, of course, as someone who is always on the go and looking ahead toward the future, Tara continues to look for ways to further grow her business. In fact, she recently asked her friend of 20 years, Stacy Zellner, to join The McGuire team as a buyer's agent.
"Why not work with your friends and have fun along the way?" Tara thought
Having fun extends well beyond the workplace for Tara and her friends. She cherishes her time with girlfriends so much that she even plans a girls' trip with Stacy and several other friends every year.
With less than half of 2022 in the books, Tara and her team are almost two-thirds of the way to their $50 million goal for the year. Will she take time off once she reaches that goal, or will she hold firm to her goal to not exceed her goal? If her past track record is any indication, Tara isn't likely to close shop for the rest of the year. Not when there are still houses to sell and clients in need of a quality REALTOR to handle the deal. On the other hand, as a woman who sets her sights on a goal and works relentlessly until she earns it, maybe Tara will hold true to her 2022 goal and instead will devote more time to perfecting that golf swing and enjoying that vacation home in Durango.
"Be happy and have fun," Tara declares as her personal life philosophy. Undoubtedly, she will find a way to make this happen in the way that is most meaningful to her.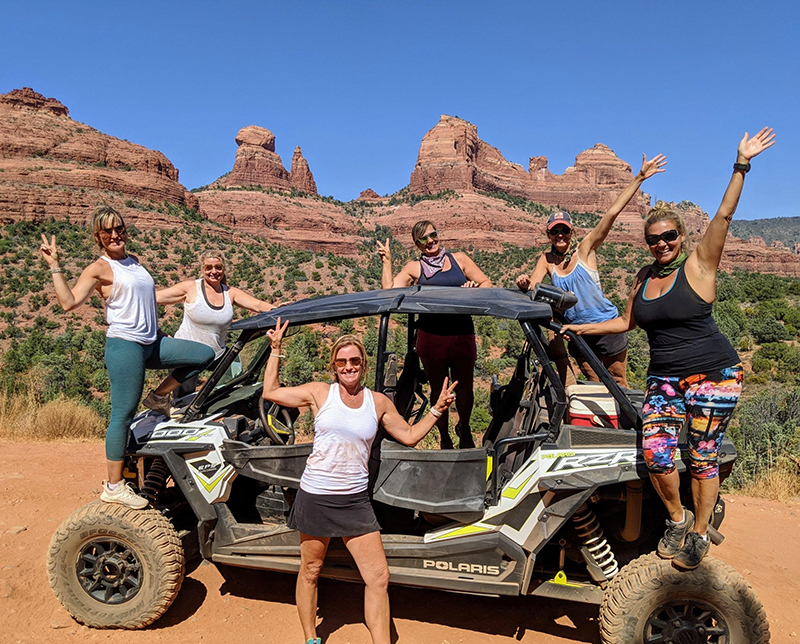 Tara enjoying quality time with friends on a girls' trip to Sedona, Arizona