12 Best Neighborhoods in East Austin
, Feb 3, 2023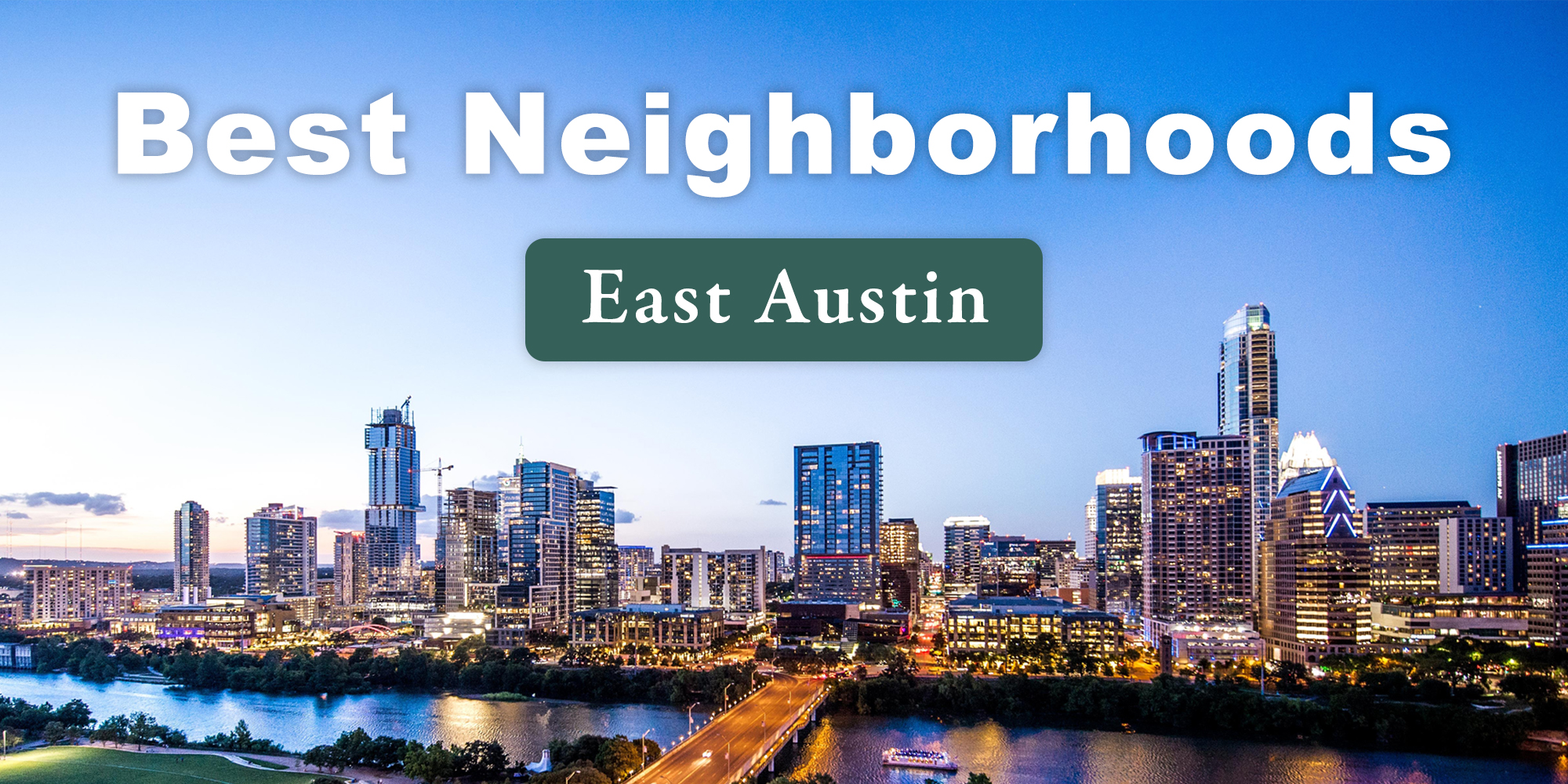 Rich in culture, entertainment, and restaurants, East Austin is a rapidly-growing section of Austin offering more affordable options than Central Austin while remaining conveniently near Downtown. With its energetic atmosphere, numerous museums, ample parks, and hip cafes, the opportunities for entertainment, relaxation, and recreation in East Austin are seemingly endless.
Considered to be one of the most diverse areas in Austin, East Austin attracts young families, artists, college students, entrepreneurs, and more. Known for its experimental theaters and music venues, East Austin also has one of the highest concentrations of food trucks in the city. Meanwhile, homes available in East Austin range from eco-friendly bungalows with metal roofs to lovingly-restored mid-century ranch homes.
Served by the Austin Independent School District (ISD), children living in East Austin enjoy access to an innovative curriculum combined with strong extracurricular programs. The region is also served by magnet programs for gifted students, including the Liberal Arts and Science Academy and the Kealing Magnet Program.
Amenities and attractions in and near East Austin include the Edward Rendon Park at Festival Beach, Lady Bird Lake, Govalle Park, Rosewood Park, Huston-Tillotson College, French Legation Museum, and Carver Library.
---
Best Neighborhoods in East Austin
East Austin is a vibrant and diverse area of town that is full of life and culture. It is home to some of the best neighborhoods in the city, and each one has its own unique character and charm. From the east end to the southeast, here are 12 of the best neighborhoods in East Austin:
---

Boundaries:

North: East 7th Street
East: Govalle Neighborhood
South: Lady Bird Lake
West: East Caesar Chavez Neighborhood

Characterized by its wide, tree-lined streets and murals, the Holly District has been recognized by Time Out magazine as "Austin's Coolest Neighborhood." Once comprised mostly of single-story wooden houses, much of the neighborhood's current offerings include large, upscale homes interspersed with multi-story condominiums and apartments.

With Lady Bird Lake forming one of its boundaries and Downtown Austin being just minutes away, the Holly District offers plenty of amenities both in and around the neighborhood. Edward Randon Sr. Park, which is situated along the Ann and Roy Butler Hike-and-Bike Trail and Boardwalk is located within the neighborhood. The park offers playgrounds, picnic tables, grills, a swimming pool, and a fishing pier. Additional green space can also be found throughout the neighborhood thanks to its numerous "Grow Zones," which are designed to keep parts of the Holly District natural and wild.

---

Boundaries:

North: US-290
East: US-193
South: Windsor Park Neighborhood
West: Northeast Drive

With a history that dates back to 1961, University Hills is a planned community located just north of the Windsor Park neighborhood. Comprised primarily of midsize, competitively-priced homes, properties within the Windsor Park neighborhood are generally slightly younger than most of the other original homes found in Austin. Styles typically range from traditional one and two-story designs, though some homes within the neighborhood have undergone extensive remodeling.

Numerous amenities are located in and around the neighborhood, including the Little Walnut Creek District Park and the nine-hole Harvey Penick Golf course. The nearby Dottie Jordan Park offers basketball courts and an outdoor swimming pool, while the Walter E. Long Metropolitan Park and Lake offers ample boating, floating and fishing opportunities.

---

Boundaries:

North: Highway 290 and University Hills Neighborhood
East: Northeast Drive
South: 51st Street
West: Interstate 35

Established in the 1950s, the middle-class Windsor Park neighborhood is characterized by its wide streets, well-tended yards, large trees and classic ranch-style homes. With its family-friendly atmosphere and affordable prices, homes in the neighborhood tend to offer two- and three-bedroom floor plans while averaging more than 1,100 square feet in size. Many of the renovated homes within the neighborhood have preserved the mid-century aesthetic that characterizes the community.

Located just six miles north of Downtown Austin, Windsor Park provides residents with easy access to all that Austin has to offer. Within the neighborhood itself, residents enjoy ball fields, a disc golf course, basketball courts, a splash pad, a swimming pool, a library and picnic shelters. Many eateries, pubs and coffee house can also be found just off of 51st Street, while the Mueller neighborhood and its shopping opportunities and restaurants is located just one mile south of the neighborhood. Bike lanes and public transportation also make commuting a breeze.

---

Boundaries:

North: Wilshire Boulevard
East: Cherrywood Road
South: Manor Road
West: Interstate 35

Originally owned by the Giles Family in the 1940s, the French Place neighborhood is considered to be one of Austin's oldest communities. A subdivision of the Cherrywood neighborhood, French Place is characterized by streets lined with full-grown native trees and an artsy vibe. Homes within the community consist primarily of vintage bungalows, craftsman cottages and larger ranch-style homes built in the 1960s and ranging widely in size and design.

Residents of French Place enjoy access to numerous nearby amenities, including those that can be found in Downtown Austin and at the University of Texas. The popular Manor Road Restaurant Row is also located in French Place, as is the Alamo Parkland Recreation Center and Patterson Park.

---

Boundaries:

North: Oak Springs Drive
East: Highway 111
South: Lady Bird Lake
West: Webberville Road

Offering an urban-suburban mix feel, Govalle is an ethnically diverse neighborhood that was once known for its inexpensive housing. In recent years, however, the neighborhood has been undergoing a transformation thanks to its active Neighborhood Association and the construction of newer, more expensive homes in the area.

With Lady Bird Lake forming one of its boundaries and Downtown Austin being only a short distance away, Govalle provides its residents with easy access to an abundance of amenities. The Ballet East Dance Company is also located in the community, as are a couple of theater companies and some live music venues. A historic pecan grove serves as the centerpiece of the neighborhood while providing green space for residents to enjoy.

---

Boundaries:

North: E 51st Street
East: Manor RoadEastEast
South: Airport Boulevard
West: Interstate 35

Situated on the former site of the Robert Mueller Municipal Airport, Mueller is a 711-acre Planed Unit Development (PUD) mixed-use community that began construction in 2007. Housing options range from single-family and multi-family houses to apartments, townhomes and condo houses. Builders involved in the development include Standard Pacific, Streetman, David Weekley, Avi and Centerra. Strict green housing guidelines are followed throughout the community.

Located just three miles from Downtown Austin and two miles from the University of Texas, the community offers a convenient location while offering plenty of amenities of its own. These include numerous restaurants, a shopping center, food trailers, retail space and modern offices. Public transportation options within the community provide easy access to amenities in and around the Mueller neighborhood. 140 acres of open space and parkland within the community provide residents with ample green space to enjoy.

---

Boundaries:

North: Lady Bird Lake
East: Grove Boulevard and Montopolis Neighborhood
South: Texas State Highway 71
West: Interstate 35 and South River City

Located just a short drive from Downtown Austin, the East Riverside-Oltorf neighborhood was formed when East Riverside, Pleasant Valley and Parker Lane came together to form one Neighborhood Planning Area. The urban neighborhood offers an abundance of apartments and mixed-use developments combined with single-family homes.

The East Riverside-Oltorf neighborhood is home to numerous restaurants, parks and opportunities for outdoor recreation. Among these are Mabel Davis District Park, which is home to the city's first 12,000-square-foot concrete skate park as well as several walking trails, basketball courts, a swimming pool and a playground. Meanwhile, Peace Point at Lady Bird Lake Metropolitan Park offers access to a wide variety of water-based activities. The 400-acre Roy G. Guerrero Colorado River Metropolitan Park, which is home to Secret Beach, is also located in the neighborhood.

---

Boundaries:

North: Manor Road
East: Texas State Highway 111
South: Webberville Road
West: Boggy Creek Greenbelt Trail

Offering everything from single-family homes to condos, the diverse community of Rosewood is characterized by stunning landscapes and beautiful views. From early-to-mid-20th-century minimal traditional homes to newer construction that ranges in size from 500 to more than 2,300 square feet, Rosewood has something for everyone.

Situated near to the University of Texas and offering an abundance of public transportation options, residents of Rosewood can easily access all of the amenities located inside and outside of the neighborhood. Meanwhile, the trendy Harvey Street with its many eateries is within walking distance of the community. Rosewood also offers ample wide-open green spaces where residents can enjoy the outdoors, with many homes being located directly across from the Boggy Creek Greenbelt. The Southern Walnut Creek Trail is also located nearby.

---

Boundaries:

North: Wilshire Boulevard
East: Airport Boulevard
South: Manor Road
West: Interstate 35

Characterized by its artistic vibe and narrow streets lined with oak and pecan trees, the quiet, yet thriving community of Cherrywood was formed when Schieffer Place, Willow Brook. University Park, French Place and Avalon merged to create one community. Real estate opportunities within the neighborhood include a mix of ranch-style homes, bungalows, craftsman cottages and two-story stucco duplexes, most of which were built between the 1930s and 1950s.

With Downtown Austin's Entertainment District being just four miles away, residents don't have to travel far to enjoy all that the city has to offer. Within the neighborhood itself, residents will also find plenty of eateries and coffee shops. Meanwhile, Patterson Park offers basketball and tennis courts, a skateboard park and a swimming pool. The nearby Mueller Lake Park also offers abundant green space, walking trails and a pond.

---

Boundaries:

North: Manor Road
East: Johnny Morris Road and Colony Park Neighborhood
South: Springdale Road and Highway 111 Intersection
West: Highway 111 and the Windsor Park and University Hill Neighborhoods

The Martin Luther King, or MLK, neighborhood is a community that it gradually improving. Properties within the community include many townhouses and larger homes being built in the area. Most of the upscale townhouses are located in the north section of the neighborhood, with the central portion of the neighborhood being dominated by modest, charming homes resting on tree-lined streets.

Located far from Downtown Austin, the MLK neighborhood offers an abundance of green space for residents to enjoy. The Givens District Recreation Center offers numerous fields outside as well as a weight room, a gymnasium and a swimming pool on the inside. Other parks in the area include J.J. Seabrook Park, Springdale Park and the Morris-Williams Golf Course. Public transportation is readily available, while several local highways and major thoroughfares also pass through the neighborhood to provide easy access to all of the city's amenities.

---

Boundaries:

North: Northridge Drive
East: Waterbrock Drive
South: E. 51st Street
West: Cameron Road

The quaint, tree-lined neighborhood of Delwood is comprised of three separate areas that were constructed in phases following World War II. Delwood I is located to the north of the Cherrywood neighborhood and shares a park as well as a neighborhood association with the adjacent Wilshire Woods. Homes in this portion of the neighborhood tend to reflect charming mid-century architecture. Delwood II is north of Airport Boulevard, while Delwood III is north of 51st Street. Homes in these two areas tend to vary between pier and beam and slab foundations. Homes in Delwood III tend to be larger than those in Delwood I.

Residents of Delwood enjoy easy access to a variety of restaurants, shops, and recreational opportunities, including the Delwood Shopping Center, the Pharr Tennis Center, and the Morris Williams Golf Course. The green spaces of Boggy Creek and Mueller Lake Park are also located nearby.

---

Boundaries:

North: Loyola Lane
East: Toscana Avenue
South: Farm to Market Road 969
West: Interstate 35

Also known as Meadows at Trinity Crossing and Agave 969, the Agave community boasts scenic views of Downtown Austin as well as the greenbelt. Set on a rolling hillside, the Agave neighborhood was originally developed in 2006 with just 500 homes. Homes available in the community do, however, date back as far as the 1980s, with designs ranging from quaint cottages to Mediterranean-inspired homes.

Located within 10 minutes of Central Austin, the Agave community offers easy access to all of the city's amenities. Walter E. Long Metropolitan Park, which includes a large lake, is located near to the community, as is the Morris Williams Golf Course. The neighborhood of Mueller, with it ample dining, shopping and entertainment options is also located nearby, while the community itself boasts the HEB grocery store and Alamo Drafthouse Cinema.