4 of the Best Neighborhoods in Cedar Creek
Shannon, May 4, 2023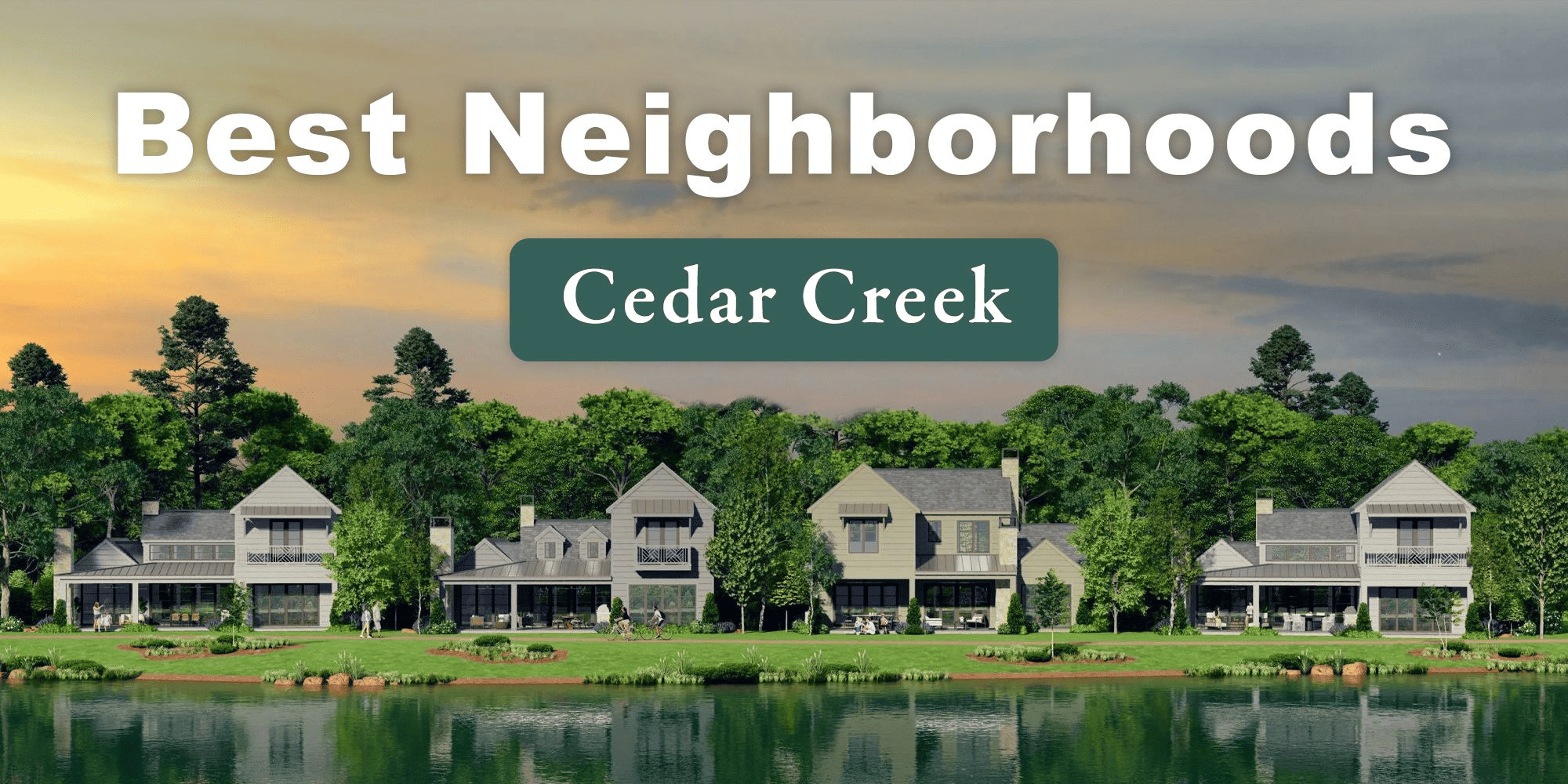 An unincorporated community within Bastrop County, the small town of Cedar Creek offers a peaceful living experience without sacrificing major conveniences. Several restaurants, shops, grocery stores, parks, and other attractions can be found within walking distance of the community. Meanwhile, Downtown Austin is only about 20 miles away, while the charming town of Bastrop is just an 11-mile drive from Cedar Creek.
For nature lovers, Cedar Creek has much to offer in terms of recreation as well as opportunities for living in a home within a country setting. McKinney Roughs Nature Park, which offers hiking, biking, and horseback riding trails, is located near the former community center. In addition, Cedar Creek, which is actually a tributary of the Colorado River, also passes through the west side of town. Other attractions within the town include the 405-acre Hyatt Regency Pines Resort and the 46-acre Cedar Creek County Park, which features baseball, soccer, and football fields, sand volleyball, basketball, and tennis courts, nature trails, picnic tables, and historic sites.
School-aged children who live in the town of Cedar Creek are educated by the Bastrop Independent School District. In all, the district serves more than 12,000 students from within the town of Cedar Park as well as other communities in Bastrop County. The district has an early college high school, a nontraditional online high school, two middle schools, two intermediate schools, and six elementary schools.
Best Neighborhoods in Cedar Creek
What are the best places to live in Cedar Creek? We have you covered with some of the best Cedar Creek neighborhoods below!
---

Boundaries:

North: Buteo Street
East: Estate Row
South: Old 71
West: Colorado Drive

With homesites measuring one acre or more, each neighborhood in the Double Eagle Ranch community offers gorgeous views of the Texas Hill Country coupled with luxury homes with wrap-around porches, side-entry garages, and a seemingly endless supply of features and finishes from which to choose. Boasting a variety of designs, sizes, and price points, Double Eagle Ranch has something to suit just about any need.

Thanks to its central location between Austin and the charming town of Bastrop, the Double Eagle Ranch community provides residents with the joys and amenities of country living without sacrificing big city amenities. With the Colorado River located nearby, residents also enjoy easy access to all of the recreational opportunities the river has to offer. Lake Bastrop Park, Bastrop State Park, and McKinney Roughs Nature Park are all located nearby in a master-planned community, as is the award-winning Lost Pines Hyatt golf course.

---

Boundaries:

North: High Point Boulevard
East: Oak River Drive
South: SH 110
West: Wolf Lane

With the construction of affordable homes taking place primarily between 1999 and 2003, the Elm Ridge community offers single-family two- and three-bedroom homes in a variety of styles and price points. Homes in the neighborhood tend to be moderately sized, with typical measurements being mostly between about 1,200 and 1,800 square feet.

With its convenient location near SH 110, the Elm Ridge community provides residents with easy access to nearby Bastrop as well as Downtown Austin. The community itself is home to restaurants and other conveniences, while a variety of shops and other businesses are located in the community garden's surrounding vicinity.

---

Boundaries:

North: Gato Road
East: Guajolote Street
South: State Highway 21 W
West: Gato Road

Known for its picturesque surroundings, the peaceful community of Las Alamedas boasts a variety of beautiful one- and two-story homes designed with luxury living in mind. Characterized by their contemporary designs, typical features found in the community's homes include high ceilings, open floor plans, large windows, and spacious bedrooms.

Situated within a park and within easy driving distance from Austin, the Las Alamedas community provides residents with easy access to a full community pool and a wide variety of entertainment, shopping, and dining options. Within Cedar Park itself, nearby SH 21 allows residents to quickly reach the services, restaurants, and shops the community has to offer.

---

Boundaries:

North: Colorado River
East: Double Eagle Ranch Road
South: Old 71
West: Colorado Drive

Featuring mostly large single-family homes dating back as far as 1997, the luxurious River Crossing community boasts homes in a variety of styles that range in size from around 2,300 to more than 5,200 square feet. As an equestrian community, more affordable homes, the one- and two-story homes within River Crossing sit on large plots of land, with sizes generally ranging from 1.5 to 7 acres.

With the Colorado River forming its northern border, the River Crossing community provides residents with ample opportunity to enjoy the area's grand outdoor space. At the same time, Austin-Bergstrom International Airport is only 15 miles east of the community, while Downtown Austin is about a 40-minute drive away. The community itself boasts walking trails, bike trails, riding paths, wooded areas, pastures, paved roads, a gated entry, a pool, and two community parks, one of which offers a boat dock on the Colorado River.