Interest Rates + Property Tax Increases = A Shifting Market
The real estate market has kept us on our toes since early 2020 and it doesn't look like it will stop anytime soon.
~~ Get Market Updates for Your Neighborhood w/ SOLD Info Here ~~
We touched on this in our last email, but we're now more confident in making the call that the market is shifting quickly and to a larger degree than we originally predicted. There are two factors at play here: 1) Rising interest rates and 2) Increasing property taxes.
Rising Interest Rates
The Fed increases interest rates in order to slow the economy. We shouldn't be surprised that all markets are cooling, but it is surprising just how effective interest rates are at dialing markets up and down. Mortgage rates aren't directly tied to the Fed, but the Fed Rate affects mortgage rates more than any other variable. The Fed has indicated that they will continue to increase rates marginally.
When mortgage rates go up, buyers have less buying power. Many buyers choose to sit out, and sellers choose not to sell (when they can.) A $500k loan at 3% has about the same monthly payment as a $350k loan at 6%. If I'm a buyer who was approved for ~$500k 6 months ago, I can now afford ~$350k. If I'm that buyer, I might just choose to sit out this year. Likewise, if I'm a potential seller who currently has a mortgage at 3%, there's a good chance that I won't sell because I'd then have to buy back in at today's mortgage rate. The net effect is that less homes are sold, but inventory (which is a function of supply and demand) doesn't change much.
Increasing Property Taxes
Property tax values increased dramatically when they were released recently. Travis County saw an average increase of 53%. Most homeowners are protected by their homestead exemptions, but investors are not. We've already seen an increase in investor inquiries to sell their properties and we expect this trend to continue (and potentially increase.)
If I'm an investor who bought my property 5-10+ years ago, there's a good chance that I have deferred maintenance and a tenant in the property at under market rent. In order for me to get to market rent (and return to my previous cashflow position), I likely have to invest $50k (or more.) Or, I could just sell and take a significant profit. We're already seeing more investor owned properties (that are in varying stages of disrepair) hit the market and we think this will increase.
Mid Month Market Statistics
We rarely do this, but we took a quick look at mid-month statistics for May. We have the full set of statistics linked to from this page, but the highlights are below.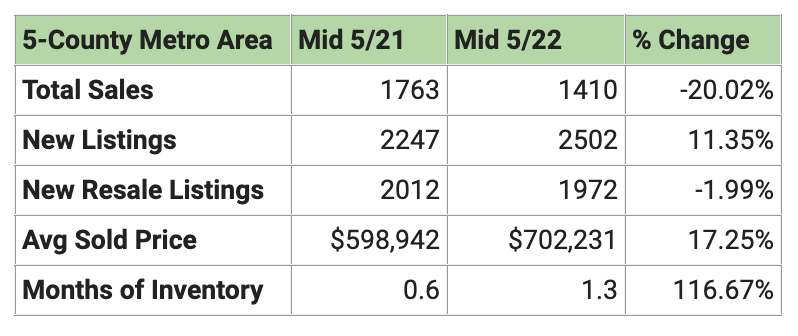 Total sales are down 20% and new listings are up 11.35%. The increase is almost entirely due to new construction, which is almost entirely in the outlying areas. Appreciation hasn't slowed compared to earlier 2022, but we do expect it to calm down as pricing reacts to fewer sales. We absolutely don't expect prices to come down, but we do expect appreciation to slow. Months of Inventory have more than doubled.
What hasn't changed?
Austin is still the best economy and job market in the world. Our own news feed is part national news and part local Austin news. This feed is pretty bipolar, as national stories focus on a potential recession while local business headlines are comprised entirely of incredibly positive news for the city of Austin. The buyers who choose to sit out this year will likely enter the market next year as rent increases and they continue to be dissatisfied with their rental. Sellers who sit out this year will enter the market next year as their "too-small or too-big home" they're currently in is still too small or too big for them and they come to terms with higher interest rates. In short, Austin's real estate market will hum along this year and then return to its "scream along" status next year.
If you're a buyer
It's really hard to stomach the new interest rates, but those are unlikely to come down (and are likely to go up.) If the Fed does change course and lower rates, then you can always refinance if you purchased at the peak. We're seeing the first buying opportunity since the start of the pandemic. If you can come to terms with the new rates, 2022 is objectively a great year to buy.
If you're a seller
The value of your home hasn't come down and it won't come down. Your experience selling this year will be less pleasant than it would have been a couple of months ago or last year. You're back to a "normal seller's market" rather than "the hottest seller's market in Austin's history." Pricing is very important. It may take you a few weeks (or maybe a couple of months!) to sell your home. It's understandable if you decide to sit out this year, but the price you fetch this year probably wouldn't be much different than next year. (If you're selling in order to up/downsize, then the net effect won't be different at all.) If you plan to sell this year, and you're feeling down, look at the 2021 (or even 2020) value of your house and that will cheer you up!
Always bear in mind that real estate is hyperlocal and hyper-situational so please reach out to us if you have questions over your specific market or situation. We'd absolutely love to help!