Things To Do Around Lake Travis
nkats, Mar 7, 2022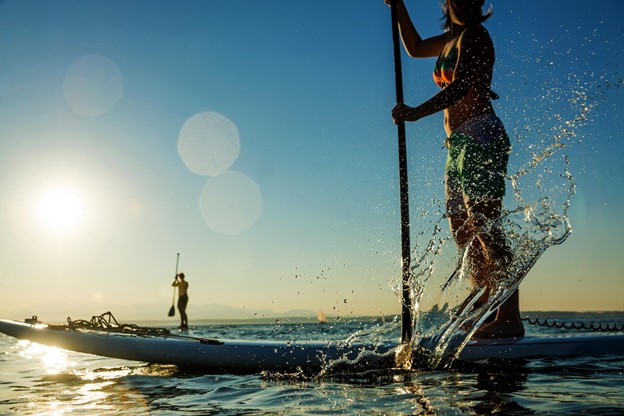 If you've recently moved to a Lake Travis neighborhood, you might be looking for new ventures or familiar activities to pursue. From water activities to land adventures, this article will help you get to know some of the fantastic activities that await you at Lake Travis.
Water Activities
Lake Travis boasts a healthy list of water activities; here are just a few favorite pastimes you can look forward to.
1. Paddleboarding
Paddleboarding is enjoying a lot of popularity these days. It's basically skating around the lake on, well you guessed it, a paddleboard. You can grab one at most rental places in the area for about $20 to $30 per hour. Of course, you will need to know how to swim so bring along your gators just in case.
2. Rent a Boat or Jet Ski
Who says you only need to paddleboard around the lake? Why not get a little speedboat or jet ski and tear up the open waters of Lake Travis? You can rent a jet ski for around $125 per hour.
3. Scuba Diving 
If you really want to explore what is below the water, scuba diving is your ticket. You can actually take a class and learn how to properly use the gear around Lake Travis. This is not only fun, but it's also good exercise.
4. Volente Beach Resort and Waterpark
Located lakeside at Volente Beach, Volente Beach Resort and Waterpark is probably one of the most visited places in the summer months. This place has it all for you and your family. The resort has a boutique waterpark with slides, pools, and bungalows, that will keep everyone happy. Of course, there's also food, drinks, and snacks available throughout the park.
5. Waterloo Adventures, Lake Travis
Located on Lake Travis near downtown Austin, Waterloo Adventures provides numerous activities to enjoy around the lake. Waterloo Adventures is a floating waterpark, obstacle course, and private Adventure Island getaway course. It's found on the eastern shores with Hill Country views that create a perfect vacation mode.
So grab your gators and head on down.
6. Water Monkeys, Lake Travis
Water Monkeys is a disruptive, award-winning, on-the-water Lake Travis waterpark. It features multiple fun-packed adventures for all ages. It has six attractions that fill your day with fun. Whether you want to jump on the 12-foot Gorilla Bounce, dive from a 14-foot-high Gorilla Jump, or slide down the jungle waterslide, you'll enjoy each moment at the site.
Land Activities
If you want to spend some time away from the water, there are amazing land activities that you can engage in as well. Choose from a number of hikes around Lake Travis to see some amazing views and wildlife along the way.
Below are some of the activities that you can do.
1. Camping Sites
If you've got the gear, then you can camp out right on Lake Travis. Some of the camping sites include Windy Point Park, Camp Creek Recreation Area, Pace Bend Park, and popular "glamping" destination Planet Rock. There are also designated camping sites that you can use to spend a couple of days or even weeks away from home. These places have everything from picnic tables and grills to water and electric hookups. If that's not your thing, then there are cabins and cottages available for rent as well throughout the area.
It can get very hot during the summer months in Texas, so be sure to bring plenty of water and also sunscreen for everyone in your family. You should also check the weather before you go out, just to be on the safe side.
2. Lake Travis Golf Courses
And of course, don't forget about golf.  Some of the golf courses to visit include Point Venture Golf Club, Flintrock Falls Country Club, Yaupon Golf Course, Live Oak Golf Course, Lago Vista Golf Course, and Falconhead Golf Club.
3. Lake Travis Zipline Adventures
If you've always wanted to try out a zip line, Lake Travis Zipline Adventures is the place to do it. Located in Leander near Austin, this adventure will show you some amazing views as well as a good time with your friends and family. LTZA is available for hearty individuals ages 17 and up who want an active outdoor adventure. The leading tour has five ziplines, open daily from 8 a.m. to 6 p.m. You'll access the necessary tools you require, boat transportation, and bottled water.
4. Parks
There are multiple parks to enjoy around Lake Travis. We recommend checking out Pace Bend Park if you're looking for something near Austin. Take your pick from hiking trails, designated swim coves, and more. The park also features a number of picnic areas where you can spend some good family time or with friends on the weekend. You will find campsites, RV stations, and boat ramps available throughout the park.
5. Dining
If you're tired of cooking after a day on the lake, then check out one of these restaurants for your dining pleasure. Lago Vista has several great establishments to choose from where you can enjoy some good food and entertainment with your family or friends. Get ready to enjoy some great food and even better views once you're done with your day on Lake Travis.
6. Lake Travis Shopping Centres
If you feel like grabbing some last-minute essentials or souvenirs for friends and family back home, then check out these shopping centers: Oaks at Lakeway, Hill Country Galleria, and Oasis Texas, which is a lakeside outdoor mall. Shopping should not worry you because there are several good places to grab some essentials before you get started on the water.
Lake Travis has plenty of attractions for everyone in your family. Whether you just moved to the area, or you're looking to spice up your weekend routine, get ready to make some memories that will last a lifetime out on the water.