Why Is Everyone Moving to Austin, TX?
nkats, Mar 7, 2022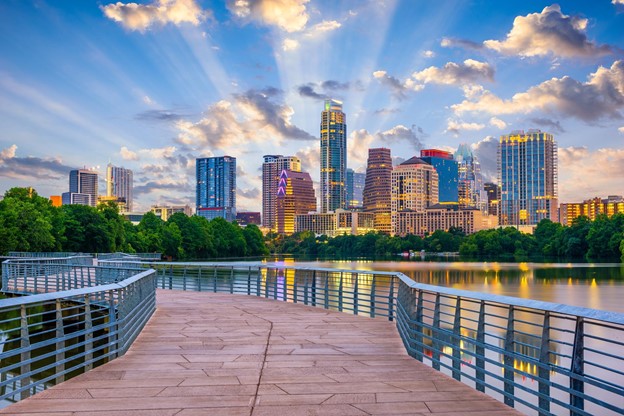 A wave of people, primarily tech-workers, is moving to Austin, Texas. Population growth in Austin has outpaced the nation's majority for the past decade. Since 2010, around 32,000 people have migrated to Austin, but just recently it was rated the fastest-growing metropolitan city in 2020.
The reasons behind this housing boom may vary from person to person. Tech companies like Apple and Google have set up offices in the city, and now many other industries are following their lead.
In addition, some Austin emigrants cite their fondness of the music life, and others are searching for better jobs-opportunities or better housing. Austin can also help people establish themselves with an unstable financial situation due to their lower tax rates.
Here, let's explore some of these reasons as to why Austin is so desirable — and why you may want to buy your next home here.
Attend College or Trade School
Some people choose to move to Austin to attend college or trade school. Austin is home to the University of Texas, Concordia, and St. Edward's University. It boasts a large community of art schools, including the Art Institute, UT School of Art & Design, and The Creative Circus. Several community colleges offer programs in technical studies such as HVAC and auto mechanics.
There are several colleges and trade schools in the Austin area, but a few notable ones include:
Austin Community College – Has over 48,000 students enrolled. They have over 150 programs, including tech and culinary arts.
The University of Texas – Has over 51,000 students enrolled. This is a big university in Austin and offers over 300-degree programs.
Concordia University – This liberal arts college provides a small school experience for anyone that still wants to enjoy the amenities of a big city. It offers a variety of undergraduate and graduate programs ranging within the STEM field, Business, Arts, and Humanities.
The Music Scene
Austin is also known as the "Live Music Capital of the World." Texas is famous for its abundance of music festivals and concerts. It's also an excellent place for aspiring musicians to find opportunities in their careers. The city has a vibrant music scene, and musicians can easily find gigs at local establishments. Musicians may also find the opportunity to work with the Austin Symphony Orchestra or Austin Opera, depending on their specialty and experience level.
For starters, there are a ton of music venues (more than 200) in the city that provide live music every night of the week. This means that you can quickly get gigs as a musician or singer with no experience. Many venues have open mic nights to come in and sing karaoke or perform your original songs.
Significant festivals like Austin City Limits feature nationally-known acts, and smaller festivals like South by Southwest celebrate up-and-coming talent. Austin's music scene has spawned many well-known artists, including blues guitarist Stevie Ray Vaughan, country musician Willie Nelson, and pop/rock band Spoon.
The Nightlife
Austin is the other city that never sleeps. The nightlife of Austin attracts the crowd, but some of the best things to do in Austin can be done during the day, as well. The city has a lot to offer whether you want to relax or party all night long.
Many places within Austin offer different options for having fun at night, and you can choose from nightclubs, bars, and even comedy clubs. The nightlife in Austin appeals to people with different interests and preferences.
Recreational Opportunities
Austin has many lakes to visit and things to do it would be impossible to list them all. But the three most popular are Lake Travis, Lake Austin, and Lady Bird Lake.
The Lake Travis area is known for its boating and fishing. It is great for fun with family and friends. There are numerous places around the lake to rent a boat or jet ski, including Emerald Point Marina.
In addition, Lake Austin and its neighborhoods have plenty of boating and fishing opportunities. It is a popular place for bass tournaments. Several areas around the lake rent a boat or jet ski, including The Rowing Dock and Capital Cruises at Tom Miller Dam.
Lady Bird Lake is the most commonplace to see people kayaking and paddleboarding, although it's also not uncommon to see boats there as well. You can rent single kayaks, double kayaks, canoes, and stand-up paddleboards at Rowing Dock, Capital Cruises, and Lone Star Riverboat Co.
Walkable Neighborhoods
Many people find Austin to be a very walkable city. A walkable neighborhood is more than just the distance from your home to the nearest coffee shop. It's about being able to get outside and explore your community without having to jump in the car.
There are also some relatively walkable areas of Austin. The central downtown area, for example, is relatively compact, and it's easy to get around on foot or by bike. The University of Texas area also has many sidewalks and pedestrian bridges and is a popular spot for walking and jogging.
There are plenty of other benefits of a walkable neighborhood including:
It's easy to see why so many people are relocating to Austin. Whether you've already been living in the city for a while, or you're just starting to research Austin properties because you're considering a relocation, these tips and insights can help you gain a better understanding of what makes this Texas city so great.