First Look: June Stats Indicate Market Stabilization
We ran first look market statistics for the month of June over the weekend and the results were predictably incredible with regards to Year Over Year (YOY) growth. The city of Austin and the Tri-County Area both saw appreciation rates in the 40-47% range, depending on which metrics we look at. This is consistent with what we've seen over the past few months. We do expect these numbers to stabilize more as our lookback numbers become "post-covid."
As we saw last month, it now looks like a comfortable price range to purchase a home in the metro area is at least $500k and a comfortable price range in the city of Austin is around $750k. While there are certainly areas where we can find less expensive homes, it will take work to do so. Likewise, there are areas and neighborhoods where the starting prices are much higher.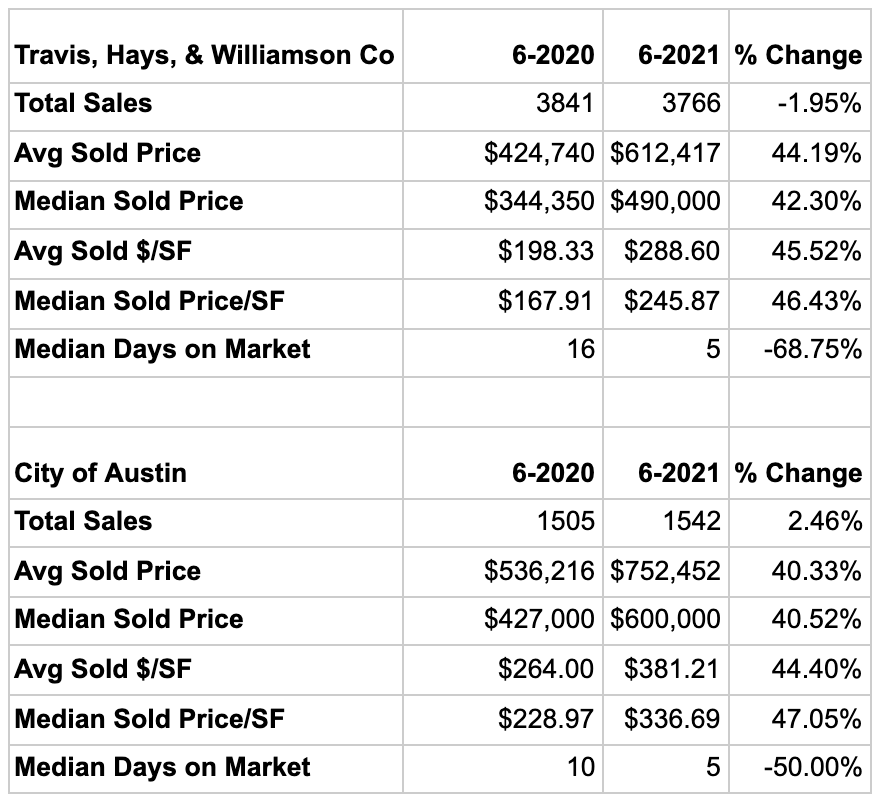 The real news for the month of June is that pricing is beginning to stabilize.
Leading indicators 
have shown this direction for the past two months and it now looks like pricing is following. June 2021 Average Sold Price tracked with May 2021. The city of Austin saw a negligible decrease and the Tri-County Area saw a negligible increase.

Two months of consistent pricing indicates stabilization, but we're not quite ready to say "The Post-COVID Boom is now set." When we see 3 concurrent months of consistent pricing, we do think that we'll be able to confidently say that market pricing has stabilized.
When pricing stabilizes, we will likely settle back into normal market seasonality. Generally speaking, this means it's busiest in the spring and early summer, sluggish in the late summer and fall, and slow during the holidays. More on seasonality is available at these links:
We don't yet know what Austin's "new normal" annual appreciation numbers will be. Historically, 
the metro area has appreciated at roughly 5%
 and the city has appreciated at a slightly higher rate. With coming inflation and even more demand introduced to the city, we think it's likely that we'll see appreciation numbers higher than the historical normal.
Real estate is always hyperlocal and different neighborhoods are performing differently. If you'd like help with your specific situation (or hypothetical situation), please don't hesitate to reach out to us directly. We love chatting about real estate and we'd be more than happy to help you strategize!