Is Austin Real Estate Overpriced?
The Austin real estate market has started the year with incredible velocity and acceleration, with new demand entering the market that can only be described as incredible and unprecedented. Our real estate agents in Austin had a lot of internal discussion over how to adjust to this new activity and one question keeps popping up: Is Austin becoming overpriced? (Words like "bubble" & "overheated" often enter the discussion.)
Austin Home Values Compared With Other Metro Areas 
There's strong historical evidence that real estate bubbles are rare. Real estate is illiquid and the primary function of housing is, well, housing, so we don't generally see wild swings up and down. That said, it certainly feels like (and will soon prove out) that prices are swinging up very, very quickly.
So, is Austin real estate becoming overpriced? We don't think so.
Austin has been a boom city for decades with strong population growth fueled by job growth. Employers have historically chosen to move or grow in Austin because of our high quality of life and relatively low cost of living. When you compare how much it costs to live in the Bay Area vs Austin, that becomes readily apparent. However, employers (and relocating homeowners, many of whom can now live/work wherever they want) don't only look at Austin when choosing where to call their new homes. Lots of other cities come up in discussion – Denver, Portland, Nashville, Charlotte, etc…
How does Austin's real estate pricing compare with these cities?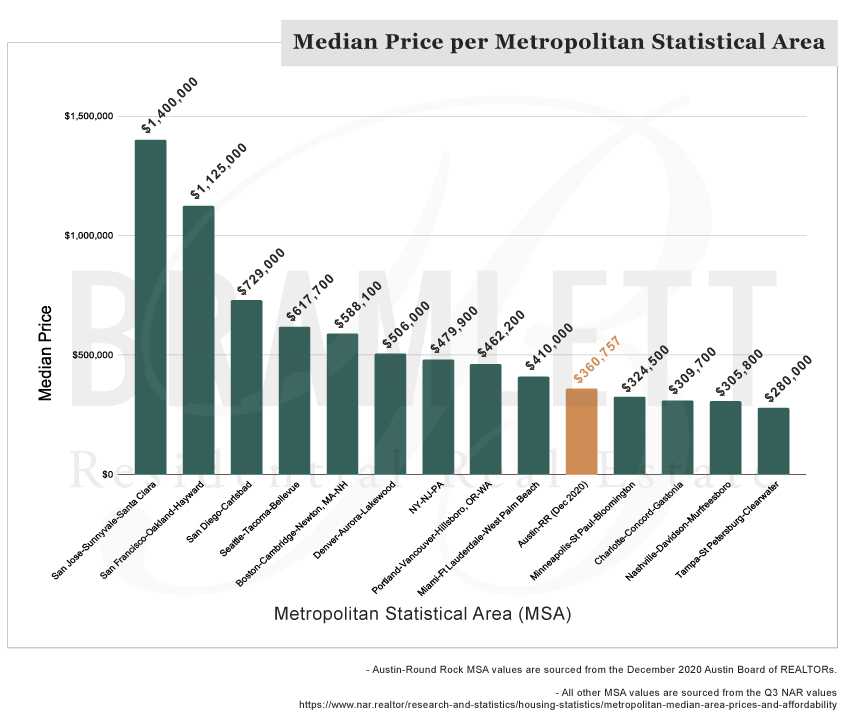 There was a 14% YOY increase in median pricing in Austin in December 2020. The most recent reliable data we can find for other MSAs is from NAR, which was last updated for Q3 2020. This comparison is pretty conservative as a result. Looking at these numbers, Austin is (was) a relative bargain. We're considerably cheaper than Denver & Portland, while we're more expensive than Charlotte or Nashville.
Fine, we were cheap. Austin real estate market prices are jumping.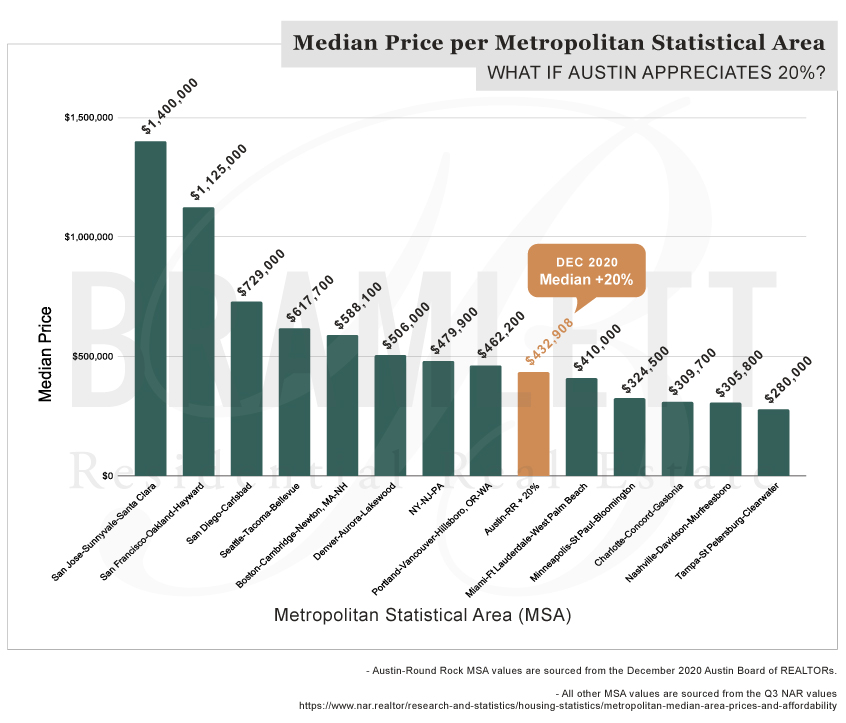 We adjusted Austin's Dec 2020 pricing upwards by 20% and compared this hypothetical median to other major MSAs. When adding a 20% premium, we're in a really similar comparable position to other metros. Portland & Denver are still pricier, we're a little more expensive than Ft Lauderdale (but who wants to live full time in Florida?) and we're pricier than Charlotte or Nashville.
Okay, but what if real estate prices keep going up?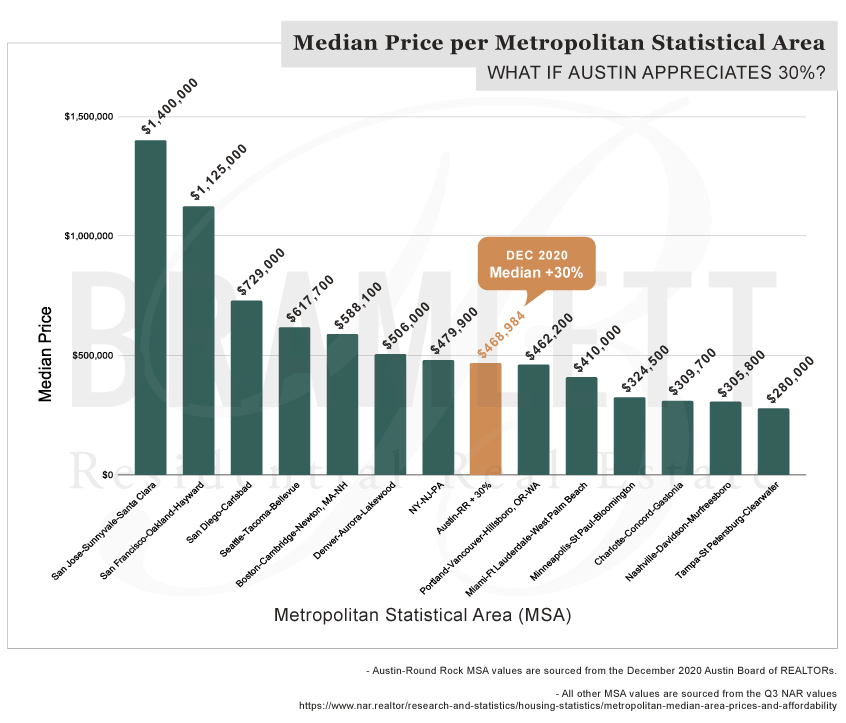 Taking it a step further, we adjusted the December 2020 prices upwards by 30% and placed this hypothetical number in the graph. With a 30% premium, we're roughly the same price as Portland, less expensive than Denver, and pricier than Nashville or Charlotte.
We mention Denver a lot for good reason. Denver & Austin are extremely similar. We showed these numbers early to an investor/friend who immediately concluded "This makes sense. Denver is my yardstick." Austin would have to appreciate at roughly 40% in order to match Denver's Q3 2020 median pricing.
Our conclusion? Austin's housing market prices have room to grow.
In hindsight, Austin has been a bargain for many, many years. Our pricing has consistently appreciated in the 5-6% range annually, but it looks like we'll see another jump in the double digits in 2021. We're absolutely not immune to an overheated market, but as it sits, we're comparatively affordable.
As Austin relators we'll continue to monitor these numbers and we'll continue to monitor this quickly changing market. The Austin market is not homogenous and it changes considerably from area to area and neighborhood to neighborhood. If we can answer any questions about any specific sub-markets (or any specific situations), please don't hesitate to contact us or give us a call at 512-883-5445!
Additional Reading:
Real Estate Agent Pricing Expectations 
2020 Texas Real Estate Market Year in Review: What Happened Out There?