March 2021 Statistics: First Look
Hello and we hope you're doing well! In an effort to monitor the market in as real time as possible, we've manually run market statistics for the tri-county area (Travis, Hays, & Williamson Counties) and the city of Austin. This data is from ABOR/ACTRIS and is very reliable, but the area covered is slightly different than that covered in ABOR or Independence Title's market reports, so it will vary some.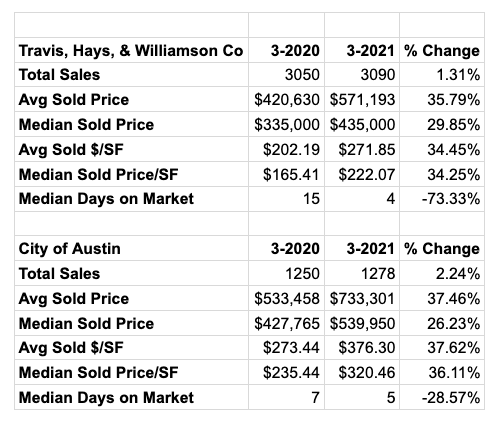 March is typically the first month in the season with significant sales and this March was no different. Total units sold bounced back and were up +1.31% in the broader area and up +2.24% in the city of Austin. Time to sell is extremely short with Median DOM dropping to only 4 days in the tri-county area. The city of Austin already had a very short time to sell in 2020 at 7 days, but that dropped even lower to 5 days in 2021.
Price appreciation continues to amaze us. The tri-county area saw appreciation from +29.85% (Median Sold Price) to +35.79% (Avg Sold Price.) The city of Austin saw Avg Sold Price increase 37.46% and Median Sold Price increase 36.23%. Median & Avg Sold Price/SqFt increased similarly in the tri-county area and in the city of Austin.
Sales prices are increasing and our market is no longer in the bargain bin. To have an Austin address, buyers need to spend $733k on average or $533k in the median. The tri-county area now has an Avg Sold Price of $571k and a Median Sold Price of $435k. There are certainly more affordable options in the Austin MSA, but buyers will need to drive further than Williamson or Hays County in order to find them.
We're in the process of updating our Austin Investment Guide with Q1 2021 numbers and we'll have the results of our April Agent Expectations Survey very soon. We'll send a quick update when those are both available.