October Real Estate Market Stats: The Strongest Seller's Market in Austin's History
Hello and we hope you're doing well and staying safe! I apologize for two newsletters in two weeks, but we received the confirmed market statistics from Independence Title earlier than normal. They're available for download here.
The confirmed statistics are consistent with the first look numbers that we sent last week. The pricing increases and the tightness of the market are historic. We've started describing this market as "The strongest seller's market in Austin's history", which is succinct and accurate.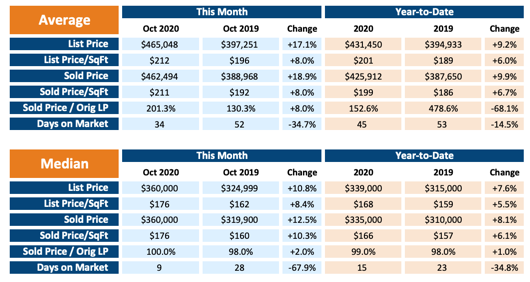 October continues the trend of historic pricing increases. Median Sold Price in the greater Austin metro area increased +12.5% to $360k and Avg Sold Price increased +18.9% to $462,494. Median Sold $/SqFt increased +10.3% and Avg Sold $/SqFt increases +8%. Median Days on Market saw a huge drop from 28 days to 9 days. It's worth noting that September typically sees a seasonal slowdown. These short DOM show that this is not yet happening.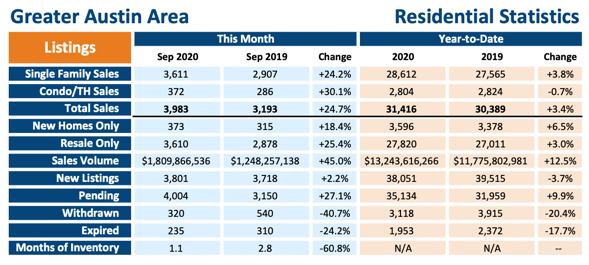 These pricing statistics are historic & incredible. Just as incredible (and arguably more so) are the volume increases & inventory decreases. Total sales jumped +24.7% year over year and inventory dropped to 1.1 months of inventory. We consider anything under 3 months of inventory a seller's market. 1.1 months of inventory clearly puts us in the strongest seller's market in Austin's history.

Inventory is less than half what it was in previous years. Our Austin real estate company doesn't expect demand to let up (unless something unexpected happens with interest rates), so supply is the only variable that can help those who want to buy a home in Austin. We do expect supply to pick up when there is an effective vaccine released. Until then, our Austin realtors expect the market to remain incredibly tight.
All real estate is hyperlocal, so different neighborhoods in Austin are performing differently. You can view these market statistics by MLS area. If you're not sure which MLS area you're in, or if you would like to see statistics for your specific neighborhood, just contact us today and we'll be happy to provide that.
Additional Reading:
September Market Stats First Look: Avg Sold Price Jumps 17%