September Update: Why is the Market So Tight?
Hello and we hope you're doing well! The weather is *finally* bearable and we're looking forward to an awesome Austin fall (all things considered.)
We received the August real estate statistics from Independence title yesterday and they're available for download here. These came in a little late this month because of a big update at the Austin Board of Realtors. We're honestly impressed that Independence was able to get them out at all this month, as the update at the board level (which was necessary) was pretty big.
We've heard the same question all year: Why is the market so tight? As we're generally analyzing the market in the rearview mirror, we now have hard data to answer that question. Supply and demand!
New Listings measure supply and Pending Listings measure demand. YTD, New Listings (demand) are down -4.3% and Pendings (demand) are up +9%. Combined, this is a 13.3% tightening of the market over 2019. This is why the market is so tight in 2020. The month of August was absolutely bonkers with a +37.8% increase in demand with a -0.2% decrease in supply. (It's worth noting that August generally has less supply added to the market.)
What About Pricing?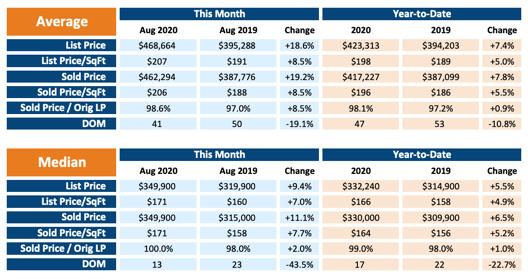 As we've noted before, real estate pricing is a relatively slow moving ship and you won't see huge jumps like you do in liquid assets (like the stock market.) In order of most to least shocking pricing news, we saw the following:
Average Sold Price in August saw a +19.2% increase over 2019.
Median Sold Price in August saw a +11.1 increase over 2019.
Avg Sold Price/SqFt saw a +8.5% gain
Median Sold Price/SqFt increased +7.7%
While we haven't checked, our gut tells us that these are all record numbers. As you can probably guess, we conservatively rely on the tamest of these figures and watch Median Price/SqFt since it flattens out new construction with resale. It's worth noting that YTD numbers are still in a very healthy range of +5.2% to +7.8% increases over 2019.
What's Next?
We have to think that market seasonality will come into play sooner or later. The pandemic has certainly changed everyone's behavior, but we don't see any way that a large number of buyers stay in the market during the holidays. Crystal balls are generally murky, though, and we could certainly be wrong.
Moving forward, we're planning to send two newsletters per month. We'll send a "first look" after the first week of every month with preliminary market data and then an officialish "market update" after we get confirmed numbers from Independence. As always, please don't hesitate to reach out if we can help you with anything at all!
Thanks!