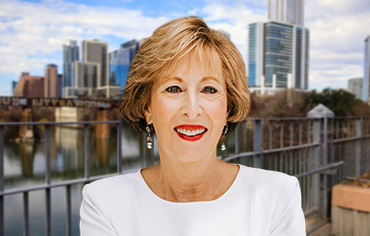 Are You Buying or Selling? I'd Love to Help!
Carol Dochen is an Austin, Texas real estate broker who brings thoughtful service and astute knowledge to serve her clients' real estate needs. Since 2009, Carol and her agents, as a team, have been recognized by the Austin Business Journal as one of the city's top three real estate firms of its size. Carol brings professionalism and integrity to every sale and treats every client like family.
Carol has received nine Platinum Top 50 Realtors awards. Austin Woman Magazine honored Carol with its inaugural "I Am Austin Woman" Award as Business Woman of the Year. She upholds the integrity of the real estate profession by having served three terms as a director of the Austin Board of Realtors and two-time chair of the Austin Multiple Listing Service. And, Carol has earned multiple professional national real estate designations.
Carol and her agent's commitment to community service is unique. Her team volunteers together at Community First! Village, a community of tiny homes for formerly homeless individuals. Dochen Realtors has supported Community First!, Foundation Communities, and Austin's Habitat for Humanity with a portion of each closing. Carol supports Impact Austin, a woman's philanthropy circle, and was a founder of a thriving non-profit child development center. Building community is as important to Carol as building a business and client relationships.
Carols team, Dochen Realty Group, is a part of Bramlett Residential. The Dochen team's total dedication to their clients, combined with Bramlett's effective use of technology and data, create the best locally-based service for clients in Central Texas or moving here.