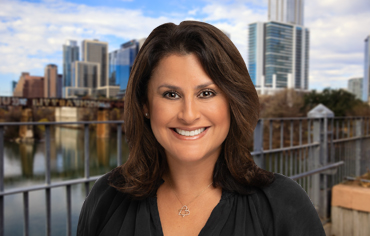 Evonne Gottsch
Powers Property Group | Realtor®
Evonne Gottsch is a multi-talented real estate professional with over 16 years of experience in many areas of Austin's residential real estate. Her experience in working with traditional homes to unique modern developments, including downtown living and lofts, gives her a unique edge.
Her sales and marketing savvy comes from working as a sales representative for a Texas developer. Her knowledge of construction, acquired while working for Hensel Phelps Construction Co., adds another valued dimension to her skill set. Her versatile knowledge and goal-focused initiative for excellence in serving her clients make her a proficient real estate professional.
Evonne believes in embracing all things in life with honesty and integrity. It makes her a caring and sincere advisor to all her clients. She is diligent, keen, and works hard to find well-matched options for her clients. She helps them through the process with attention to details and transparent communications. When exigencies arise, she responds quickly to solve problems.
Evonne takes a broad view of her role as a Realtor. She is a consummate resource to her clients. She happily helps her clients with staging, selecting vendors, finding handymen, and even recommends great restaurants. Her clients love her energy and constant support at every step of the process. She builds relationships with them that last beyond the transaction.
Evonne has lived in the Austin area for over 29 years, and currently resides in Central Austin with her husband, daughter, and two dogs. Evonne is all about family and cherishes the close connection to her large extended family along with her friends she calls framily. Passionate about helping children, she is actively engaged in the Gladney Center for Adoption, Habitat for Humanity and Foster Angels of Central Texas Foundation. She enjoys cooking, traveling, and weightlifting.
Evonne has been acknowledged for excellence in her industry. She has been the Platinum Top 500 REALTORS® Winner for several years in Austin along with Platinum Top 5 semi-finalist and finalist. She was nominated for Austin Business Journal Top 50 Residential Real Estate Awards. Evonne has a B.A. from St. Edward's University in Liberal Studies.
Read Evonne's Reviews