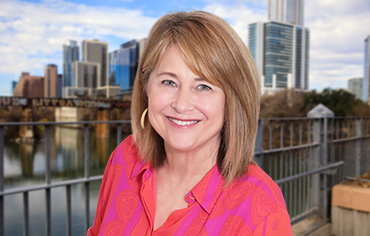 Kathryn Strand
Realtor®
Austin is a great place to live and work which is why Kathryn chose to call it home. Her passion for real estate was ignited over the past 4 decades as she bought, sold, and managed investment properties. After raising her family in this wonderful city, Kathryn became a licensed Texas REALTOR.
Having been on both sides of numerous real estate transactions, Kathryn has full awareness of the perspectives of both buyers and sellers. Her client-centric approach focuses on the specific needs of each individual from the very first meeting, through and past closing.
In addition to fully listening to the needs of each client, she uses her strategic negotiating skills to help them achieve their goals. As a former teacher, Kathryn is able to ensure that her clients understand each part of the process. Whether first-time homebuyers, empty nesters, re-locators, or investors, Kathryn strives to make each one feel they are invaluable -because they are!
She is devoted to staying abreast of market activity, managing the natural stress of transactions, and keeping a long list of various vendors ready to share with clients as a full resource throughout her relationships. Kathryn has been honored with an established track record of referrals and repeat business.
Having lived in Austin since 1978, she has witnessed the growth and changes in this area, giving her a keen perspective of the market. She was extremely fortunate to begin her real estate career with a premiere Austin agency where she was named as one of their top-producing agents in both 2020 and 2021. Now she has been invited to join the distinguished and exclusive Bramlett Residential team!
During her free time, Kathryn enjoys walking her 2 dogs, gardening, exploring the Hill Country, and spending time with family and friends.
Read Kathryn's Reviews