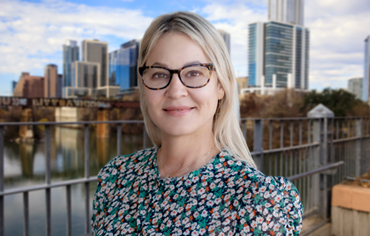 Annette Patterson
Realtor®, GRI
Annette Patterson, a Texas-raised 35-year resident of Austin, has that unique combination of qualities you need in an agent working in Austin's fast-paced real estate market: a big-picture view of this city and its changing neighborhoods, a high standard of professionalism, and an innate talent for understanding homes.
All of that, plus this savvy Austinite is known for being both on her game and a lot of fun to work with. Having worked for 20 years in advertising sales at the iconic local weekly, The Austin Chronicle, Annette gained ample first-hand knowledge of what gives Austin its unique buzz: the creative trailblazers, the music scene, the places to be. A graduate of the University of Texas with a degree in Communications/Advertising, Annette loved this city and its charms long before the rest of the world caught on.
To Annette, there's nowhere more perfect than Austin–with its mash-up of funky, historic, and modern architecture. A long-term real estate investor, she knows how to make the most of changes in the Austin real estate market. She has in-depth knowledge of the city's oldest neighborhoods as well as the planned communities and new developments popping up as our city grows. She now lives in one of Austin's most buzzing neighborhoods, North Loop, where she and her family enjoy biking, walking to local restaurants, and absorbing the eclectic culture of UT students, families, and professionals that make this neighborhood tick.
Always fascinated by design and what makes a house unique, Annette became a full-time realtor to help people find a house and make it a home. Driven and down-to-earth, Annette believes in staying on top of things, which is one reason she's been so successful in helping her clients purchase and sell their homes.
Whatever your real estate priority might be—to buy or sell a bungalow in one of Austin's established neighborhoods, settle down in one of the area's newer communities, make an investment, find a lot to build, or purchase the hill country ranch you've always wanted–Annette's goal is to make your dwelling her top priority.
Read Annette's Reviews