10 Spectacular Austin Views – Get an Unforgettable View of the City Skyline
, Aug 28, 2023
From boardwalks to rooftop gardens, Austin, Texas has some of the most breathtaking views in all of America. Immerse yourself in an eclectic mix of lakeside vistas and city skylines for a truly unforgettable experience! Discover 10 amazing spots that offer unique perspectives on this lively Texan town's lush greenery and majestic skyline. Come find your ideal view, and prepare to be amazed by these spectacular Austin sights!
Short Summary
Explore Austin's skyline with unforgettable views from the Lady Bird Lake Boardwalk, Mount Bonnell Vista, and Zilker Metropolitan Park Panorama.
Relax at The Oasis on Lake Travis, tour the Texas State Capitol Building, or take a scenic drive along Riverside Dr for stunning city views.
Enjoy kayaking/paddle boarding on Town Lake or swimming in Barton Springs Pool for an incredible experience of nature and Austin's skyline!
Lady Bird Lake Boardwalk
The Lady Bird Lake Boardwalk is a hidden gem of Austin, an urban park that features a 10-mile hike and bike trail. This unique spot allows visitors to take in the stunning views of Town Lake, Texas State Capitol Building, Frost Bank Tower, and Auditorium Shores from its wheelchair-accessible path while enjoying fresh air provided by rustling trees. It's also dog-friendly for those who wish to bring their furry friends along! Plus there are plenty of opportunities to partake in activities such as hiking or picnicking here too. Cigarettes, alcohol containers, and glass bottles are prohibited at all times. So if you're looking for gorgeous scenery accompanied by some outdoor fun then make sure not to miss out on this phenomenal experience around beautiful Lady Bird Lake!
Accessibility and Parking at Lady Bird Lake Boardwalk
At Auditorium Shores, the Lady Bird Lake Boardwalk is conveniently located near the entrance with plenty of parking available. Even when busy, a spot can usually be found west of Riverside Drive. There are many pathways through which you can access and wander around the lake trail if desired, perfect for both novice walkers and hiking enthusiasts alike! Taking in Austin's skyline while on your journey should not be forgotten either, keep those cameras at hand to save these stunning sights forever.
Mount Bonnell Vista
A trip up Austin's highest peak, Mount Bonnell, offers incredible vistas of the area. Upon arriving at the top via 102 steps, you'll be treated to spectacular panoramas that include Lake Austin, vibrant architecture, and a skyline view encompassing all of Hill Country. The spot also carries historical value. It was named after George Bonnell, who served as Texas' Commissioner for Indian Affairs in 19th century America. There is no better way to take in magnificent views than with an awe-inspiring glimpse from this breathtaking location here in Austin!
Climbing Mount Bonnell – What to Expect
Before starting your Roy Butler journey, it is important to wear the right clothes and shoes. Carry a lot of water to stay hydrated on this experience at Mount Bonnell in Austin, which isn't wheelchair accessible but rather straightforward for most visitors. The approximately 100 limestone stairs will take you up gradually until stunning downtown views appear together with vistas from the 360 Bridge as rewards for those who climb its peak. This hike should be considered more like an amazing attraction than an extreme physical challenge so pace yourself when climbing and keep looking out for wildlife during that time while capturing some beautiful photographs along the way too!
Zilker Metropolitan Park Panorama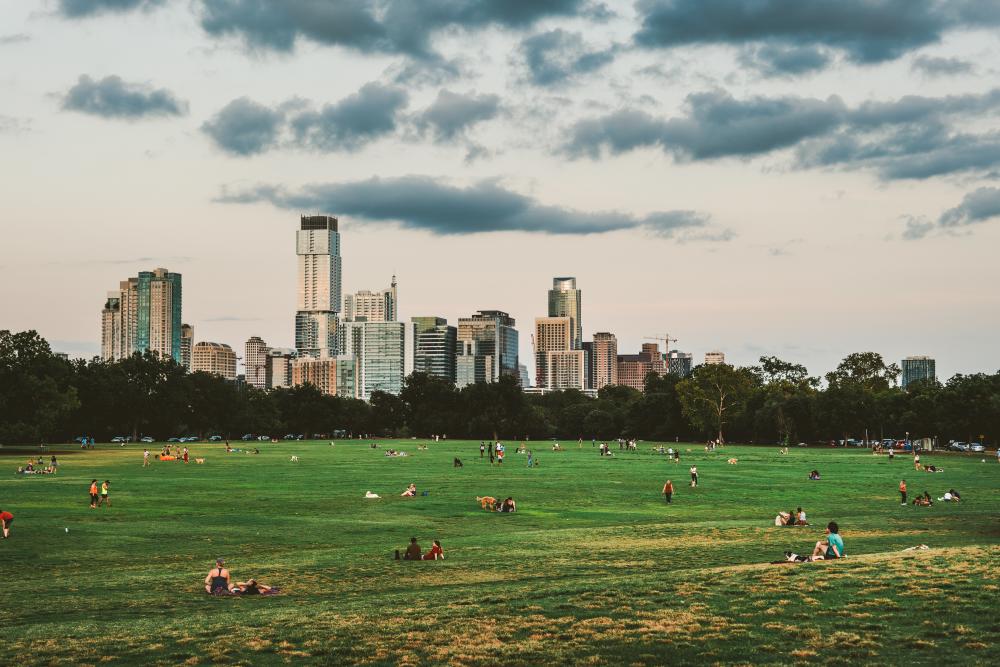 Zilker Metropolitan Park in Austin is a sprawling 351-acre oasis, boasting stunning city skyline views that mesmerize visitors. A vast range of recreational activities such as picnics on its green lawns, outdoor concerts, and various attractions provide an entertaining outing for locals and tourists alike.
The park's hilly terrain includes hiking trails where one can take full advantage of the breathtaking Austin skyline view while exploring all it has to offer. Playgrounds make Zilker perfect for families looking to escape the hustle and bustle of big cities like Austin with some quality time outdoors!
Zilker Park Highlights
Zilker Park, located in Austin, is a must-visit destination for all. Not only does it provide spectacular views and wheelchair access, but it also provides pooch-friendly amenities. The botanical garden as well as the Umlauf Sculpture Garden should not be missed upon your visit to this park. The nature and science center offers great exploration opportunities at Zilker too! There are plenty of fun events hosted here like the ACL Music Festival or Trail of Lights during the holiday season that will surely capture everyone's interest alike. It doesn't stop there: Visitors can even take a dip in Barton Springs Pool, which measures up to three acres wide!
Unwind at the Oasis on Lake Travis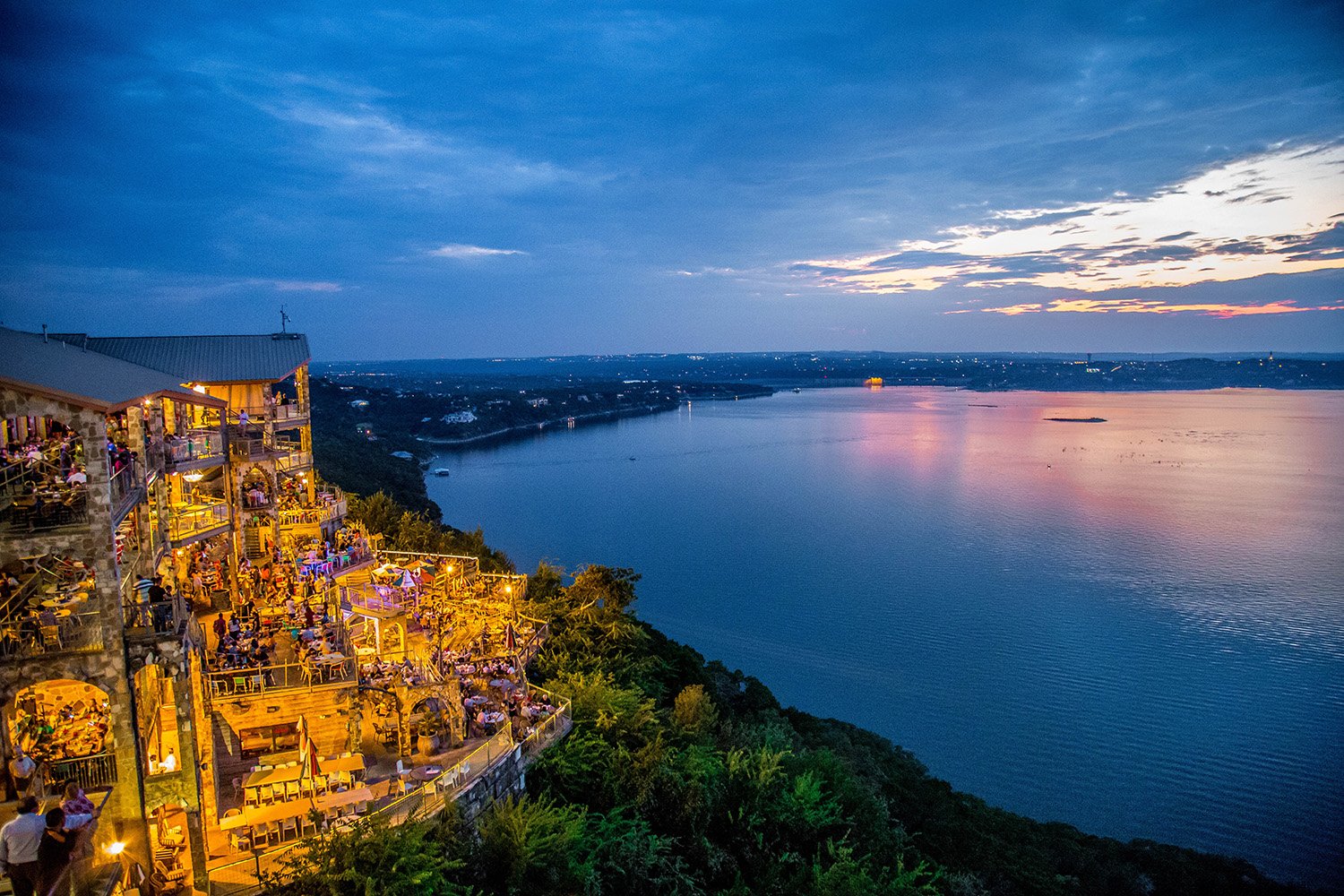 The Oasis, which overlooks the stunning Lake Travis from atop a cliff, is so much more than just an eatery – it's something to experience. Famous as being one of the largest alfresco restaurants in America and named "Sunset Capital of Texas" due to its breathtaking sunsets over the lake, dining here with friends or family will leave you feeling relaxed and content, not only because of their delicious offerings but also for treating guests to sublime views that many dream about visiting at least once in life!
For those seeking moments most extraordinary then sunset time at The Oasis should be on your agenda: picture-perfect hues fill up our skies while casting warm golden light onto the azure waters below forming eye candy like no other place can offer. You don't want to miss out on this amazing sight come dusk.
Dining Options and Reservation Tips
The Oasis on Lake Travis presents amazing views of the lake with a menu that makes it an unforgettable dining experience. Its collection of meals consists of Brunch, Lunch, and Dinner plus Happy Hour to enjoy while staying connected via Wi-Fi or paying by credit card. To make sure you won't miss out on this memorable occasion, reserving ahead is highly recommended – which can be easily done online or by calling directly the restaurant.
Texas State Capitol Building
The impressive Texas State Capitol Building stands in the middle of Austin, offering a stunning view from its vantage point over the city skyline. This historic and breathtaking building is placed on the beautiful Confederate Memorial Lawn, representing a lasting reminder of Texan history. Not only does it provide an awe-inspiring experience for sightseers to admire – but it's also great as a backdrop for photos! The capitol makes all visitors feel like they have stepped back into time during their visit here in Austin, TX.
Touring the Texas State Capitol
The beautiful and historic Texas State Capitol in Austin is an absolute must-see for visitors to the city. An amazing 30-minute tour of the building provides a unique opportunity to learn more about its stories, heritage, architecture, and history. As you walk through its corridors, be immersed in all that has shaped this remarkable state! For those who have studied or simply appreciate splendid buildings alike, there can be no better experience than what awaits at The Texas State Capitol – so make sure it's on your list when visiting Austin!
Riverside Dr Scenic Drive
If you're in Austin and are looking for a truly majestic view of the city skyline, head on over to Riverside Dr Scenic Drive. This beautiful stretch offers impressive sights that make it a great spot for photographers and casual sightseers alike. You'll be able to find plenty of parking along West Riverside Drive or South First Street if needed, so don't miss out on your chance to enjoy these stunning views!
No matter what brings you here, this scenic drive can provide an incredible glimpse into one of Texas' most iconic skylines – Austin's.
Best Time to Visit and Photography Tips
Visiting Riverside Dr Scenic. The drive is a breathtaking experience, particularly at dawn or dusk when the sky glows with radiant hues. To achieve impressive photographs of this splendid spectacle, use equipment like a tripod and wide-angle lens to encompass all that you see while also using polarizing filters for optimum results. All these resources will enable you to snap pictures that can immortalize Austin's skyline in your memory forever.
Pennybacker Bridge Overlook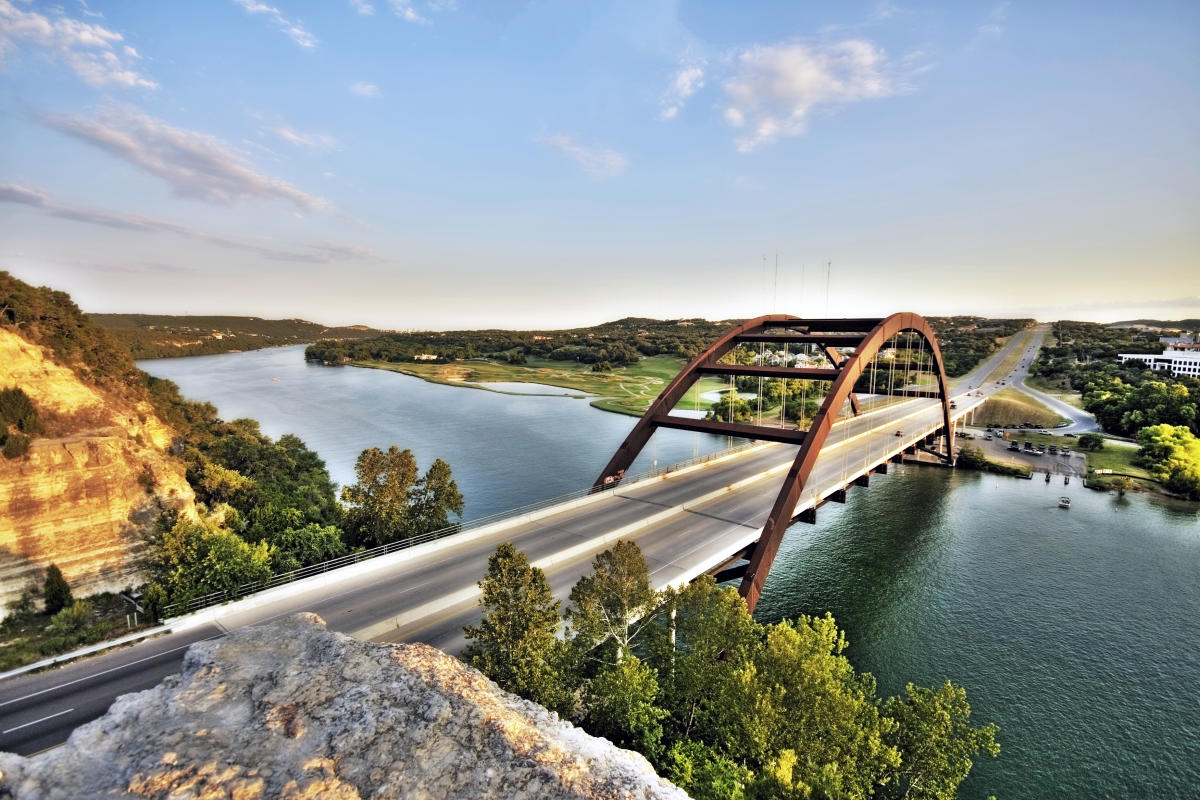 For a great glimpse of the Austin cityscape, visitors should check out Pennybacker Bridge Overlook. Also known as the "360 Bridge", this spot is well-known for its amazing views of Lake Austin, the surrounding landscape, and the magnificent view of downtown. At this location, it's possible to get some exercise while hiking on trails that accommodate all levels from novice hikers to veterans alike.
This unique viewpoint boasts stunning vistas plus outdoor activities like birdwatching – making it an ideal place for spending time in nature or just taking photos with unparalleled scenery around you! Plus there are plenty more walking options available so that everyone can experience these awe-inspiring views at their own pace – whether exploring by foot or simply relaxing under the sun overlooking one of Texas' biggest cities. The City Of Austin and its Skyline From Across The River In A Truly Unforgettable View Right From This Wonderfully Popular Spot: Pammybackers Bridge Overlook!
Hiking Trails and Safety Tips
For those wanting a scenic escape from the city, Austin's Pennybacker Bridge Overlook is home to several delightful hiking trails. The short path, which offers spectacular vistas of Lake Austin and the iconic 360 Bridge, only takes about 11 minutes, ideal for those seeking a brief getaway! For an extra thrill, there are other exciting trails nearby.
In order to make sure your time spent at this location is safe and enjoyable, it's vital that you come prepared. Appropriate clothing & footwear along with plenty of water should be taken with you as well as keeping in mind any wildlife inhabiting these areas plus respecting all designated paths.
The backdrop that awaits makes taking care ahead very worthwhile – so why not take some time out away from downtown Austin among nature by exploring what lies around the Pennybacker Bridge?
Austin Central Library Rooftop Garden
The Austin Central Library boasts an awe-inspiring view of Lady Bird Lake, Auditorium Shores, and the downtown area from its Rooftop Garden. Enjoy a tranquil atmosphere while admiring the stunning sights of the skyline surrounding you in this unique spot for appreciating nature and urban life combined together.
Aside from providing breathtaking views, visitors can explore their art galleries or visit events held there. There is also a technology petting zoo that one might take advantage of when visiting. They offer extensive book collections to browse through which makes it an ideal place to escape reality yet stay connected with all that's around it!
Library Amenities and Events
Visitors of the Austin Central Library can indulge in its vast array of books, while also taking in spectacular sights from the rooftop garden. This eco-friendly addition to this institution offers shade and cool areas thanks to its solar arrays which generate electricity too! It provides an alternative viewpoint into Austin's bustling culture. You may find book clubs or learn about authors with workshops. No matter what your reason for visiting the library is – whether out of curiosity or love for reading – one thing is certain: a trip up to this remarkable space will leave lasting memories.
Explore Barton Springs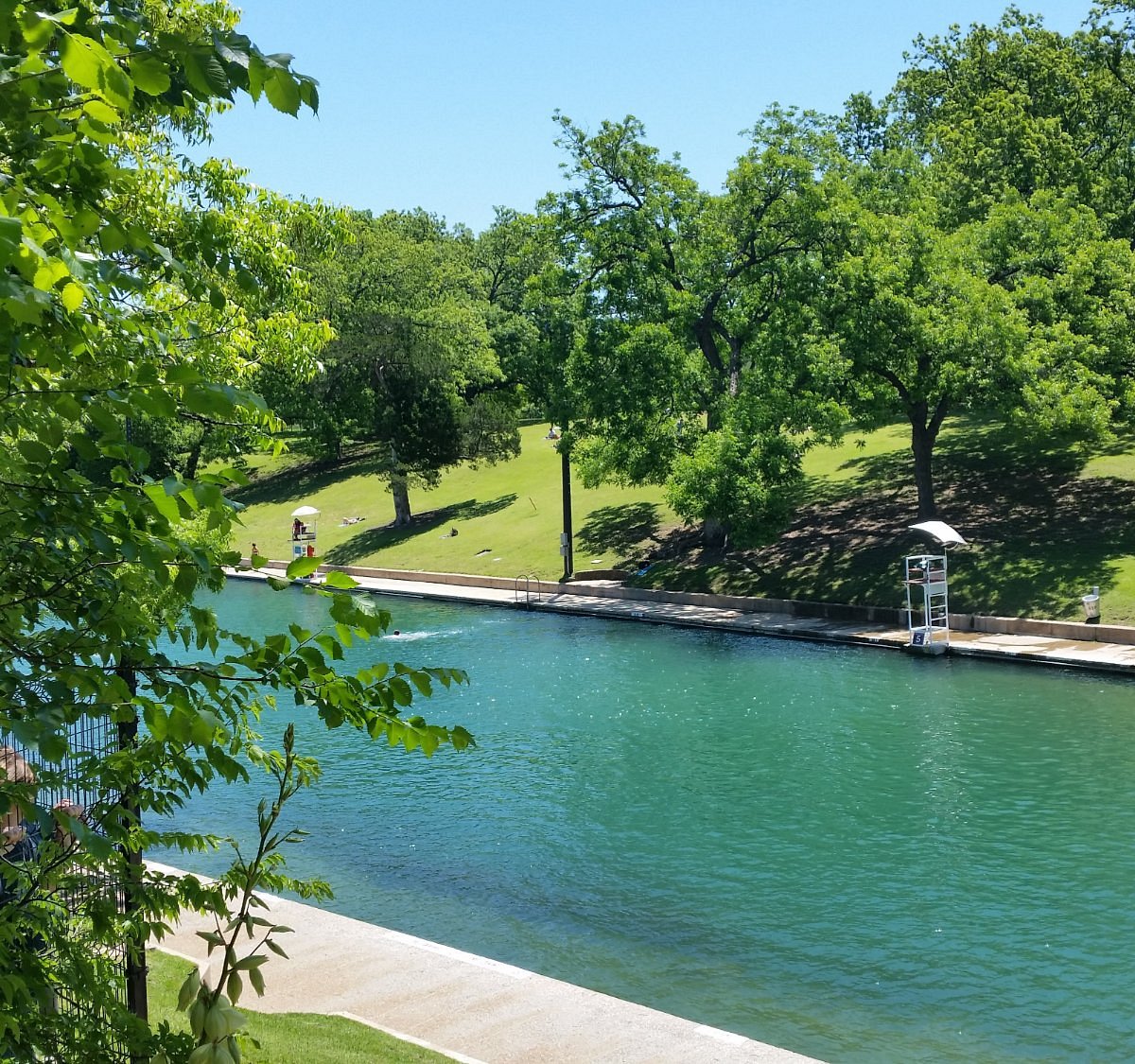 Nestled amidst lush greenery, Barton Springs is an iconic spot in the city of Austin where visitors can take a dip into cool blue waters and savor stunning views of the skyline. Divided into two sections – one with admission fee offering more space to relax while others being free – this natural spring-fed pool provides tranquility for swimming or sunbathing. A refreshing look at Austin's cityscape awaits anyone who dives here!
Swimming Hours and Admission Fees
For those visiting Austin, a trip to Barton Springs Pool is an absolute must. This popular spot offers the perfect opportunity for relaxation and recreation with its cool, clear waters set in beautiful surroundings. With convenient hours of operation from 5:00 am to 8:00 am or until 10:00 pm on most days – although it's best to check the official website first – as well as various admission fees based on age and residency. This experience won't break the bank!
Kayak or Paddle Board on Town Lake
Town Lake, located on the Colorado River, is a picturesque spot to explore Austin's skyline. Kayaks and paddleboards dot its serene surface, which provides gorgeous views of the city from an entirely new angle as you float among lush greenery. Don't forget to observe all sorts of wildlife that lives along Town Lake's banks. Birds are one popular species found here! This tranquil oasis with its stunning vistas makes it absolutely unforgettable for anyone who visits – a must-see experience in downtown Austin!
Summary
Austin's skyline is an impressive sight and can be appreciated from various unique angles. Locals and visitors alike may take pleasure in 10 of the city's most captivating views. Ranging from waterfront boardwalks to sky-high rooftop gardens – each offering a different perspective on this culturally diverse destination. No matter which special spot you visit, rest assured that its beauty will leave lasting memories as well as motivation for uncovering more of what Austin has to offer!
Frequently Asked Questions
Where is the best view of Austin Texas?
Experience the best view of Austin from several amazing locations. Visit Long Center for Performing Arts, Run at Lady Bird Lake Trails, Zilker Park, and Pennybacker Bridge to see a wonderful downtown skyline. Lou Neff Point and Mount Bonnell offer magnificent Hill Country views while Laguna Gloria or The Lookout at Shoal Creek provide stunning panoramic sights.
For romantic sunsets with an aerial look over this city, you may opt for any one of these spots which will surely give your Austin tour a perfect backdrop!
What is the highest view in Austin?
For over a century and a half, the 785-foot-high Mount Bonnell has enthralled people of all ages with its stunning views. Visitors can ascend 106 steps to enjoy remarkable panoramas of Lady Bird Lake, downtown Austin, and The Hill Country from above. People come in droves every year just for an opportunity to appreciate this picturesque spot that overlooks some beloved parts of Central Texas.
What park in Austin has a skyline view?
Mount Bonnell and Zilker Park provide stunning, memorable backdrops for moments such as marriage proposals or photoshoots. The view from Austin's Mount Bonnell gives a full 360-degree panorama of the city skyline while an iconic one can be seen at the park among its acres of lush green grounds. Both spots in Austin are perfect places to capture special memories with their spectacular views.
What is the best time to visit the Oasis on Lake Travis?
At the Oasis on Lake Travis, witnessing a spectacular sunset is an unforgettable experience. As day turns into night and dusk approaches, vibrant colors of pink, orange, and purple splash across the sky. These hues are echoed in the lake's tranquil surface providing visitors with breathtaking visuals as they stand captivated by this magnificent beauty.
Are the hiking trails at Pennybacker Bridge Overlook challenging?
At the Pennybacker Bridge Overlook, hikers of all skill levels can explore trails that provide breathtaking views over Lake Austin. Beginners will find an easy route to take in its beauty, while those with more expertise may choose a trail with greater difficulty but just as stunning sights. Regardless of what path you go down for your adventure here, you'll be rewarded with spectacular scenery and natural splendors right within Austin city limits!