4 of the Best Neighborhoods in Taylor
Shannon, Apr 13, 2023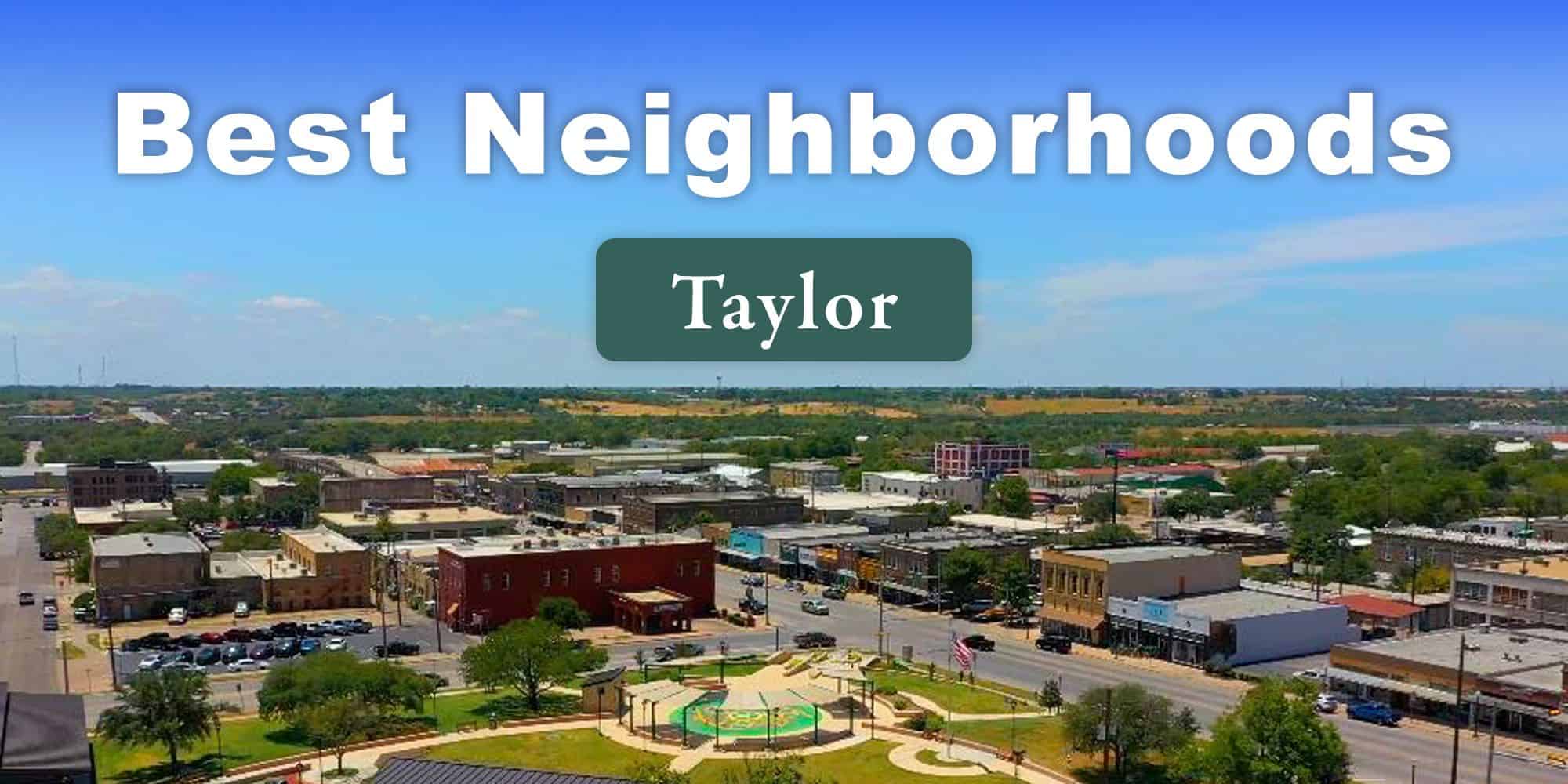 With its small-town atmosphere and reputation for artisan crafts, live music, and barbecue, the City of Taylor is a popular choice for those who want to be near Austin without actually living in the city. With the advantage of its location right on the edge of Austin, the City of Taylor offers easy access to big city amenities while allowing the best part of its residents to come home to the peace and serenity that only the outdoors can bring.
With five major parks and more than eight miles of hike and bike trails, Taylor offers plenty of opportunities for outdoor recreation. At these parks, residents can enjoy the use of splash pads, swimming pools, basketball courts, tennis courts, playscapes, a fishing pier, covered pavilions, and botanical gardens.
Thanks to its vibrant downtown area and business front, Taylor provides plenty of excellent opportunities for residents to shop, dine, and otherwise enjoy the conveniences and amenities of a bigger city. Among the best of these is Louie Mueller Barbecue, which is considered to be one of the top BBQ destinations in the country.
School-aged children living in Taylor attend school as part of the Taylor Independent School District. The district serves a population of more than 3,000 students within its six schools, including its Early College High School, where students can receive up to 60 hours of college credit.
Best Neighborhoods in Taylor
What are the best places to live in Taylor? We have you covered with some of the best Taylor neighborhoods below!
---

Boundaries:

North: Chandler Road
East: SH 95
South: SH 79
West: FM 369

Consisting of three- to five-bedroom homes ranging in size from around 1,400 square feet to about 2,500 square feet, the community of Grove at Bull Creek offers affordable housing options in the best part of the Greater Austin Area. Boasting a variety of styles and types of floor plan options, the community has something to suit just about any need or lifestyle.

With its convenient location near toll roads, the Grove at Bull Creek community provides residents with easy access to both downtown Austin and downtown Round Rock. For example, amenities found within the community include a sand volleyball court, nature trails, a children's playscape, grilling areas, pocket parks, and picnic tables. Meanwhile, the best locally-owned shops and entertainment are just minutes away in downtown Taylor.

---

Boundaries:

North: Cecelia Street
East: Davis Street
South: W 2nd Street
West: Sloan Street

Boasting a large selection of mostly three- to four-bedroom one- and two-story single-family homes, the Doak subdivision offers reasonably-priced homes near the Taylor town center. With the Doak community dating back to 1910, most of its homes are mid-size and date back to anywhere between 1910 and 1935.

Residents of the Doak community enjoy the best use of the neighborhood's numerous amenities, including parks, swimming areas, ample green space, and plenty of bikeable areas. The community is also near shopping malls, restaurants, businesses, and professional services. Meanwhile, downtown Austin is less than 40 minutes away.

---

Boundaries:

North: Mallare Lane
East: Meadow Lane
South: Meadow Ridge Drive
West: Cherrylawn Drive

Offering a small-town vibe within a suburban setting, the Mallard Park community is best characterized by sidewalk-lined roadways and one-story homes. With an average of 1,700 square feet of living space, most of the community's three- and four-bedroom homes were all developed in the early 2000s. As such, the addition of many homes in the community has been renovated and offer upgraded interior features.

With its location just 34 miles from Downtown Austin and two miles from Taylor's Downtown Historic District, the Mallard Park community provides its residents with easy access to a wide variety of shops, restaurants, businesses, commercial services, and conveniences. The 120-acre Murphy Park, which offers tennis courts, swimming pools, a pavilion, and more, is also located just a few miles from the community.

---

Boundaries:

North: Carlos G Parker Boulevard NW
East: N Main Street
South: TH Johnson Drive
West: Timber Crest Drive

Characterized by its variety of home styles, sizes, and price points, the community of North Park features homes ranging in size from around 1,400 square feet to more than 2,000 square feet. Features commonly found with the homes on site, which were all constructed in the 2000s, include two-car garages, private yards, walk-in closets, and kitchen islands.

With its location right off of SH-95, the North Park community provides residents with easy access to all the things that Taylor and the surrounding area have to offer. The 120-acre Murphy Park, which offers sports fields, swimming pools, and tennis courts, is less than three miles from the community on one side, while nearby Bull Branch Park offers a lake with a fishing pier and trails that connect it to the best way to Murphy Park via a pedestrian bridge.