5 of the Best Neighborhoods in Del Valle
Shannon, May 22, 2023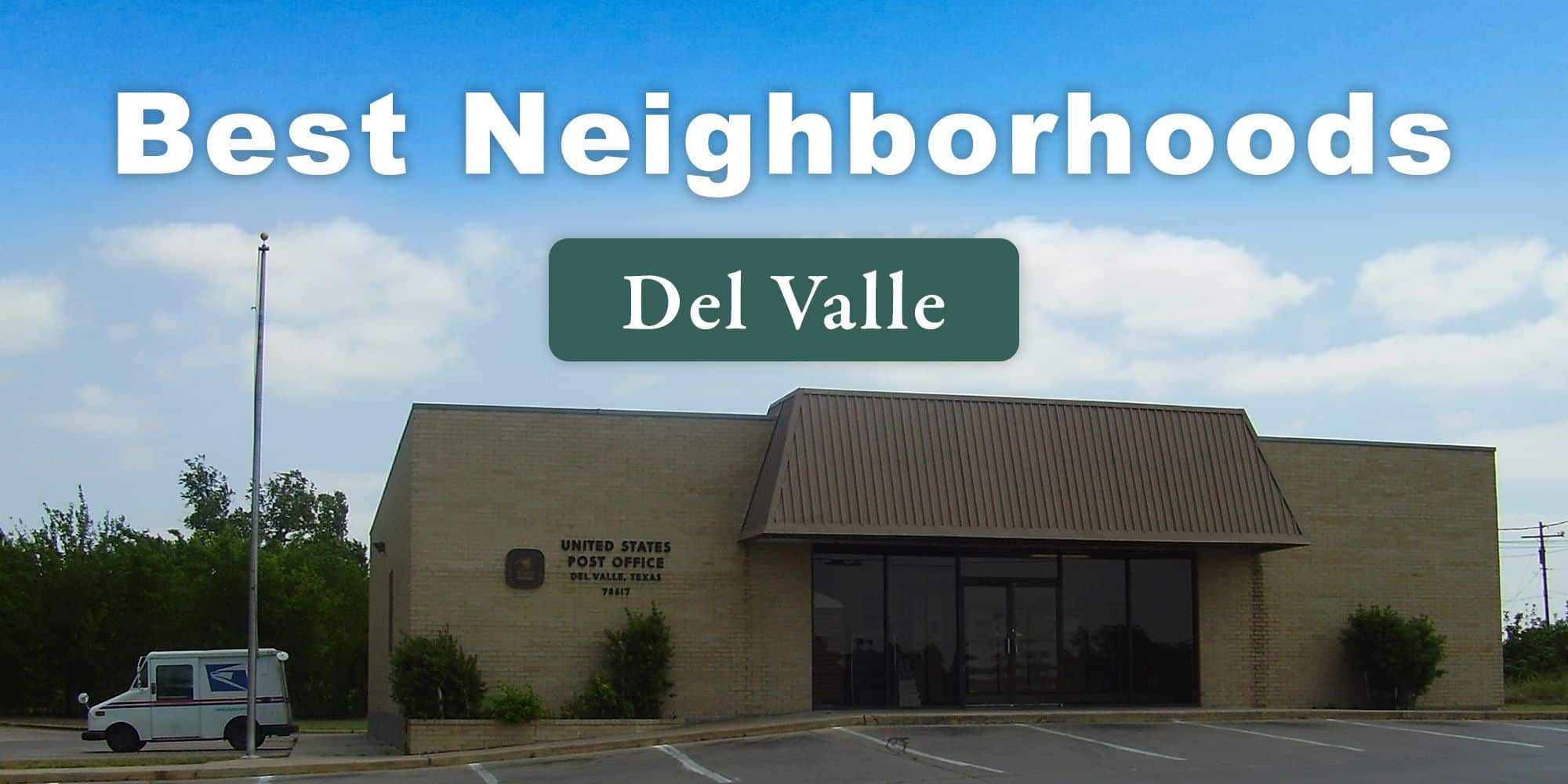 With its location at the edge of the city of Austin, the unincorporated area known as Del Valle has no official boundaries or local government. It does, however, offer a convenient location that includes the Austin-Bergstrom International Airport, Circuit of the Americas, and Austin360 Amphitheater. The Southwestern Metropolitan Park, Barkley Meadows Park, and Richard Moya Park are all also located within the area known as Del Valle.
School-aged children who live in the Del Valle portion of Austin are educated by the Del Valle Independent School District. The district, which serves much of southeast Travis County, has two high schools, three middle schools, nine elementary schools, and two alternative campuses.
Best Neighborhoods in Del Valle
What are the best places to live in Del Valle? We have you covered with some of the best Del Valle neighborhoods below!
---

Boundaries:

North: Ross Road
East: Dearborn Drive
South: Kellam Road
West: Pearch Lane

Consisting of two-story homes with spacious backyards and privacy fences, the Berdoll Farms community and its homes were developed in the 2000s. The three-bedroom homes in the community are characterized by their brick or siding exteriors coupled with open floor plans, tile floors, and marble countertops.

With Downtown Austin less than 20 miles away, the Berdoll Farms community provides residents with quick and easy access to big city conveniences. Meanwhile, local schools are within walking distance, and nearby outdoor opportunities abound, including McKinney Falls State Park and Walter E. Long Lake. The community itself offers a community center, a swimming pool, sports fields, and green spaces.

---

Boundaries:

North: Doyle Road
East: Monterrey Hills Drive
South: Tesoro Way
West: Foquito Lane

Situated on 220 acres and featuring 170 home lots, the El Dorado community boasts homes that rest upon lots measuring 3/4 of an acre or larger. Housing options available within the community represent a wide array of designs, styles, sizes, and price points.

Located just 15 minutes from downtown Austin, the El Dorado community offers easy access to all that the area has to offer. Amenities available to residents within the community include a recreation area with a volleyball court and a grill/picnic area. The Onion Creek Wildlife Sanctuary and the Southeast Metropolitan Park are also located near the community.

---

Boundaries:

North: Heine Farm Road
East: Heine Farm Road
South: Stoney Meadow Drive
West: Boss Road

Featuring single-family Texas-style traditional homes, the suburban community of Stoney Ridge was developed in the late 2000s and early 2010s by Lennar Homes and DR Horton. Averaging 1,600 square feet of living space, the community's three- and four-bedroom homes are characterized by open kitchens, granite countertops, and master suites with private backyards and covered patios.

With its location off of the 130 Tollway and Highway 71, the Stoney Ridge community provides easy access to nearby Austin and all of its amenities. The community itself offers an onsite picnic area, while Circuit of the Americas is less than two miles away. The nearby McKinney Falls State Park offers opportunities for swimming, fishing, and hiking.

---

Boundaries:

North: Pearce Lane
East: Sun Chase Parkway
South: Poppy Petal Drive
West: Sparkling Light Drive

Located on 600 acres of green space off of the 130 corridors, the master-planned community of Sun Chase features single- and multi-family homes alongside commercial developments. Three- and four-bedroom homes ranging in size from around 1,000 to about 1,900 square feet are among the options available in Sun Chase.

With Dry Creek situated to its north, the Sun Chase community features a variety of tributaries and other opportunities for enjoying outdoor recreation. Among these opportunities are three HOA parks and an enhanced 62-acre lake. Other community amenities include interconnected hiking and biking trails, swimming pools, splash pads, playscapes, basketball courts, and athletic fields.

---

Boundaries:

North: Anderson Mill Road
East: Anderson Mill Road
South: Izoro Bend
West: Moray Lane

Characterized by its tree-lined hills, beautiful creeks, and canyons, the upscale and historic community of Twin Creeks offers custom homes, single-family craftsman-style homes, and villas within a parklike setting. Situated on 760 acres of land once known as Old Jack Dies Ranch, the community was constructed between 2008 and 2015 by builders such as DR Horton, David Weekley Homes, Bowen and Bowen Homebuilders, and CalAtlantic Homes. Homes in the community range in size from 2,000 to more than 5,000 square feet, with three- to six-bedroom floor plans.

With its location at McDermott and US-75, the Twin Creeks community is just 20 minutes away from downtown Austin and all that it has to offer. Amenities found within the community include a family activities center, swimming pool, water park, golf course, and recreational trails. Lake Travis is also located near the community.