6 Best Neighborhoods in Jarrell
Shannon, Mar 22, 2023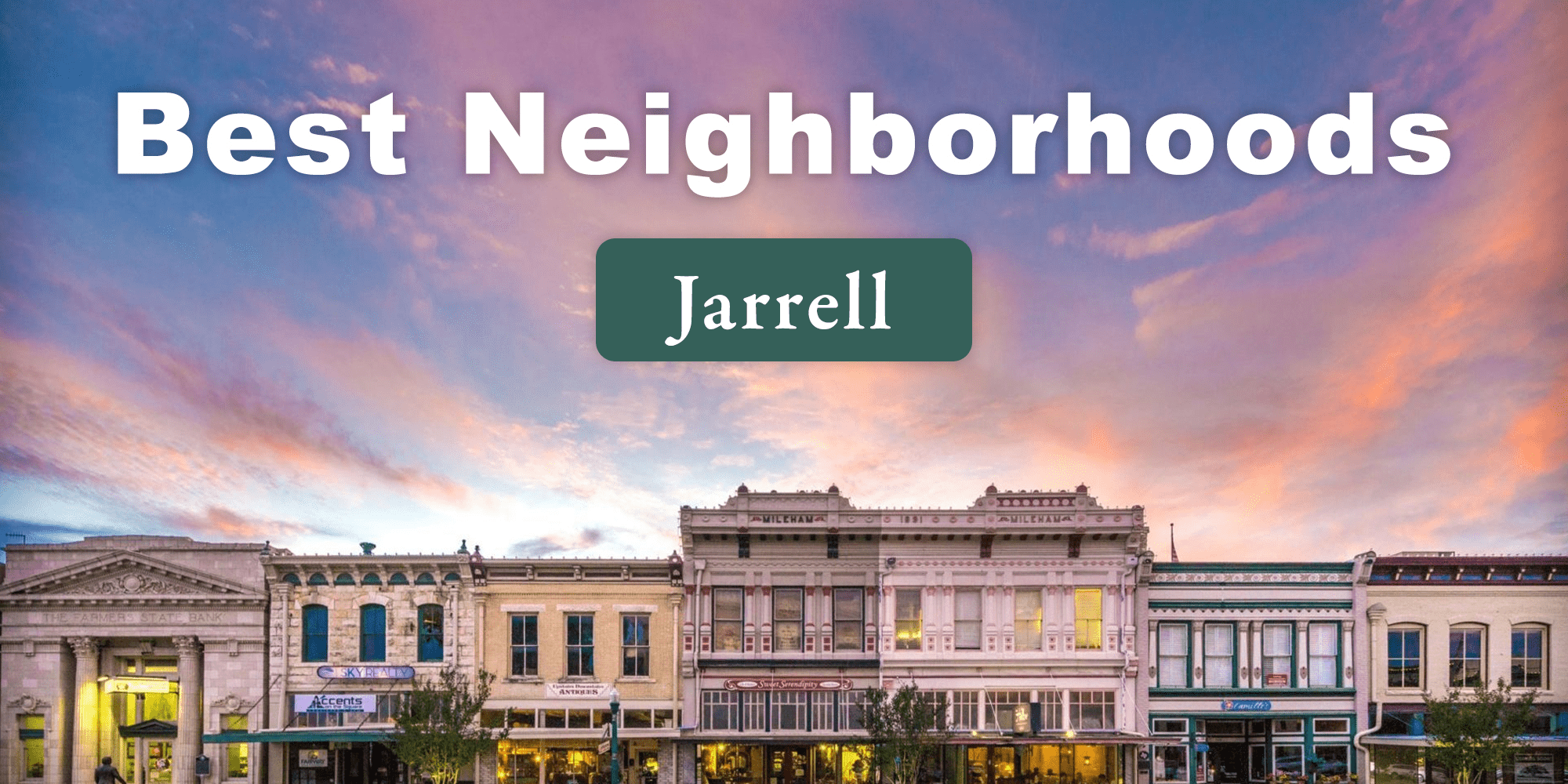 With a population of fewer than 2000 people, the city of Jerrell offers small-town charm within a rural setting. Founded in the early 1900s, the city experienced its greatest population boom during its early years due to its proximity to the railroad. Today, thanks to its location along the I-35 corridor, it continues to offer convenience and ease of access to the many major cities located nearby, including Austin and Georgetown.
For nature lovers, Jarrell offers four parks on the north fork of the San Gabriel River. These include the Twin Springs Nature Preserve, Cedar Breaks Park and Jim Hogg Park. Underground caves can be explored at Inner Space Caverns while the Berry Creek Country Club offers great opportunities to spend time on the greens.
School-aged children who live in Jarrell attend school through the Jarrell Independent School District. The district has one high school, one middle school and two elementary schools.
With its affordable housing options, Jarrell offers a great alternative for those who want to live near Austin, but don't want to pay the higher prices found in the city.
Best Neighborhoods in Jarrell, TX
What are the best places to live in Jarrell? We have you covered with some of the best Jarrell neighborhoods below!
---

Boundaries:

North: Magan Lane
East: Magan Lane
South: County Road 487
West: Jake Drive

With housing options including three- to four-bedroom and two- to three-bathroom floor plans ranging in size from 1,800 to 2,700 square feet in size, The Home Place at Jarrell offers a variety of sizes, styles and price points for those who are interested in purchasing a home. Typical features found in the community's homes include open-concept floor plans, walk-in closets and spacious soaking tubs.

Thanks to its location in the heart of Jarrell, The Home Place at Jarrell is less than one mile from the community high school and is surrounded by a variety of restaurants, places of worship and service providers. With Interstate 35 being just minutes away from the community, residents can also easily reach Downtown Austin and all that it has to offer in less than an hour.

---

Boundaries:

North: C. Bud Lockton Loop
East: Farm to Market 487
South: County Road 306
West: Citation Drive

Showcasing a variety of floor plans and designs from Richmond American Homes, the master-planned Calumet community offers countryside charm combined with the conveniences of the city. Boasting single-family homes, multi-family homes and townhomes, the vibrant community has something to meet the needs of just about anyone looking for a home in the area.

With its location just 40 miles north of Austin, the Calumet community offers easy access to Interstate 35 and all that the area has to offer. Several restaurants are also located just down the street from the community, while a park and baseball fields are also located nearby.

---

Boundaries:

North: Bailey Park Drive
East: County Road 332
South: City of Jarrell
West: Interstate 35

Known best for its small-town hospitality and affordable housing options, the 1,400-acre master-planned community of Sonterra offers a variety of floor plans from which to choose. Common features include kitchens with granite countertops, kitchen islands, stainless steel appliances, designer flooring and energy-efficient features throughout. Homes also have fenced backyards and come complete with landscaping.

As both a master-planned community and a census-designated place, the Sonterra community is technically a city that borders the city of Jarrell to its south. With Interstate 35 forming part of its western border, residents of the Sonterra community enjoy easy access to the cities of Temple, Jarrell and Austin as well as all of the amenities and conveniences each of these cities has to offer. Amenities located within the community include a community clubhouse, two swimming pools, sports courts, a playground and numerous parks and walking trails.

---

Boundaries:

North: Greenspace Drainage
East: Outlaw Drive
South: Outlaw Drive
West: County Road 314

With construction beginning in 2023, Eastwood is a master-planned community situated within the much larger 1,400-acre Sonterra community. Combining a rural setting with the conveniences of the city, Eastwood features single-family homes with a variety of floor plans and designs.

Residents of the Eastwood community enjoy access to a variety of amenities, including a community clubhouse, swimming pool, splash park, playground, pond and trails. With its location just moments from IH-35, Eastwood provides its residents with easy access to Austin, its surrounding cities and the many dining, shopping and entertainment options the area has to offer. Recreational opportunities located near to the community include San Gabriel Park, Blue Hole Park, Lake Belton and Lake Georgetown.

---

Boundaries:

North: S IH-35 Service Road
East: Riverdale Drive
South: County Road 487
West: S IH-35 Service Road

Featuring three- to five-bedroom floor plans with one- and two-story designs, the Stonebridge Crossing community offers a variety of housing designs with open layouts to meet virtually any need. Common features of the homes include chef-ready kitchens, energy-efficient Whirlpool appliances, granite countertops and crown molding detail.

Situated just north of Austin and near to Georgetown, the Stonebridge Crossing community offers residents the best of both worlds. In addition to enjoying countryside living, the many amenities and conveniences of larger cities are within easy reach. Amenities located within the community include a community park, a children's playground, a soccer field, a dog park, picnic areas and walking trails.

---

Boundaries:

North: County Road 1105
East: County Road 316
South: County Road 317
West: County Road 1105

Located within the larger community of Sonterra, the master-planned community of Bailey Park offers homes with a wide variety of floor plans, designs and price points. Homes within this portion of Sonterra, which is also frequently referred to as The Enclave, typically range in size from around 1,200 to 2,400 square feet.

With its convenient location near IH-35, the Bailey Park community provides its residents with convenient access to Georgetown, Temple, Austin and Jerrell along with all of the amenities these cities have to offer. The community itself also boasts a clubhouse, a swimming pool, a basketball court, a playground, community parks and trails to explore.