Exploring the Cool Neighborhoods in Austin, Texas – 2023 Guide
, Aug 28, 2023
The city of Austin, Texas is renowned for its diverse culture, exuberant music, and savory foods. It has a range of neighborhoods to suit every kind of lifestyle – from lively downtowns to peaceful hillside retreats. Creating an assorted array that can only be found in Austin. Want to explore the different 'hoods within this bustling capital? Let's get started!
Short Summary
Explore Downtown Austin for its impressive skyline and vibrant nightlife
East Austin offers a unique mix of old & new, from art to coffee shops
West Austin is perfect for peaceful getaways with scenic views and outdoor activities
Downtown Austin: The Heart of the City
Downtown Austin is one of the top neighborhoods in this beloved Texas city and gives off an authentically urban vibe. Its stunning skyline consists of residential high-rise structures, like The Austonian and The Independent, that attract many to downtown for its nightlife entertainment opportunities spread out amongst different areas around Austin's various locales both within and outside.
If you're touring through the state capital, be sure to allocate time towards appreciating historic sites such as the Paramount Theater while treating yourself to amazing views from atop Travis Heights. Hike-and-bike trail or boardwalk at nearby Downtown waterfronts, all located just a few steps away from each other!
Sixth Street
Downtown Austin's Sixth Street, known as Dirty Sixth due to its National Register historic district status, is the perfect destination for anyone looking to experience the city's vibrant nightlife. Here you will find a mix of Victorian commercial buildings and some of the most popular bars in town with live music venues drawing people from all over the region. From the Warehouse District and Capitol Building nearby through bustling nights out, it's hard not to be drawn into this special part of downtown Austin!
Rainey Street
Downtown Austin is just a short walk away from Rainey Street, an area with fashionable establishments that have been created out of historic bungalows. This once-peaceful residential district now captivates guests who are searching for a unique evening scene.
In the streets surrounding downtown Austin, you can find pubs and dining spots located in well-maintained houses, presenting an ideal mix of old and new vibes that make up what defines neighborhoods around this bustling city.
Best Neighborhoods in Downtown Austin
BRAZOS LOFTS | POSADA DEL REY | THE FOUR SEASONS | THE BROWN BUILDING | THE RAILYARD | THE W | CAMBRIDGE TOWERS | TOWERS OF TOWN LAKE | THE 5 FIFTY FIVE | MILAGO | VILLAS ON TOWN LAKE | AVENUE LOFTS | NOKONAH | WESTGATE TOWERS | AUSTIN CITY LOFTS | PLAZA LOFTS | THE AUSTONIAN
East Austin: A Blend of Old and New
In East Austin, the perfect harmony of traditional and modern is alive. This ever-growing neighborhood offers antique craftsman homes alongside contemporary buildings with plenty of independent stores, art galleries, and popular coffee shops for those seeking a unique environment full of creativity to fill up the streets. Here Cherrywood's range of housing options caters to different lifestyle preferences like professionals, students, faculty workers, or retirees alike, all drawn by the charm that this area has to offer – an invigorating hub situated right in vibrant Austin city limits!
East Austin Studio Tour
East Austin is renowned for its annual East Austin Studio Tour (EAST), a two-weekend event in May. It's free and open to all, providing an incredible opportunity to meet local artists, peruse their artwork first-hand – even purchase it! Attendees can enjoy live music and tasty food trucks as they discover the unique culture of this vibrant neighborhood within Austin city limits. With EAST, visitors get a chance to support talented creators while immersing themselves fully in the spirit of East Austin.
Coffee Shops and Cafes
Austin is home to a variety of coffee shops and cafes located in diverse neighborhoods, so whether you are looking for an energizing atmosphere or a tranquil spot, East Austin has it all. From Cuvée Coffee Bar to Cherrywood Coffeehouse, there's something that will suit any palate. For those hoping to explore other regions within the city, be sure not to miss out on Jo's Café situated in South Congress as well as Halcyon which can be found in North Loop. With countless cozy spots dotted around each neighborhood, indulging your caffeine cravings could never have been easier!
Best Neighborhoods in East Austin
CHERRYWOOD | UNIVERSITY HILLS | ROSEWOOD | AGAVE | WINDSOR PARK | MLK | DELWOOD | HOLLY DISTRICT | FRENCH PLACE | GOVALLE | MUELLER | EAST RIVERSIDE
South Congress: Funky Shopping and Iconic Sights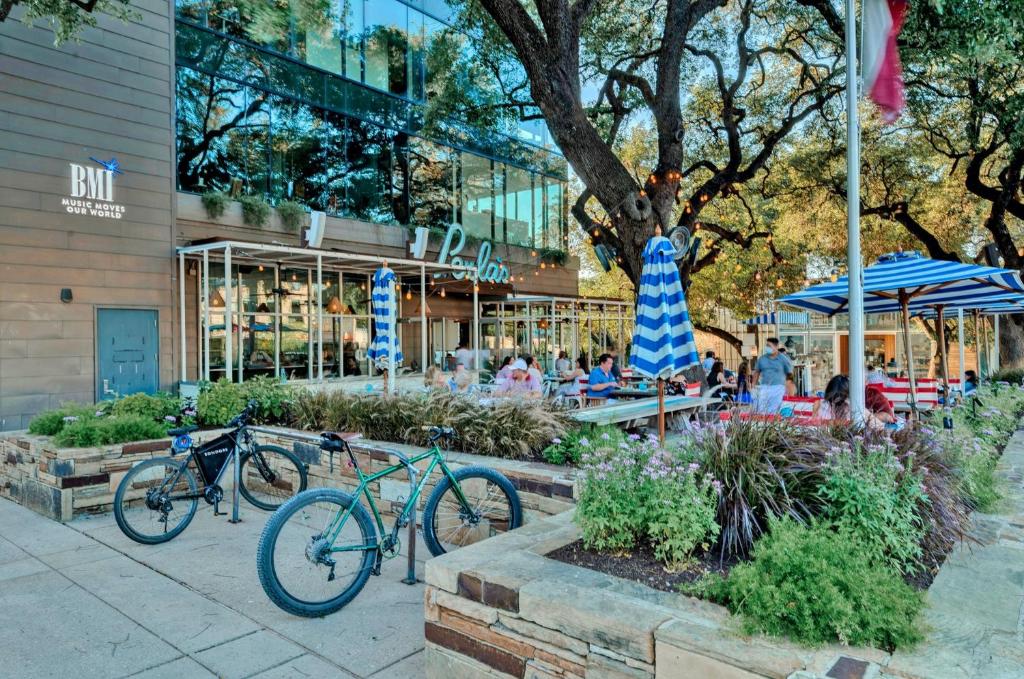 South Congress, nicknamed SoCo for short, is a renowned neighborhood due to its trendy shopping centers and proximity to the Colorado River. Featuring coffee shops, and boutiques with unique finds, as well as the nearby Congress Avenue Bridge (the nightly migration spot of 1.5 million bats from March to October), this district offers plenty of entertainment options!
For live music lovers, there's the Continental Club – it has been hosting musical acts like Double Trouble, Paul Ray & The Cobras, or Joe Ely since the '70s and 80s. A visit here will make your night in SouthCongress truly memorable!
South Congress Avenue
South Congress Avenue is the center of SoCo, full of diverse shops and eateries as well as music venues. Places such as C-Boy's Heart & Soul or Herb Bar will offer one-of-a-kind experiences on this street.
If you're looking to explore Austin then South Congress Avenue has plenty of accommodation options like hotels, motels, and Airbnb rentals for visitors to stay in while experiencing all that the area offers.
Colorado River
Located just a stone's throw away from South Congress, the Colorado River provides an array of activities for water lovers and unparalleled views of the city. This vital river stretches 1,450 miles through seven U.S. states and two Mexican territories, providing important resources to residents in Southwest America.
Whether you're looking for fishing spots, or wishing to take out your kayak or boat into calmer waters, swimming even – this mammoth source caters to all these desires with its picture-perfect landscape taking everyone aback as they experience downtown Austin skyline along with rolling hills leading up to Texas Hill Country's horizon line – quite literally at their fingertips!
Hyde Park: Charming Streets and Historic Homes
Situated just north of downtown Austin, the quaint neighborhood Hyde Park offers its residents access to historic homes, vintage stores, and a multitude of recreational activities. It is popular for its inviting atmosphere with unique coffeehouses and an unpretentious evening social scene appealing to students, young professionals, and families alike who appreciate the tranquil streets lined with trees as well as the proximity to various amenities nearby.
Lions Municipal Golf Course
The Lions Municipal Golf Course in Austin, TX is known by locals as "Muny" and has been a favorite spot for golfers since its opening in 1924. The course was created with the help of the Lions Club of Austin, making it one of Texas' oldest public courses.
This 18-hole experience offers something to everyone: from novices to experts looking for an enjoyable yet challenging game or practice time on Muny's driving range and pro shop areas, plus dedicated putting green space!
Neighborhood Parks
Hyde Park is renowned for its breathtaking parks and green spaces. Residents are given plenty of options to unwind or take part in activities with the likes of Bob-O-Link Meadow, Midway Plaisance, Paul H. Douglas Nature Sanctuary, Foster Avenue Beach, and Promontory Point all found in this lovely neighborhood.
Whatever activity one decides on – be it a pleasant stroll or an outdoor game – Hyde Park's numerous recreational areas make it ideal for taking full advantage of Austin's natural splendor.
North Loop: A Creative Haven
North Loop, a neighborhood situated between Austin's downtown district and Hyde Park, provides an inspiring atmosphere for young professionals as well as musicians and artists. Vintage stores are abundant here along with bookshops while the area hums to a live music scene unique to itself. From remodeled modern housing options of today to classic designs from decades before that can be found all around North Loop – this place captures the perfect fusion of past and present in one spot representative of quintessential Austin culture.
Unique Shopping Experiences
Explore the unique North Loop shopping district and find something to suit everyone. From vintage stores with rare finds to local bookstores and restaurants, you'll be able to browse at leisure while discovering great places like AFS Cinema – Richard Linklater's own independent Texas cinema – or Workhorse Bar for some tasty comfort food in a relaxed atmosphere. The area offers an array of incredible choices that will satisfy all shoppers looking for special treasures!
Live Music Capital
North Loop, a neighborhood steeped in the Live Music Capital of Austin's vibrant music scene, is full to overflowing with venues providing live sounds for everyone. Visitors can take their pick from Inbound BrewCo and Bunker's Music Bar & Grill up to Underground Music Cafe and The Local – there's something on offer no matter what kind of tunes you're after.
The North Loop area provides an opportunity to immerse yourself in quality live entertainment amidst its energetic atmosphere. Come experience all that it has to offer!
South Lamar: A Mix of Old and New
Situated in the south of Austin's downtown area, South Lamar is a vibrant district that displays both old and new architectural styles. You can find everything from Craftsman-style houses to contemporary structures here, making it perfect for those seeking outdoor recreation or a lively nightlife experience! Its proximity to Zilker Park draws a range of people, including creative types, music lovers, forward-thinking families, and business owners who appreciate its balance between classic cowboy boot/honky tonk appeal with Tex Mex restaurants plus historic bars unique to this neighborhood.
Zilker Park
Located in South Lamar, Zilker Park is a hot spot for recreation and events. From the popular music festivals of SXSW and Austin City Limits to the Barton Springs pool (drawing thousands each year) this park has something for everyone. And if that wasn't enough, it also offers an array of housing options from modern mansions to cottage-style bungalows. Ideal places where one can take advantage of all the things outdoor living in Austin has to offer.
Dining and Nightlife
South Lamar offers a range of restaurants and nightlife venues, including upscale ones like Uchi and Odd Duck to more relaxed locations such as Matt's El Rancho or Loro. After exploring the area's attractions during the day, locals can enjoy live music at The White Horse, The Mohawk, or The Highball while having some beers with friends during their downtime.
West Austin: Scenic Views and Serenity
West Austin, with its picturesque rolling hills and calming atmosphere, is a desirable retreat located in close proximity to the bustling heart of Austin. This sought-after area features plenty for residents and visitors alike. Luxurious resorts can be found alongside waterfront eateries near various nearby lakes offering the perfect combination of leisure activities and recreation opportunities.
From Lake Austin to Bee Cave Sculpture. Park there's easy access to several different attractions providing those who wish for an escape within city limits ample chance to experience tranquility just outside their doorstep.
Lake Austin
Centrally located in West Austin, visitors of Lake Austin can enjoy a plethora of water-related activities with the backdrop being spectacular views. Those interested in angling, canoeing, or paddling a kayak are welcome to make use of this tranquil lake for some fun and relaxation. It's also surrounded by popular attractions such as Red Bud Isle Trail, Turkey Creek Pathway, and Riverplace Nature Track which makes it an ideal spot for any nature enthusiast!
Nearby Attractions
Living in West Austin offers effortless access to a wide array of attractions. Outdoor adventurers can take advantage of Lake Travis's boating and fishing, while those with an eye for art should visit the original installations at Bee Cave Sculpture Park. If you prefer more active activities then Bull Creek is ideal. Visitors here have plentiful options for hiking, swimming, and bouldering. No matter what your interests are, there will always be something new and exciting near West Austin due to its easy accessibility to diverse locations.
Summary
From the downtown streets of Austin to West's hillside, exploring its various neighborhoods provides a diverse mix of experiences. With each area offering a unique flair ranging from Sixth Street's energetic nightlife, East Austin's inventive vibes, or Colorado River's tranquil beauty, there is something special waiting for all who visit this vibrant city. Whether you are looking for the ideal neighborhood to settle in as a young professional, searching for green spaces and outdoor activities with your family, or simply wanting to embrace what makes Austin so great – neighborhoods around Downtown have plenty on offer. Making it one of America's best cities, where living and playing come together perfectly!
Frequently Asked Questions
Where is the hipster area of Austin?
East Austin has grown in notoriety over the years as a popular destination for those seeking an unconventional experience. The area is now home to vibrant culture, music and art scenes, unique local businesses, and diverse people groups, all of which have been encouraged by recent surges in development across this particular part of town. Among these new establishments are restaurants, bars, and other specialty shops scattered throughout the neighborhood that will leave visitors with no shortage of choices when exploring what East Austin has to offer.
What side of Austin is best to live in?
East Austin is an incredible place to live in the city of Austin due to its energized environment and well-known places like Franklin's Barbecue and High Noon.
What makes Downtown Austin one of the best neighborhoods in Austin?
Known as one of the finest areas to live in Austin, Downtown is renowned for its skyscrapers and lively atmosphere – a plethora of nightlife hotspots are spread throughout this neighborhood's entertainment zones.
What can I expect to find at the East Austin Studio Tour?
The East Austin Studio. The tour is an amazing opportunity to uncover the creations of local artists and buy art directly from them! Don't miss out on this thrilling event taking place in the heart of Austin.
What kind of shopping experiences can I find in South Congress?
Discover unique experiences on South Congress, from funky stores and coffee spots to bars serving cocktails.