Exploring the Hidden Gems of Small Towns Near Austin, Texas
, Sep 11, 2023
Take the opportunity to go on an incredible journey that leads you around Austin, Texas! Soak in stunning views as you travel through small towns of the Lone Star State and get a glimpse into their unique cultures. Be sure to explore this region near Austin for its many hidden gems – there's plenty waiting just outside of bustling city life!
Short Summary
Explore the hidden gems of small towns near Austin, Texas for an unforgettable getaway!
Discover outdoor adventures and coastal retreats in East Texas and the San Antonio area.
Discover charming attractions, unique shops, and galleries with vibrant culture and history in these tiny towns.
Charming Escapes in Texas Hill Country
Located in the breathtaking scenery of Texas Hill Country, Wimberley, Dripping Springs, and Johnson City are a perfect getaway from urban life. These small towns near Austin have an amazing atmosphere with spectacular views of hill country as well as plenty to do that will make your trip truly remarkable.
Let's explore these charming little places together!
Wimberley
Tucked away near Austin, Wimberley is the ideal getaway spot with its picturesque natural swimming hole and numerous hiking trails. The town has a rich history that dates back to prehistory, which makes it perfect for a peaceful escape. Visitors can also explore local art galleries and take part in events showcasing area talent at the renowned Wimberley Arts & Crafts Fair.
For those looking for something special out of their day trip or weekend vacation, you will not be disappointed by all this charming small town offers! Highlights include exploring Blue Hole Regional Park as well as Jacob's Well Natural Area where one might find adventure on various treks such as Cypress Creek Trail or Blanco River Trail.
If you want an unforgettable experience full of fun adventures without having to travel too far from home, consider taking some time off to visit Wimberly. Here visitors will find many things made just right, including breathtaking views and plenty of charm offered by this captivating Texas city!
Dripping Springs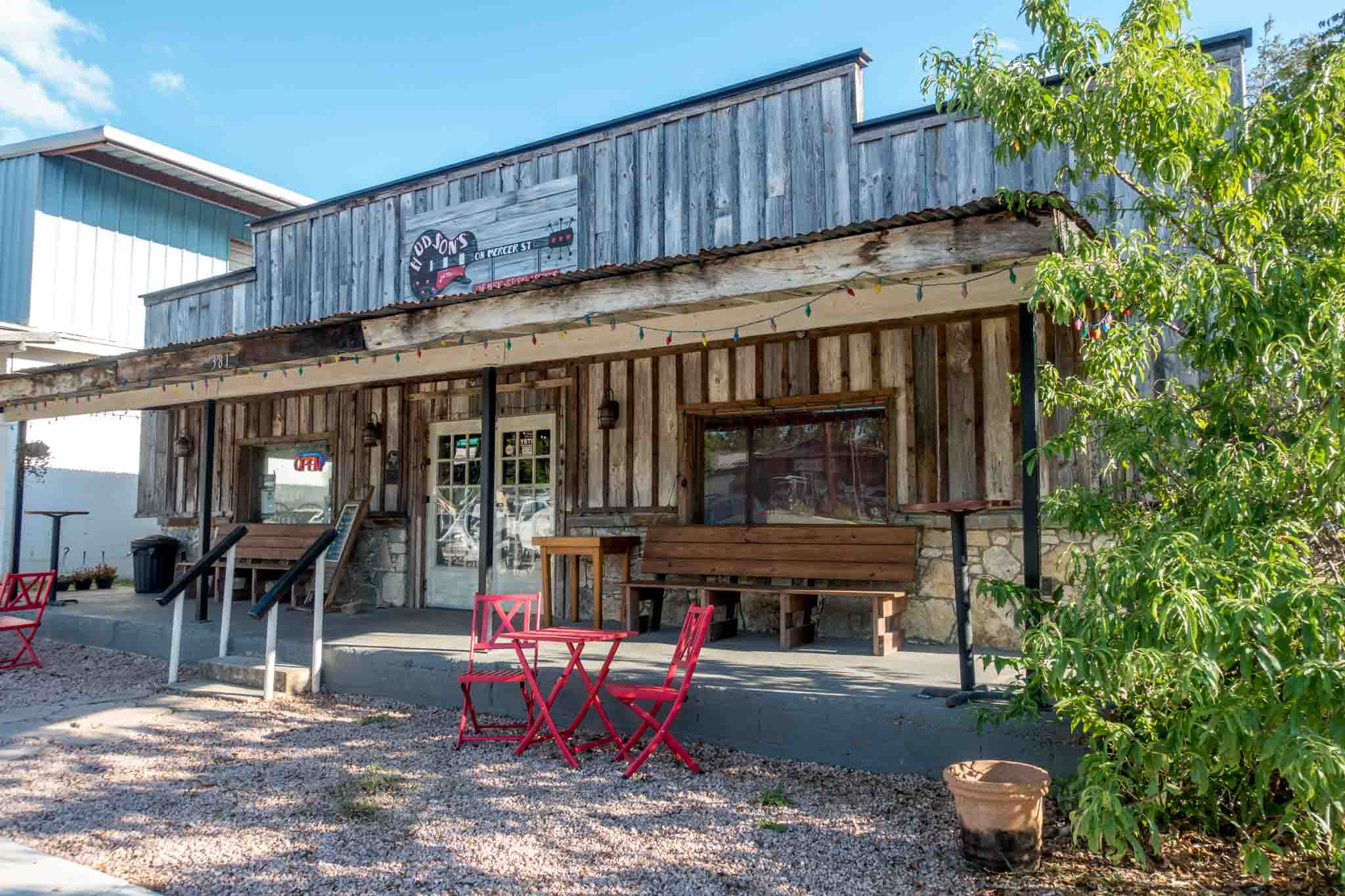 Nestled in the heart of Texas Hill Country, Dripping Springs is a picturesque small town well-known for being called the "Wedding Capital of Texas". Not too far from Austin, this tiny hamlet provides you with interesting activities such as winery visits and olive oil tasting along with many majestic scenes like Hamilton Pool Preserve.
This great tourist destination offers something to all age groups, regardless of whether it's sightseeing local wine outlets or breathing in views at one of the hill country's leading attractions. Namely, your stay here will surely be extraordinary while also prompting you to return soon!
Johnson City
Johnson City, a tiny Texas town with its own small-town charm, holds the honored name of former President Lyndon B. Johnson and is home to many historical sites including LBJ Ranch as well as Lyndon B. Johnson State Park & Historic Site. A site that can all be explored by visitors here. For those looking for entertainment outside the realm of history, they will not find disappointment in this city either. There are stunning hiking trails along riverside paths complemented nicely with local antique stores and wineries while Pecan Street Brewing offers refreshment from nightfall into dawn hours. Whatever your interest may be, you won't forget to visit Johnson City!
Tiny Towns with Big Attractions
The small towns of Round Top and Luckenbach, located near Austin, Texas, offer a unique experience that will be remembered by all who visit. Historical buildings stand alongside vibrant music and an abundance of outdoor activities. These two areas hold big attractions despite their size.
Let's explore the charm offered in these miniature spots! Not only do they host regular antique shows, but also provide recreation opportunities for those seeking adventure, both indoors and outdoors. Close proximity to Austin allows easy access should visitors find themselves looking for more diverse entertainment experiences.
Overall, there's something special about this tiny town duo that keeps tourists coming back time after time – as soon as you check them out you won't be able to resist either!
Round Top
Nestled in a small town, Round Top is perfect for anyone looking to take a step back and bask in the beauty of days gone by. Those fascinated with history can explore its many historic buildings that have been inscribed on the National Register as well as quaint places throughout the area including the world's smallest Catholic Church. Every two years visitors can also attend an exclusive antique show, showcasing items from faraway lands both old and new.
Whether you are passionate about antiquities or simply enjoy taking leisurely strolls through unique locales – Round Top will not disappoint! A diverse range of activities awaits everyone who takes time out to venture into this amazing community. It truly captures something special that one must experience first-hand at least once during their lifetime.
If planning ahead, be sure not to miss out on what has become synonymous with Round Top: Round Top. The renowned antiques show where hidden gems await discovery amongst interesting displays guaranteed to transport any spectator straight down memory lane!
Luckenbach
Experience the unique atmosphere of Texas in the tiny town of Luckenbach, founded as a joke back in 1970. Enjoy its historic buildings and outdoor activities like hiking or biking while soaking up music from its live music venue and iconic dance hall – complete with a general store that's sure to draw you in. Be welcomed by warm hospitality at this special place where everyone is somebody.
So take time off for an adventure filled with unforgettable memories. Discover what makes this small but mighty destination so remarkable! From exploring its fascinating history to dancing away into starry nights – all within close proximity – there's no shortage of exciting things to do. Whether discovering new experiences alone or spending quality time surrounded by friends, Luckenbach is guaranteed to provide fond moments long after your departure home.
Historic Havens Near Austin
Head out to Gruene and Salado, two charming small towns just a short distance from Austin. These historic sites boast an abundance of culture, history, and natural beauty that will enchant any visitor! Explore all the hidden treasures these locations have to offer for yourself – you won't be disappointed. From romantic streetscapes nestled in their pasts to picturesque outdoor views on display today. There is something special about both Gruene and Salado near Austin for everyone to experience.
Gruene
Gruene is a picture-perfect town with its roots in German heritage that offers countless ways to pass the time. Of particular note, Gruene Hall is renowned as Texas' most venerable dance hall and when combined with the classic atmosphere of the Gruene Mansion Inn makes this destination an essential stop for history buffs.
Not only are there plenty of opportunities to explore what has been retained from days gone by, but around every corner on the quaint old-world square are restaurants, stores galore, and galleries that will enthrall even those just looking for leisurely day trips outside their hometown walls. Outdoor aficionados can enjoy river tubing down the Guadalupe River while antique treasure hunters find no better spot than here where they may spend hours wandering through antique shops -– truly something for everyone!
Salado
Salado, a place of artistry and culture, has something for everyone. An exploration through its quaint streets will reveal an array of eclectic shops, wine bars, and galleries that make the town one-of-a-kind. Admirers can also discover some historical sites like The Stagecoach Inn or visit the Salado Museum to delve into history.
The small Lone Star State settlement truly shines when it comes to those in search of unique experiences—like being part of an alluring atmosphere that emanates from venues such as the captivating Sculpture Garden found there. No traveler should miss out on exploring this charming village!
Whether you want a relaxed ambiance or take pleasure by immersing yourself in local artwork, there is nowhere else quite like Salado because it captures that special aura only associated with intimate townships radiating genuine charm. Visiting here provides insight into why people are drawn towards discovering authentic hidden gems within Texas's rural areas without sacrificing luxury amenities at every corner.
Outdoor Adventures in East Texas
Tucked away in the heart of East Texas, Canyon and Marble Falls offer an array of thrilling outdoor activities perfect for adventurers seeking a different kind of getaway. Explore these small towns' spectacular natural beauty while enjoying all that they have to offer! From canyoning adventures to magnificent lakeside views, visitors will be spoiled with diverse experiences during their stay in this region full of stunning landscapes and memorable attractions.
Canyon
The incredible Palo Duro Canyon State Park lies within the boundaries of Canyon, making it a popular destination for those who love to spend time outdoors. Home to antique stores, art galleries, and other specialty shops too. This city promises something exciting no matter what your interests are. For history lovers, there's plenty to explore with historic buildings like the Randall County Courthouse or First United Methodist Church awaiting discovery in its vibrant downtown area. From outdoor experiences that take your breath away right through unique shopping opportunities you won't find elsewhere, an unforgettable adventure is guaranteed when visiting Canyon!
Marble Falls
Nestled in the Texas Hill Country, Marble Falls offers a host of natural attractions for tourists to relish. Take time out and explore Lake Marble Falls or Balcones Canyonlands National Wildlife Refuge before indulging in some Bluebonnet Cafe pie, This East Texas town is sure to delight all types of visitors! From relaxing on the pristine beaches at Lake Marble Falls to exploring the breathtaking sights within its borders, you can count on an unforgettable experience when visiting this charming small town located deep within Texas.
Coastal Retreats in the Lone Star State
Experience the Lone Star State's captivating coastlines through our coastal retreats. The small towns of Rockport and Port Aransas promise memorable trips with amazing beaches, loads of activities to explore, as well as cultural moments that will make you yearn for more!
Let's uncover these lovely areas and find out all they have in store.
Rockport
Rockport is a beautiful town with many activities and places to explore, including fishing piers, and fascinating historical sites such as the Fulton Mansion State Historic Park from the 19th century that can offer visitors an insight into what life was like in Texas at that time. There are numerous recreational options available for people visiting Rockport. You could enjoy some shopping or dining out if you wish or just take it easy on one of its soft sandy beaches while soaking up some sun. With so much on hand whatever your interests may be, there is something here sure to please!
Port Aransas
Located on Mustang Island, the coastal town of Port Aransas in the Lone Star State of Texas offers a wide array of activities and attractions for its visitors. Stunning beaches are perfect to lounge around or take part in exciting water sports such as kayaking, kiteboarding, and surfing, while birdwatchers can explore one section of The Great Texas Coastal Birding Trail where hundreds of species live.
Whether you're planning an aquatic adventure or want to simply enjoy some time under the sun, this beautiful destination will provide endless opportunities for an unforgettable vacation!
San Antonio-Area Small Towns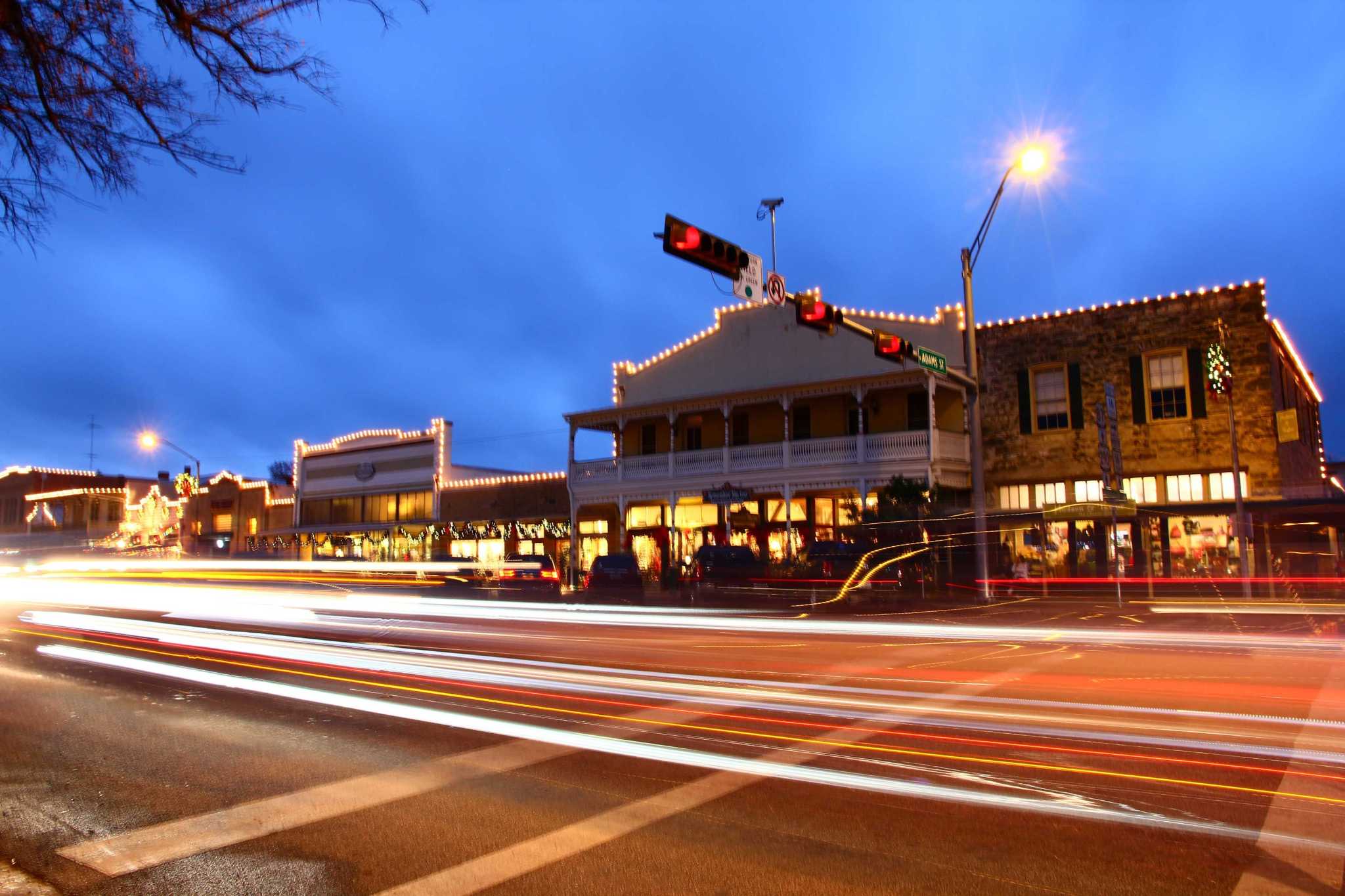 Nestled not far from the lively metropolis of San Antonio are two delightful small towns, New Braunfels and Boerne. Exploring these charming gems provides an exciting mix of nature adventures, retail opportunities, and cultural experiences that you won't want to miss! Let's explore what those nearby places have in store for visitors seeking a departure from the hustle and bustle of city life.
These alluring hamlets near San Antonio offer something special – sights like no other town around them, shopping centers full of eclectic products, and encounters with captivating culture – making it well worth your while to journey into their midst.
Boerne
Situated near San Antonio, Boerne is a delightful small town that has plenty to offer to those looking for a day trip. Hiking trails are abundant in the Hill Country surrounding the city, along with parks and historic sites. With numerous shopping centers such as The Hill Country Mile, The Boerne Village Shopping Center, and the Main Street district – shoppers won't be disappointed! To this, there are several wineries including. The Wine Company, Winery, and Brewing Company are available too. It truly encapsulates everything one loves about Texas towns while providing ample activities throughout each visit – making it ideal for travelers of all interests.
New Braunfels
New Braunfels is a town located just outside San Antonio, renowned for its fascinating history and lively culture. It serves as an ideal destination for day trips or weekend getaways. Providing visitors with numerous attractions including floating down the Comal River, watching films at the drive-in cinema, and sampling local wines from nearby wineries.
The area offers plenty of entertainment options, offering activities such as exploring shopping districts or enjoying pristine rivers along with exciting water parks. No matter what you're looking to do on your visit, there's sure to be something that appeals in this vibrant Texan city!
Summary
Setting out from Austin, Texas and traveling through the small towns nearby can be a truly unique adventure. The hill country escapes offer stunning vistas while coastal retreats are perfect for relaxation. Historic havens abound in these areas too. There is something magical to experience in each of the charming villages beyond Austin's city boundaries – so don't delay: get your bags ready and go explore!
Frequently Asked Questions
What towns are 30 minutes from Austin?
It's easy to make the most of all that vibrant Austin has to offer as Round Rock, Georgetown, and Pflugerville are only a short 30 minutes away from this city.
Where is the cheapest place to live in Austin?
In Austin, there are five neighborhoods that offer an affordable living option in a safe environment. The Eastside is one of them, located close to downtown and boasting various restaurants, bars, and retail outlets. Hyde Park offers great value for money with its proximity to the University of Texas as well as eateries. Allandale has multiple parks nearby making it ideal for those who like outdoor activities while North Loop and Rosedale boast their own list of attractions such as cafes or shops at good prices compared to other areas around town.
Where is the best small town to live in Texas?
Experience Texas' best historic small town in Granbury, where USA Today named it the country's best and a stroll through its historic center reveals why.
Enjoy German influence, delicious peaches, and outstanding local wineries when you visit Fredericksburg, located in the heart of Texas wine country.
What towns are right outside of Austin?
Located just outside of Austin, Round Rock, Cedar Park, Pflugerville, Leander, and Georgetown are all great towns with something for everyone! From shopping to outdoor activities or dining out in a city setting, these places provide an enjoyable experience. Whether you're looking for peace on the weekends or busy metropolitan living, there is no shortage of attractions and fun times here in this area.
Are these small towns suitable for both day trips and weekend getaways?
These small towns are ideal for both day trips and short weekend getaways. They have an array of things to see and do, so every traveler is sure to find something enjoyable. If you're looking for some outdoor fun such as biking or hiking, these places provide plenty of options. Not only that but if culture interests you, there are museums and galleries around the area too!
Whether it's a restful staycation or an adventure-filled break away from home, make your pick among these charming little locales with all sorts of offerings waiting for you.