Homeowner's Guide to a Bee-Friendly Backyard and Garden
, Feb 21, 2022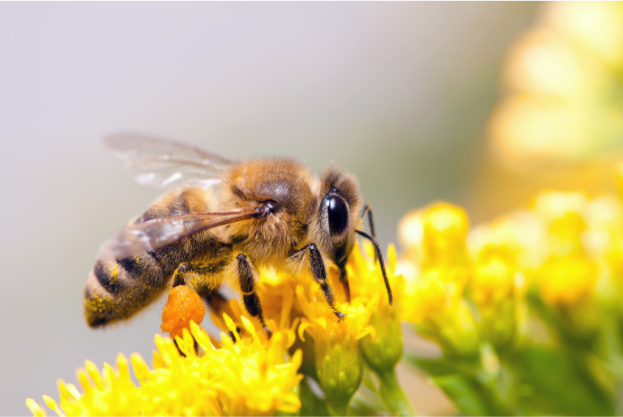 Bees are one of the top pollinators of our environment. Without pollinators, the way that we produce our food, grow plants, and even our air quality is seriously diminished. Recent global risk factors for pollinators, including the destruction of natural habitats for bees, have been decreasing their numbers. Because of their importance to our ecosystem  —  80% of all flowering plants are pollinated by bees, including fruits and vegetables, according to the USDA — many people have taken up "save the bees" as both a lifestyle and a social campaign.
This guide will provide you with tips on how to make your outdoor space bee-friendly, and the several benefits of doing so. Additionally, if you don't have an outdoor space to speak of, this guide will provide tips for how you can support bee conservation in other ways.
Planting for Bees
There are certain plants you can grow in your yard and garden that will attract local bees, and increase pollination. Different plants will attract different types of bees, so you may keep this in mind while planting your garden. Honeybees, for example, will be drawn to nectar-producing plants, while mason bees, who don't make honey but are still essential for pollination, will be more attracted to bright-colored flowers.
These plants can also provide other benefits to your local environment, as well as the look of your property. When planting for pollinators, it's important to be aware of the needs of different plants, and whether or not they are compatible with your local environment.
Native Plants
There are many benefits to using native plants in your yard and garden, and attracting local bees is one of them. These plants tend to be well-acclimated to your specific climate and soil type, need little if any supplemental fertilizer, and are often resistant to most diseases and pests in your area. Using native plants for your landscaping is also environmentally conscious, as they often require less water from irrigation, use fewer pesticides, and enrich the soil that they're planted in, benefitting other plants around them.
When buying a new home, you may ask your realtor or the current home owner what kind of native plants are in your area, or if they grow native plants on the property. You can also use the National Wildlife Foundation's Native Plant Finder tool to help you understand which plants are native to your area. It's important to note that different types of property, such as waterfront property, may have more than one soil type on the property that can support several different kinds of native plants.
Host Plants and Nectar Plants
Pollinators rely on plants for food and shelter, some more than others. Host plants and plants that produce nectar are incredibly important for attracting and sustaining pollinators in your local area. Good host and nectar plants for pollinators include:
Milkweed;
Willow;
Lilac;
Wisteria;
Mint;
Pipevine;
Pawpaw;
Honeysuckle;
Wild buckwheat;
Violets;
You can plant certain combinations of these plants to attract specific pollinator species, like butterflies, or a general variety if you don't have a preference. Doing so can help increase the biodiversity of your garden, as well as the natural aesthetic.
Trees and Shrubs
Trees and shrubs are another good way to support local pollinators, and increase the quality of your landscape. Trees help increase air quality, as well as provide shade that helps cool your space.
Fruit trees;
Dogwood;
Tulip trees;
Sourwood;
Catalpa;
Lindens;
Be sure to research the size of these trees before planting, to make sure you have the proper space for them to thrive, as some of these tree species can get up to 70 feet.
Landscaping for Bees
Man-made landscaping features, such as fountains and ponds can help support local pollinators. Purposeful landscaping can also help increase the value of your home, giving it extra curb appeal and potentially making it easier when you are ready to sell. These landscaping features can range from simple, low-commitment, to larger projects, depending on your budget, space, and design preferences.
Water Fixtures
Water fixtures are often a popular part of intentional landscaping. Fountains and waterfalls and other moving water can provide drinking water to local pollinators and wildlife, when properly cared for. If you're installing a water feature as a way to support local insect and animal life, you'll want to be careful how you treat the water.
Stagnant water can attract unwanted insects, like mosquitoes, and can be breeding grounds for bacteria. You'll want to avoid cleaning your water fixtures with harsh chemicals, and instead, use more natural treatments.
Bee Hotels and Bee Baths
Bee hotels and bee baths are man-made additions to your garden that can support your bee population. These may come in handy if your local environment doesn't support host plants, or you're looking for lower-maintenance pollinator support options. It's important to note that bee hotels are more suited to social bee species, without a queen, like the mason bee. These bees tend to be more solitary, and because they don't produce honey, they don't need a complex hive structure.
You can usually purchase bee hotels and bee baths at your local garden or hardware store. You can also look for DIY bee hotel resources online, which can be a great craft to involve young children in.
Maintenance and Pest Management
Besides habitat loss, chemical pesticides are one of the leading threats to pollinators on a global scale. These pesticides remove or diminish floral resources that pollinators rely on. They can also disrupt bees' navigational abilities and spatial recognition, by changing how they perceive plants. A big part of bee-friendly gardening, and sustainable gardening as a whole, is using holistic, natural pest management and maintenance solutions. Doing so causes the least disruption to your yard's ecosystem.
Pesticide Alternatives
Pests can destroy your plants, and if left unchecked, may become an infestation. Natural pesticides are a good alternative to chemical pesticides. They help prevent infestations without causing harm to positive insects, like pollinators. Alternatives to chemical pesticides include:
Garlic;
Onion;
Salt sprays;
Citrus peels and oils;
Neem oil.
These can still cause harm to bees, even though they are natural, if they're severely concentrated. Make sure to use them outside of peak foraging hours to reduce any potential damage. And remember, whatever pest treatments you use will not only affect your space, but can affect your neighbors' space as well. Make sure you're not using any treatments that could be harmful to your neighbors' plants or animals. Remember, native plants are more likely to be resistant to pests and certain plant diseases.
Backyard Beekeeping
If you find yourself passionate about bees, backyard beekeeping might be a great option. This is a rewarding hobby that can support your local pollinators while reaping delicious rewards, such as fresh honey. Beekeeping is a somewhat complicated hobby, because of the delicate life cycle of bees. Some of the basics of beekeeping include:
Preparing a location: Before you can start beekeeping, you'll need to prepare a location. When choosing the location for your future hive, you'll want to make sure that the hive is far enough away from daily human activity, so that you don't disturb the bees, and vice versa.
Installing bees: Next step is installing the bees. Once you have your bee box purchased, you may want to call a professional to move a swarm in, particularly if this is your first time beekeeping. It might take a few days for the bees to get accustomed to their new space, so give them plenty of room.
Feeding and bee care: Once your bees are installed, then you can focus on nurturing and supporting your hive. Bees eat nectar, which the plants we've listed above will produce naturally in your yard. Overripe fruit and sugar water may also be good food sources for bees. You'll want to have a fresh water source nearby for both drinking and cooling down on hot days.
Checking for pests and disease: Another integral part of beekeeping is maintaining healthy conditions for the hive. Ants, mites, moths, and small rodents may all pose threats to beehives, so you'll want to keep these pests at bay with natural pest prevention, mentioned above. You'll also want to be on the lookout
for signs of disease or parasites in your hive.
Many backyard beekeepers can be self-sufficient in the nurturing and care of their hives. However, depending on the conditions of your hive and the resources at your disposal, you may have to call in a rehabilitation specialist.
Bee Removal and Rehabilitation Services
While beekeeping or creating bee-friendly landscaping, you may find that you are attracting too many bees at once. In some cases, backyards may be temporary homes to whole swarms, which can include up to 60,000 bees if left unchecked. Swarms are a natural part of a hive life cycle, and the bees will likely move on their own, due to natural migratory patterns.
However, if you need the swarm removed, do not attempt to do so by yourself. You will likely kill, harm, or anger the bees and create more problems. Instead, look up your local beekeeping organizations, or ask around for assistance. They will have the proper tools and resources to remove a swarm safely, causing minimal damage to the swarm.
Other Ways To Help the Bees and Natural Pollinators
If you don't have the resources, time, or desire to tailor your landscaping to support local pollinators  —  such as if you're renting an apartment  —  there are other ways that you can help the conservation efforts of bees and local pollinators. These include:
Volunteer at your local beekeeping association: This is one of the most direct ways to help support your local bee population without a backyard space. This also is an avenue you can take to get into beekeeping, before committing to keeping your own.
Become a citizen scientist: Citizen scientists are members of the general public who work with professional scientific organizations collecting data. You can support the bees by volunteering to participate in pollinator studies, and providing data. Becoming a citizen scientist is a great way to get involved with other sustainability and environmental efforts in your area.
Donate to conservation efforts: Donating to pollination conversation efforts is another way you can directly support pollinators. Several organizations accept direct donations, or sell merchandise benefitting their efforts.
Buy honey from local suppliers: Buying local honey and beeswax products can benefit your local pollinators as well. This helps support local pollinators specifically by helping provide farms with the funds they need to keep creating. You may even be able to volunteer at local honey farms, to see how the bees are kept and cultivated.
Join a community garden: Joining your community garden is a great way to plant crops and flowers that support local pollinators, as well as engage in sustainable food production. Joining a community garden can also help connect you to your neighbors, and give you a rewarding hobby.
Additional Resources
Below, you'll find additional resources for how to support bee conservation, as well as further reading on the state of beekeeping, conversation, and other pertinent news.
Pollinators are responsible for one in three bites of food, according to the Bee Conservancy. This helps illustrate the monumental role they play in our society, and the reason we should work toward supporting our local pollinators. With little effort, you can help increase food security across the world by helping protect pollinator species, like bees.