The Best Tacos in Austin, TX
, Aug 3, 2023
As the sun rises over the vibrant city of Austin, Texas, the tantalizing aroma of sizzling tacos starts to waft through the air. This isn't just food; it's a cultural love affair wrapped up in tortillas and seasoned with the heart of the city. Austin, the capital of the Lone Star State, is famed for its diverse food scene, but it's the humble taco that reigns supreme.
From the playful creativity of Torchy's Tacos to the authentic Mexican flavors at La Condesa, the city is a treasure trove of mouthwatering options that bring locals and tourists alike to queue up, day or night. Whether you're on the hunt for the perfect breakfast taco or an afternoon al pastor treat, there's a taqueria around every corner, each with its unique spin on this traditional dish. This article will guide you on an unforgettable culinary journey, highlighting ten iconic Austin taquerias and their signature tacos.
Buckle up, loosen those belt notches, and join us as we embark on a flavorful expedition through the vibrant streets of Austin, visiting cherished institutions like Veracruz All Natural and Tacodeli, and discovering hidden gems such as the Tamale House East and El Primo Taco Truck. Each stop promises a symphony of flavors and a feast for the senses, celebrating the tradition, diversity, and creativity inherent in Austin's taco scene.
Prepare to take your tastebuds on a Texan adventure like no other, exploring the sensational world of Austin tacos. This is more than just a food article; it's your passport to the culinary heart of Austin, where every taco tells a story, and every bite is a piece of the city's rich, multicultural tapestry. Get ready, fellow taco enthusiasts, it's time to savor the soul of Austin, one incredible taco at a time.
---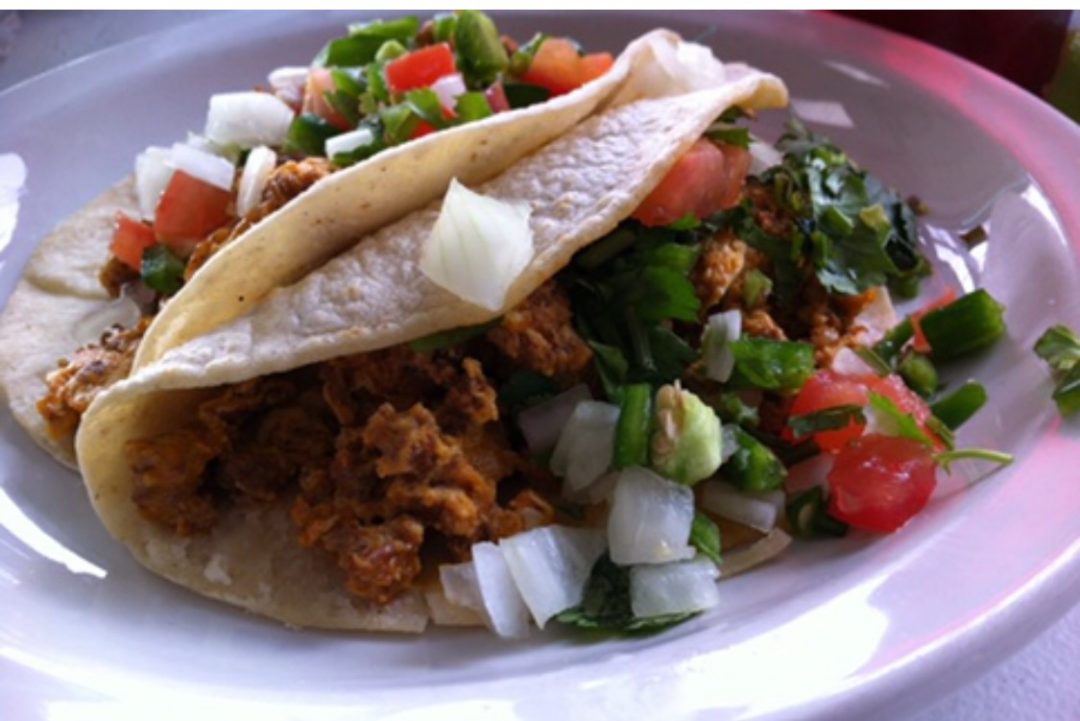 Location: 2300 E Cesar Chavez St, Austin, TX 78702, USA
The "Don Juan" is not just a taco, it's a breakfast feast swaddled in a warm tortilla. Your palate is met with a hefty, satisfying mound of perfectly seasoned potatoes, softly scrambled eggs, crispy bacon, and a generous sprinkle of gooey cheese. Every bite delivers a comforting, hearty taste, ensuring each morning started with a "Don Juan" is bound to be a fantastic one. It's an edible morning symphony, blending the simplistic beauty of a Texan breakfast with the heartiness of Mexican cuisine.
Nearby Neighborhoods: Mueller | Govalle | Holly District | Delwood | Agave
---
Location: 4905 Airport Blvd, Austin, TX 78751, USA
Named after the famed sushi restaurant, the "Uchi Taco" from Tyson's Tacos is a dance of flavors, creating an East meets West culinary experience. It features crispy, golden fried fish nestled in a bed of crunchy cabbage, punctuated by the heat of sliced jalapeno, and finished with a unique hibiscus corn tortilla. It's like tasting the ocean's bounty on a warm summer day, with the fish's crispy exterior and soft, succulent interior creating a tantalizing texture. The unique hibiscus corn tortilla ties all the flavors together, adding a floral hint to this seafood marvel.
Nearby Neighborhoods: Hyde Park | Cherrywood | UT Area | North Loop | Central Austin
---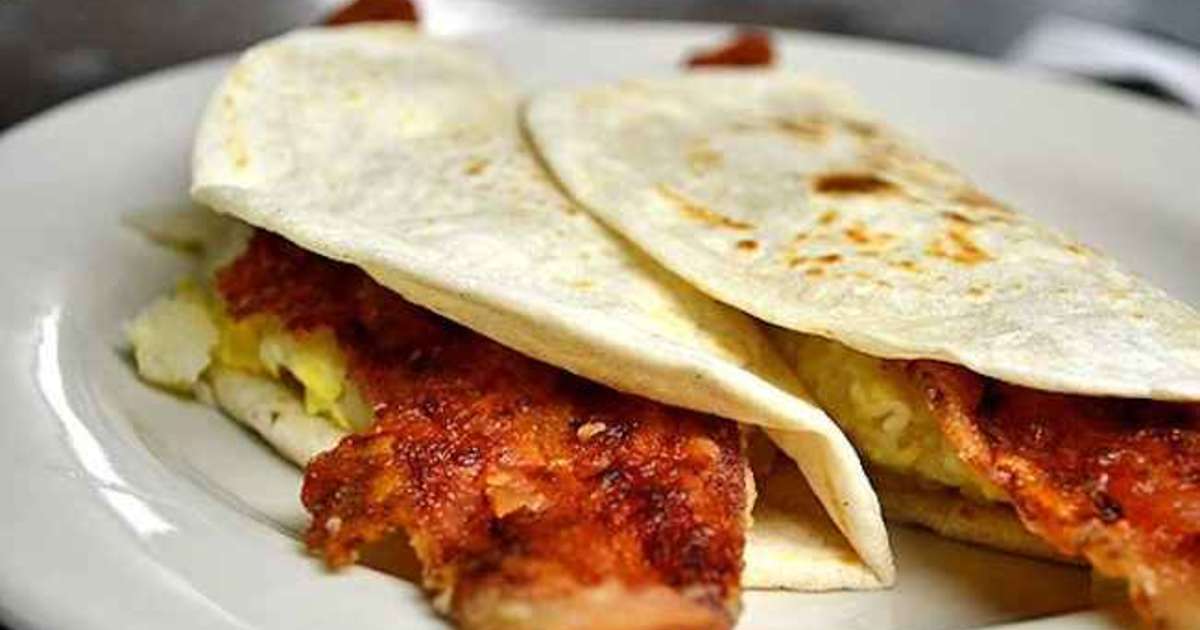 Location: 2305 E 7th St, Austin, TX 78702, USA
This isn't just a breakfast taco; it's a love letter to the morning, encapsulated in a tortilla. The bacon is sizzling and crisp, providing a salty and smoky backbone to this breakfast delight. The eggs scrambled to soft perfection, and the oozing, creamy cheese unite to create a comforting blanket of heartiness that lovingly wraps around the bacon. Each bite of this taco is a warm embrace, the epitome of a homestyle breakfast packed with love and tradition.
Nearby Neighborhoods: Travis Heights | Barton Hills | Bouldin Creek | South Austin
---
Location: 11500 Manchaca Rd, Austin, TX 78745, USA
This majestic creation from Valentina's is where Texas BBQ graciously meets a robust Mexican breakfast. A hefty base of home-style potatoes and hearty beans is topped with tender, smoky brisket, and crispy bacon, all crowned with a perfectly fried egg whose golden yolk oozes with every bite. The tastes of rich barbecued meats meld seamlessly with the traditional breakfast elements, proving the Holyfield to be a real deal indeed. This is a breakfast taco that brings a harmonious melody of flavors, making it a robust start to any day.
Nearby Neighborhoods: The Ridge at Lantana | Bauerle Ranch | Legend Oaks | Shady Hollow | Travis Country
---
Location: 2803 S Lamar Blvd, Austin, TX 78704, USA
This is a taco that transports you straight to the heart of Mexico with each bite. The marinated pork is succulent and flavorful, slow-cooked, and then finely chopped, offering a rich and meaty heart to the taco. The traditional toppings of finely diced onion, vibrant cilantro, and sweet, charred pineapple bring a burst of freshness, contrasting beautifully with the deeply seasoned pork. It's a harmony of sweet and savory, an authentic taste of Mexican street food wrapped up in a warm, soft tortilla.
---
El Primo Taco Truck – Carne Asada taco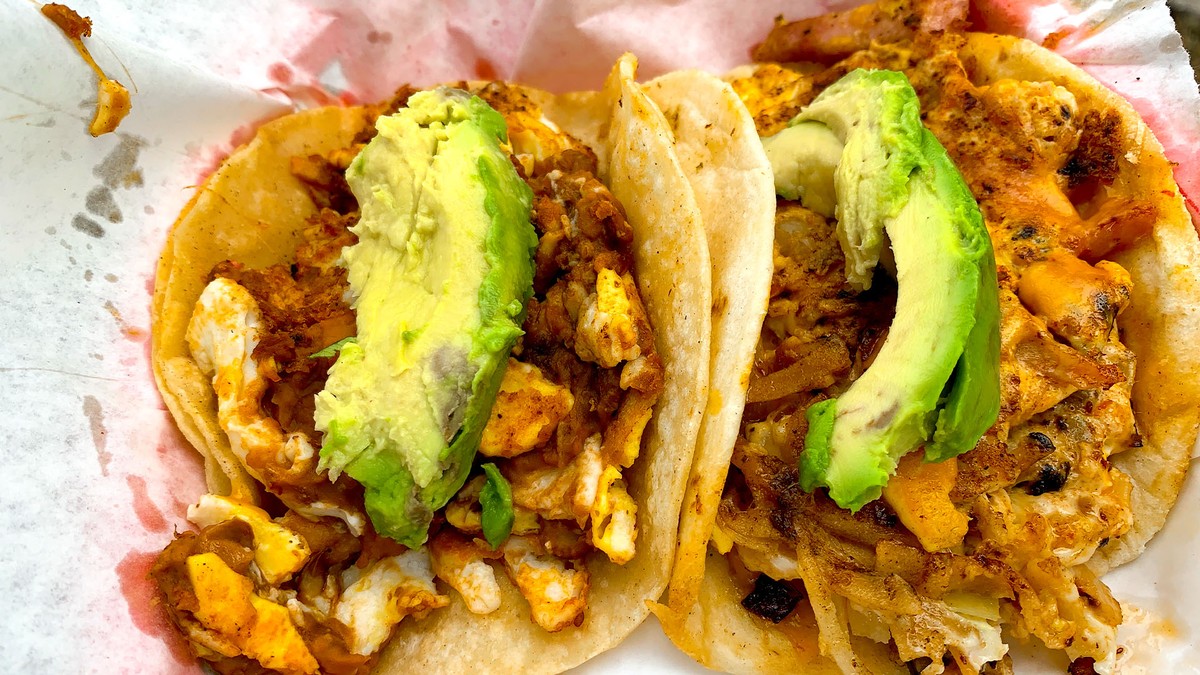 Location: 2101 S 1st St, Austin, TX 78704, USA
This taco is an ode to the beauty of simplicity. The star is the carne asada, grilled to perfection, slightly charred on the outside while remaining tender and juicy within, packing a robust beefy flavor. The simple toppings of chopped onion and cilantro, along with a zesty splash of salsa, let the quality of the meat shine while adding a layer of crunch and freshness. It's a classic, straightforward taco, where each component stands tall on its own while also contributing to an unforgettable tasty ensemble.
---
Location: 1704 E Cesar Chavez St, Austin, TX 78702, USA
A dive into the Migas Originales taco is like stepping into the warm, lively heart of Mexico. The tortilla is a canvas painted with vibrant shades of scrambled eggs, crispy tortilla chips, lush slices of avocado, and the vivid salsa of pico de gallo, all sealed with the harmonizing touch of cheese. This is a breakfast taco with heart and soul, its every bite bursting with diverse textures and tastes, from the creamy avocado to the salty crunch of the tortilla chips. Eating it is like having a fiesta of flavors in your mouth, celebrating the natural goodness of its ingredients.
---
Location: 4200 N Lamar Blvd, Austin, TX 78756, USA
The Otto breakfast taco is a sunrise wrapped in a tortilla, where the early morning is tasted in every bite of refried black beans, sizzling bacon, creamy avocado, and melty Monterrey Jack cheese. It's a breakfast taco that provides not just a meal, but a morning ritual, a day starter that's both hearty and satisfying. As for the Cowboy taco, it's a lunchtime rodeo of dry-rubbed beef tenderloin, grilled corn, caramelized onions, roasted peppers, guacamole, and queso fresco. It's a culinary adventure, like galloping through the bold landscapes of Texas, where each bite offers a new, exciting flavor.
Nearby Neighborhoods: Balcones Park | Allandale | Brentwood | Clarksville | Crestview
---
Tamale House East – Bacon, Egg, and Cheese taco
Location: 1707 E 6th St, Austin, TX 78702, USA
This taco is the very essence of a comforting, homestyle breakfast. The bacon is an orchestra of flavor, each strip playing a crispy, salty tune. When paired with soft cloud-like eggs and rich, creamy cheese, it forms a trinity of breakfast delight that is soothing to the soul and the taste buds. This is not just a taco; it's a love letter to the timeless appeal of classic breakfast, all cradled within a warm tortilla.
---
Location: 400 W 2nd St A, Austin, TX 78701, USA
Every bite of these tacos is a journey through the vibrant streets of Mexico. The achiote-rubbed pork shoulder, slow-cooked to tender perfection, is the heart of this taco, rich and robust. Complementing this are the sweet, comal-cooked pineapple and the smooth avocado purée, each adding a layer of complexity to the flavor profile. These tacos are a celebration of balance and contrast, where sweet meets savory, and soft meets crisp, creating a masterpiece of Mexican cuisine.
Nearby Neighborhood: Downtown | Towers Of Town Lake | Villas on Town Lake | Westgate Towers | The Austonian | The Four Seasons | The W
---
As our flavorful journey across Austin's vibrant taco landscape draws to a close, we're left with more than just satisfied palates and filled bellies. We've tasted the soul of Austin, one taco at a time, discovering the richness of its multicultural heritage, the creativity of its culinary artisans, and the warmth of its bustling taquerias.
From the hearty breakfast offerings of Veracruz All Natural and Joe's Bakery & Coffee Shop to the innovative creations at Torchy's and Tyson's Tacos, we've savored a diversity that defines Austin's food scene. We've seen how the humble taco is elevated at places like La Condesa and refined at Papalote Taco House, reflecting the city's blend of traditional and contemporary influences.
But perhaps most importantly, we've experienced how a simple dish can encapsulate the spirit of a city. In every tortilla filled with meticulously prepared ingredients, we've tasted Austin's commitment to quality, its appreciation for authenticity, and its unapologetic love for good, comforting food.
So the next time you find yourself in the capital of Texas, remember that there's a universe of flavors waiting to be explored, one taco at a time. And even as you finish your taco trail, know that this is just the beginning, for Austin's dynamic food scene always has new flavors waiting around the corner.
As they say in Texas, "Buen provecho!" Enjoy your meal, enjoy the journey, and here's to many more mouthwatering taco adventures in the heart of Austin.