Top Tech Companies Austin TX 2023 – The Best Companies to Work For
, Aug 25, 2023
Austin has emerged as a go-to destination for the tech industry, with top companies and an abundance of talented workers drawn to its buzzing ecosystem. This blog post will look at what makes Austin so attractive to the sector: from leading tech firms to new startups popping up, plus job opportunities throughout this vibrant city that is helping it cement its place among technology innovators.
Short Summary
Austin's tech scene is a thriving hub with major companies expanding their presence and startups flourishing.
Job seekers in Austin can increase their chances of success by developing and maintaining in-demand skills such as software development, data analysis, cybersecurity, etc.
The future of the Austin tech industry looks bright with growth opportunities for enterprise functionality & emerging technologies like AI, 5G & IoT.
Austin's Tech Scene: An Overview
Austin, TX has become a renowned tech hub due to its business-friendly atmosphere, robust labor force, and great quality of life. Companies from across various industries – ranging from cutting-edge operating systems to global network solutions – have flocked there in recent years as it now stands as a globally respected center for data management, PCs, and customer experience alike. This growth is thanks largely to the city's cost-effective housing options along with resources necessary for success like access to critical services. Not forgetting how welcoming Austin's environment can be to businesses too.
Going forward we will explore what lies behind these catalysts that fuel the flourishing industry that makes up modern-day 'Tech City', Austin, TX!
Growth of the Tech Industry in Austin
The tech industry in Austin has enjoyed tremendous expansion owing to many factors such as its appealing amenities, low state taxes, and access to resources. The presence of large tech corporations like Adobe, PayPal, or Workday increases their operations there. Successful startups thrive within the city's borders. Population development & excellent education system. As a result, Austin was named America's #1 Hottest Job Market with potential for continued growth in future years – thus affirming its position as one of the most vigorous job markets out there. With an impressive technology sector bolstered by encouraging business networks and regulations, Austin looks set to remain at the forefront when it comes to US-based hubs showcasing advanced technologies!
Key Factors Driving Success
The booming tech industry in Austin, TX is due to several factors. Most significantly, the working-age population has increased by more than 10% since 2010, making it one of the fastest-growing cities across America. Newer segments such as crypto/web3 and insurance technology have also contributed greatly to this success story.
Austin's environment towards entrepreneurs and businesses plays a significant role here too. Sources of capital are easily accessible along with mentorship programmes which pave the way for new innovative technology roles being created every day. Living costs remain low compared to many other places while talent remains plentiful – all reasons why progress within its tech sector looks set to continue over the coming years!
Leading Tech Companies in Austin, TX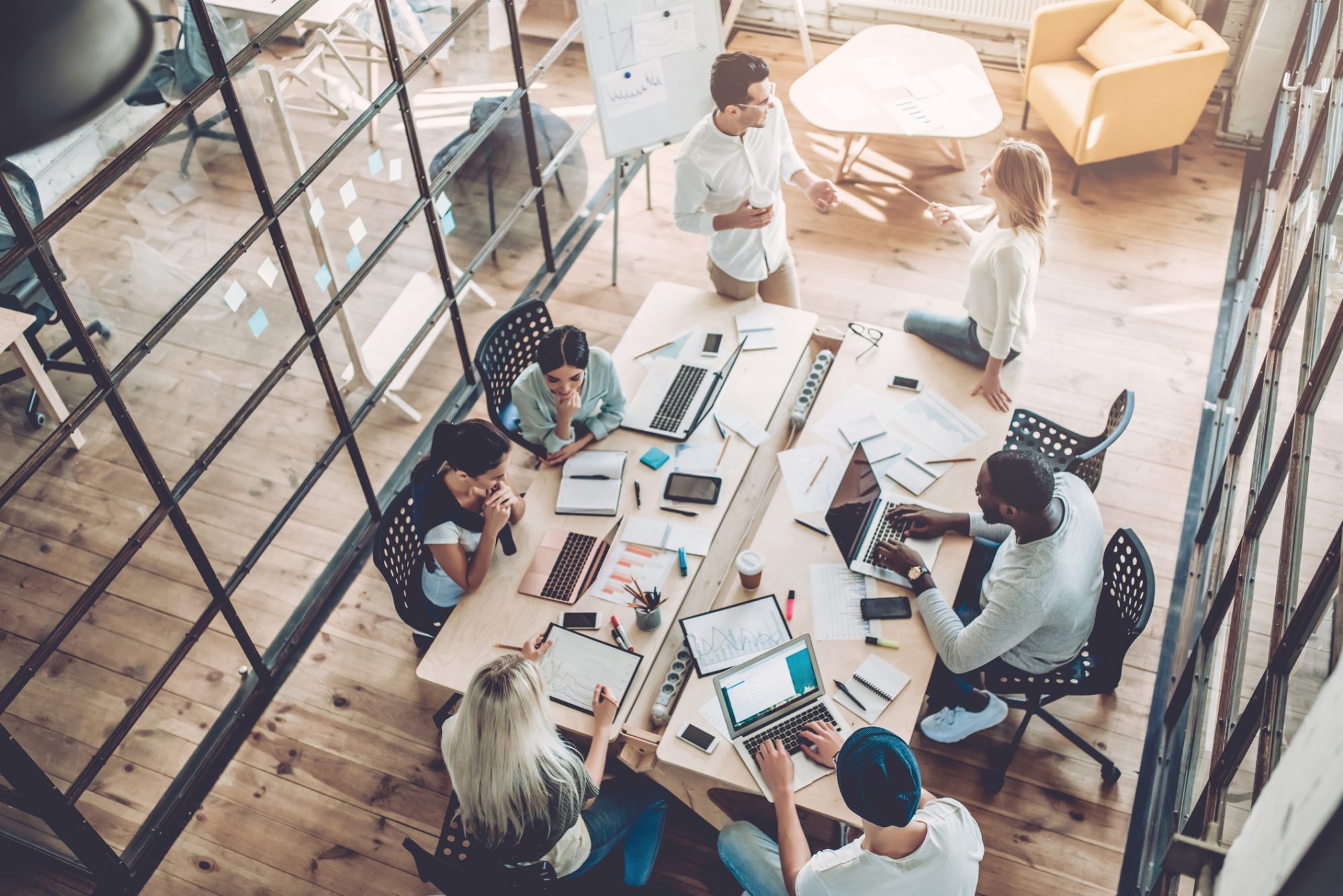 Austin is home to a number of key technology firms, ranging from Apple and Amazon to Meta Platforms (Facebook) and Google. These top tech companies have been pioneers in the city's bustling industry. Their business solutions, enterprise software, and cutting-edge technologies all create countless job opportunities for those living in Austin while also assisting with Development within the area's technological scene.
Dell Technologies has gone above and beyond when it comes to driving innovation within this space (one that would not be as advanced without them) while creating great prospects for local citizens looking for roles related to technology. In turn, these leading tech companies have elevated Austin to its status of being such an important hub regarding modern advancements made in the field.
Apple
Apple's significance in Austin is unmistakable, with a sizable campus and countless employees devoted to creating pioneering products and services that have an optimistic effect on people's lives. As the foremost international player in consumer electronics and computer hardware sectors, Apple has centered its efforts within Austin around crafting cutting-edge technology that equips individuals globally to remain connected as well as reach their objectives.
The commitment from the company to progressiveness and benefit can be seen by way of its plan for development in Austin – it filed plans to expand office space there. This implies ongoing dedication to the tech scene at Auston along with a craving for growth.
Amazon
Amazon is committed to making Austin an epicenter of tech and innovation. Their plans include creating 2,000 new jobs and leasing office space for their forthcoming tech hub, which will open in early 2024. These efforts show how serious they are about investing in the city's digital landscape, all while prioritizing customer experience through advanced technologies that simplify life. Already established with over 7,000 employees in the area, Amazon has shown itself dedicated to improving people's lives through innovations inspired by a laser focus on giving them superior satisfaction when engaging with its services or products.
Dell Technologies
Headquartered in Round Rock, TX, and led by CEO Michael Dell, Dell Technologies is among the best technology companies in Austin. This major player offers a vast range of computer hardware products together with software solutions as well as after-sales services. They focus on hybrid cloud technologies, high-performance computing approaches, and social impact initiatives that have driven their success over recent years: hitting an impressive $101 billion in revenue for FY 2022 alone. All units across all regions saw significant growth during this time period according to Q3 results which go towards showing why it's held within such esteem throughout the tech scene locally here at home!
Meta Platforms (Facebook)
Meta Platforms, the parent firm of Facebook, is continuing to expand its operations in Austin with a focus on providing interactive experiences via virtual and augmented reality. To prove their commitment to this city's tech industry, they have secured an entire tower that encompasses 589,000 square feet across 33 floors for office space. Through these efforts, Meta Platforms has become one of the main private-sector employers around here offering lots of job opportunities and career advancement prospects for those interested in tech professions from all over Austin.
Google
Google has made an impressive investment of $9.5 billion in its regional headquarters and presence in Austin, Texas, which is part of the tech giant's global network. This includes a downtown office facility that serves as a showcase for their commitment to this city's technology sector.
The company designed their office with elements inspired by the local area such as artwork from local artists on display along with comfortable meet-up spaces and even a rooftop café offering beautiful views plus outdoor recreation like dog parks available nearby too!
Their focus goes beyond providing competitive salaries and benefits, but also inspiring work culture to entice potential employees interested in joining Austin's vibrant tech community into the Google workforce.
Emerging Tech Companies in Austin, TX
Austin is a hub of emerging tech companies that are leading the way with their innovative startups and ambitious scale-ups. These businesses offer fresh technology solutions across different sectors, spurring advancements within Austin's booming tech sector.
Let's delve deeper into some of these pioneering enterprises in Austin, which could have far-reaching implications for the entire industry as they push to revolutionize it further. This city has become renowned for its cutting-edge technological advances. By looking at such examples we can gain an appreciation for just how important technologically advanced initiatives like those found here can be in driving success when it comes to becoming a major player on the international stage – allowing them to secure themselves firmly as one of today's most sought after digital hubs worldwide.
Innovative Startups
Austin is brimming with various cutting-edge startups, all focused on innovative solutions and technologies across many industries. Some of the more renowned ones are Umbra Space, BlackLocus, Sprig, and Everyware – each being pioneers in areas such as artificial intelligence (AI), robotics, or cloud computing systems. This reflects the city's vibrant technology sector that keeps gaining attention from investors around the world.
These pioneering companies have set out to transform Austin's tech landscape, if they continue their success streak, this could easily become a reality! Their promising projects guarantee breakthrough ideas for years to come and will create new opportunities both locally within Austin and beyond its borders.
Promising Scale-ups
Several scale-ups in Austin are making a significant impact in the tech industry with their innovative products and services, leading to remarkable growth. Many of these companies stand out as some of the best tech businesses around including Fox Robotics, Homeward, ICON, Cart.com, Elevate Brands, Arrive Logistics, EverlyWell, and SparkCognition.
These impressive firms are catalyzing not only Texas' technology sector but also showing how efficient an environment it can be for rapidly growing startups across numerous industries. For those looking for career paths or investment opportunities, there is ample potential here at these flourishing organizations that have set themselves up to become future leaders within their respective fields.
The city continues to support this development by providing ever more resources while simultaneously raising awareness about all its own burgeoning scale-ups such as Molecula demonstrating just what success awaits ventures willing to venture into uncharted waters.
Tech Companies in Austin: Employment Opportunities
Austin is a hub for technology with countless tech firms providing ample prospects and professional paths. From software engineering to data analysis, the range of positions available in Austin's innovative tech sphere stretches far beyond these fields, and so too do its associated career opportunities. To help job seekers make the most out of their search in this vibrant sector, we have broken down some key skill sets required by many of Austin's leading IT employers as well as various tips on how to find success when looking for roles within them.
In-Demand Skills
Tech companies in Austin are searching for professionals who possess the skills necessary to excel in today's tech world. This includes software development, data analysis, cybersecurity, network engineering, web and mobile app development, as well as computer systems engineering and information security analysis. All of which can give job seekers an advantage over other applicants when applying to top tech firms within the city.
With these specific technical abilities being highly sought after by many different companies – from innovative start-ups to leading providers of enterprise software – honing such coveted expertise is essential if you want your application at a renowned technology company considered seriously. Staying aware of current industry trends will also increase one's chances so that one might stand out above others vying for roles such as software engineers or similar positions available with a respected tech business located here in Austin.
Career Growth and Development
Tech companies located in Austin, TX provide numerous career development opportunities to their employees. These include professional programs like classes, seminars, and conferences where professionals can refine existing skills while also learning about the most recent trends within the industry.
On top of that, these tech firms typically offer a competitive salary rate coupled with health insurance plans and retirement benefits for eligible staff members. Flexible work schedules are an additional benefit that is often provided by such businesses, creating a positive environment for personnel growth and success.
All together, this makes working at one of Austin's technology-centered companies an attractive employment options. Giving those who seek advancement or progress various avenues through which they can cultivate their careers.
How to Land a Job at a Top Tech Company in Austin
Securing a job with one of the major tech companies in Austin can be challenging, but those who employ effective strategies and prepare thoroughly have a better chance to excel among other applicants. To this end, networking connections are key. Along with refining your job search tactics and readying yourself for interviews. In the next section, we'll provide helpful advice on building meaningful contacts, using different techniques when looking for jobs, and preparing adequately for an interview so you improve your chances of landing that top-notch tech company position in Austin.
Networking and Job Search Strategies
Making connections and employing diverse job search tactics can improve one's chances of securing a role at a top tech company in Austin. It is essential to network when searching for employment, as this assists with making relationships with potential employers and other professionals within the industry, which may reveal job opportunities or grant invaluable knowledge about it.
To network, candidates should also investigate various strategies such as scouring online boards, visiting company sites, and leveraging social media networks so they can expand their chances of finding openings that line up perfectly with both their abilities and passions.
Preparing for Interviews
Gaining success in an interview with a prominent tech firm from Austin requires diligent preparation. This includes researching the company, rehearsing possible questions, and making sure your resume is up-to-date and targeted to that exact job post. It's beneficial for applicants to come ready to discuss their accomplishments thoroughly as well as have thoughtful queries prepared for prospective employers – showcasing both enthusiasm and commitment toward working there. By being attentive about prepping ahead of time one can boost their chances of acing the meeting thus obtaining employment at this top-notch tech business in Austin.
The Future of Tech Companies in Austin, TX
The tech industry in Austin is burgeoning, with companies continuing to develop new technologies such as artificial intelligence and smart contracts. Companies are also combining enterprise functionality like customer relationship management for more innovative solutions. Thanks to the city's supportive business environment and skilled workforce, it remains an attractive choice for both larger established firms and startups alike seeking growth opportunities, despite heightened competition over resources including talent pooling that could create challenges along the way. All these factors indicate a promising future for thriving tech businesses operating within Austin's boundaries.
Emerging Technologies
Tech businesses based in Austin are investing heavily and researching cutting-edge technologies such as AI, 5G, and the Internet of Things. These advancements have the capacity to transform industries dramatically while at once generating new career paths for those within this sector, which makes it a very desirable place for anyone involved with tech companies.
As these modern technologies continue advancing, we can anticipate even more innovation being done that will solidify Austin's reputation as an important hub in terms of technology development thus encouraging people from outside areas to come work there or invest in said field.
Potential Challenges and Opportunities
As the tech industry in Austin grows, challenges like competition for talent and resources to stay up-to-date may arise. With a supportive business atmosphere that promotes collaboration and creativity along with access to abundant qualified personnel as well as top venture capital firms, Austin provides suitable conditions for its tech companies' growth opportunities.
Continuing to gain recognition within this sector due to desirable factors such as quality of life. Attracting prominent figures from around the world into their ranks, the city continues evolving itself into an acclaimed destination where technology advances thrive over time.
Summary
Austin's business environment offers ample support for tech companies, from the large and established to those still growing. Its ability to attract top players in the industry is enhanced by its talented workforce and high quality of life. Creating abundant opportunities across a range of disciplines within this sector. This, coupled with strong indications that there will be Progress ahead, makes Austin an undeniable force among US tech hubs today.
Frequently Asked Questions
What major tech companies are in Austin Texas?
Austin, Texas is known as 'Silicon Hills' because of the presence of several tech companies such as Adobe, Electronic Arts, NVIDIA, Salesforce, Apple, Dell, Google, and Tesla which benefit from features like a low-income tax rate and reasonably affordable living.
What tech companies have HQs in Austin?
Austin boasts a wide range of respected tech companies, such as AMD, Amazon, Apple, and ARM Holdings. Cisco and eBay all call the city home too along with ESO and Facebook while Google resides close by to IBM. Indeed is based there with Intel present at NXP Semiconductors. PayPal has a presence along with Procore which operates from Silicon Labs plus Texas Instruments operating out of Oracle Corporation. Visa can be found here along with VMWare while Microsoft exists even Away within Silicon Valley's famous Tier-1 hubs.
What companies are in Austin Tech Hub?
Austin's tech hub is home to many renowned technology employers, including Dell, 3M, HP, Google, Applied Materials, Xerox, and Cisco Systems. This unique setting makes it a perfect spot for cutting-edge global innovation.
The companies here provide stimulating job opportunities with attractive salaries and benefits. They are the engine of technological progress as well as introducing new products into the market constantly.
This vibrant city features an inviting culture surrounded by diversity, surely contributing to Austin being highly regarded within its industry ecosystem!
Is Austin Texas a tech hub?
As one of the world's leading tech hubs, Austin, Texas is widely acknowledged for its dynamic environment comprising startups and tech giants who are pushing boundaries with their inspiring entrepreneurial spirit.
What factors contribute to Austin's thriving tech industry?
Austin is an ideal destination for tech businesses and professionals due to its robust business environment, educated workforce, and superb quality of life. It offers something unique to entities big or small. Whether they are established firms or just starting out.
The city boasts a talented labor force combined with ample opportunities for leisure activities such as outdoor recreation spaces, cultural attractions, and various entertainment venues, all adding up to making this place special in so many ways!