Explore the Best Austin, TX Master Planned Communities in 2023
, Aug 21, 2023
Residents of Austin, TX have the chance to experience a resort lifestyle by living in one of its best master-planned communities. Offering an excellent balance between city convenience and natural serenity (along with beautiful landscapes and amenities), these planned neighborhoods are perfect for people who want to live comfortably yet still enjoy life's many advantages! With numerous options available throughout the Austin area, you will definitely find something that fits your needs perfectly when exploring all that is offered among these quality master-planned enclaves.
Short Summary
Discover top master-planned communities in Austin, TX with resort-style amenities and a sense of community.
Explore urban, hill country, or lakeside living in award-winning neighborhoods offering access to outdoor activities and modern conveniences.
Research carefully to find the right master-planned community for you based on lifestyle preferences and needs.
Discovering Top Master Planned Communities in Austin
Austin offers a variety of master-planned communities designed to appeal to different lifestyles and preferences. Residents can enjoy the convenience of being close to essential stores, restaurants, and entertainment options while also having access to downtown Austin through pocket parks and swimming pools found in these areas. Easton Park is an urban-planned community located just minutes from the city center with over 350 acres of green space along with its amenity center for residents' enjoyment. Avery Ranch in northwest Austin provides top-rated schools coupled with outdoor activities nearby, Steiner Ranch houses a family-friendly2 resort that lets those residing there take advantage of surrounding lakes plus nature reserves nearby, Belterra in Dripping Springs blends together city life features like multiple home styles while allowing one to experience 1,600 acres nature reserve as well open spaces which are all reached via The acclaimed Austin Business Journal. All this makes living here more affordable than staying in any other comparable city.
Easton Park
Located in the vicinity of downtown Austin, Easton Park is a city-planned neighborhood offering residents an urban lifestyle with access to natural beauty. With more than 350 acres of lush open spaces such as Bryan Park, Knob Hill, Union Park, and Skyline Park plus amenities like fitness centers and event venues, this resort-style community provides everything you need for relaxation or recreation.
The hub at The Union also offers locals plenty of social interaction opportunities by hosting live music concerts among other activities so that everyone can come together regardless of their age group or interests. There are even playscapes designed specifically for children's fun!
Nestled in the northwest corner of Austin, Avery Ranch provides easy access to downtown and a wealth of outdoor recreational opportunities. Situated 20 minutes from downtown, this golf community is perfect for those who want city life as well as natural beauty nearby. It includes an 18-hole 226-acre course at its eponymous golf club plus swimming pools, tennis courts, and various bike trails that wind through Brushy Creek Park, Kelly Reeves Sports Complex, Morningside Park, and others. Schools within the Round Rock & Leander Independent School District are top notch too!
Steiner Ranch is an ideal location for those seeking peace and numerous amenities. Situated in the Austin area's southwest region, Steiner Ranch has attracted young families with kids who value safety, stunning natural scenery, and offerings such as several pools that have direct access to Lake Austin plus community centers equipped with tennis courts, basketball courts and multi-purpose athletic fields.
The surrounding landscape offers a range of homes from ranch styles to waterfront Tuscan estates ranging from low $500K up to expenses over three million dollars according to property selection. There are miles of trails where you can hike or jog as well as holiday events held by the park making it truly a beautiful place with engaging activities which make this setting a highly desirable destination home choice!
Belterra, an impressive 1,600-acre master-planned community situated in the city of Dripping Springs, offers a variety of homes and amenities with plenty of outdoor activities. This vast development is composed of different neighborhoods such as Aspen Hills, Canterbury Hills, Grafton Oaks, and Lexington Place which all boast unique characteristics like distinct home styles for its residents.
In this wonderful area, they can take advantage of many facilities including pools & splash pads dedicated to recreational purposes. There are multiple parks & miles-long trails available for hikers, plus Belterra Village which has retail stores together with other services on offer to guarantee a perfect lifestyle experience for those living here. What's even more amazing is that Austin Business Journal awarded it Best Master Planned Community at the local level so far! Plus, school district-affiliated -Dripping Springs Independent School District – makes sure kids have great educational opportunities too. All these elements make Belterra something you simply must check out if ever visit around!
Experience Resort-Style Living in Austin Master Planned Communities
Master-planned communities in Austin, Texas provide their residents with a resort-style lifestyle. These neighborhoods include many luxurious amenities such as fitness centers, spa facilities, golf courses, and walking trails for those who enjoy outdoor activities. Parks are also included to facilitate neighborhood gatherings or just hang out with family members or friends while taking part in community events like farmer's markets and art shows organized by the homeowners' association from time to time. All this is meant to deliver an exceptional experience that would otherwise be found on vacation but can now be experienced within one's own home, offering convenience alongside security which is beneficial for all involved parties.
Community Centers
Residents of master-planned communities in Austin can take advantage of the state-of-the-art community centers located throughout these neighborhoods. These facilities offer many services and amenities for all types of interests, including meeting rooms, swimming pools, fitness centers with tennis courts and basketball courts, as well as outdoor recreation areas such as walking trails or playgrounds. Some notable examples are Easton Park at Avery Ranch, Steiner Ranch by Lake Travis, and Circle C Ranch. Forest Creek near Highpointe and Lakeside at Tessera on Lake Travis. Community Centers provide a hub where neighbors come together to socialize while taking part in group activities and utilizing all that their luxurious area has to offer.
Fitness Centers
Living and staying healthy can be made simpler in Austin's master-planned neighborhoods, which offer up-to-date fitness centers among other amenities. These spaces provide a selection of features including weight machines, cardio equipment, group exercise classes, and personal trainers to their members.
The community gyms available within these communities make it easy to stay active while also offering the chance for residents to socialize with others who may have different interests or levels of expertise when it comes to fitness. Whether you prefer an intensive workout routine or just some time spent doing relaxing yoga postures, this option allows people living in such areas to keep their health maintained without leaving the area they live in!
Outdoor Recreation
Living in an Austin master-planned community provides plentiful opportunities to embrace the outdoors. These areas are home to parks, trails, and sports facilities for residents of all ages – perfect spots for physical activities as well as social events and gatherings.
Outdoor recreation choices vary from hiking or biking along dedicated paths right through to leisurely visits at playgrounds or visiting one of the local pools within these communities – great ways to enjoy nature while remaining close to your neighbors! And if that wasn't enough, there are plenty more options with complexes offering a wide selection of sporting pursuits too.
In short, no matter what you're looking for when it comes to outdoor enjoyment, living in one of the city's premier master-planned neighborhoods will give you ample opportunity to make every day count, rain or shine!
Embrace Nature in Texas Hill Country Master Planned Communities
The Texas Hill Country, situated in Central Texas, is renowned for its spectacular landscapes of rolling hills and valleys. Three master-planned communities – Deerbrooke, Crystal Falls, and Santa Rita Ranch – are specifically designed to embrace the beauty that nature has bestowed upon this special area. Residents who choose these locations will enjoy modern convenience while being surrounded by natural surroundings such as lush greenness paired with rivers reflecting sunshine from above.
These three master-planned places boast plentiful amenities plus a strong sense of community, which allows people to connect with Mother Nature's splendor just outside their doorsteps. Whether it be an outdoor activity like hiking through woodlands or fishing nearby waterways or simply taking in the view on one's property, it can all be enjoyed when living here.
Such harmony between manmade facilities and raw nature makes each day unique- no matter what you want out of life here you'll find peace within due Hills' inviting atmosphere. And yes! You'll get easy access via highways along so consider making your move now into any one of these splendidly blended havens right at the heart of the charming Central TX region aka The Hill Country.
Deerbrooke is a master-planned community in Leander that offers residents access to the incredible Texas Hill Country. Home styles, amenities, and outdoor activities all contribute to an extravagant lifestyle within beautiful nature surroundings. The community provides premium features such as a fitness center, recreational facilities, and even its own area for communal gatherings along with breathtaking views of the hill country landscape. Deerbrooke aims to give inhabitants unparalleled experiences when it comes to their leisure time while still maintaining convenience with easy accessibility from around the region.
Crystal Falls, located in Leander, Texas, is a master-planned community that offers residents stunning homes and world-class amenities surrounded by breathtaking natural beauty. With multiple housing types including single-family houses, townhomes, and condominiums, there's something to suit everyone's lifestyle needs.
The 18-hole championship golf course designed by Tom Fazio ensures the perfect experience for those who like their greens on an exclusive level as well as boasting tennis courts at its clubhouse alongside a swimming pool among other great features making it an attractive destination no matter what your idea of outdoor fun may be.
All these characteristics make this luxurious master-planned development offer unparalleled recreational activities while being one with nature – whether you're looking for tranquility or plenty of action opportunities Crystal Falls has you covered!
Santa Rita Ranch, found in the city of Liberty Hill, is a serene suburban master-planned development offering different house designs and outside activities for inhabitants to delight in. This incredible place has been granted "Community of the Year" three times by The Austin Business Journal – making it one of the most successful master-planned communities located within proximity of Austin.
The community offers several facilities like swimming pools, playgrounds, fishing ponds, and other open-air recreations that make up its rural Texan Hill Country setting. Not only this, but Santa Rita Ranch gives those living there an opportunity to reside amidst nature peacefully while being near alluring views provided by Texas' hillsides.
Urban Living Meets Master Planned Communities
Residents of master-planned communities such as Mueller and Goodnight Ranch can enjoy the best of both worlds: urban living convenience with all the amenities offered by a modern, planned community. Offering housing options from single-family homes to apartment complexes. There are plenty of shopping, dining, and entertainment opportunities within their boundaries. These two areas provide an attractive lifestyle for those seeking out city convenience coupled with quality planning. In this way, they blend together perfectly so that residents are able to make full use of each feature's advantages without any sacrifices being made on either side.
Mueller is an urban center located in North Austin, constructed on a former airfield and renowned for its green philosophy. This contemporary, eco-friendly community offers plenty of housing options such as single-family homes, apartment buildings, and 140 acres of open areas to stroll around. The town boasts pedestrian-oriented layouts which are attractive for young families seeking city living with environmental responsibility standards built into the plan. With these features all working together, residents can have easy access to transportation solutions plus comfort at home within their own unique neighborhood full of vibrant activities appropriate to every taste or need!
Goodnight Ranch
Goodnight Ranch is a master planned development situated just 10 miles from downtown Austin, covering an area of 700 acres. It offers residents a perfect blend of city living and the advantages associated with being part of this community such as residential properties including single-family homes, condos, and commercial spaces to choose from. Along with these offerings, there are also various facilities in Goodnight Ranch for recreation like outdoor sports activities, fitness centers, and community centers so that everyone can enjoy themselves without leaving their hometown or having to commute into town. With its great location close by along with all these benefits, it provides one place where people get access to urban amenities plus those found within master-planned communities seamlessly combined together making it ideal for anyone looking to find both worlds easily accessible right here!
Lakeside Living in Austin Master Planned Communities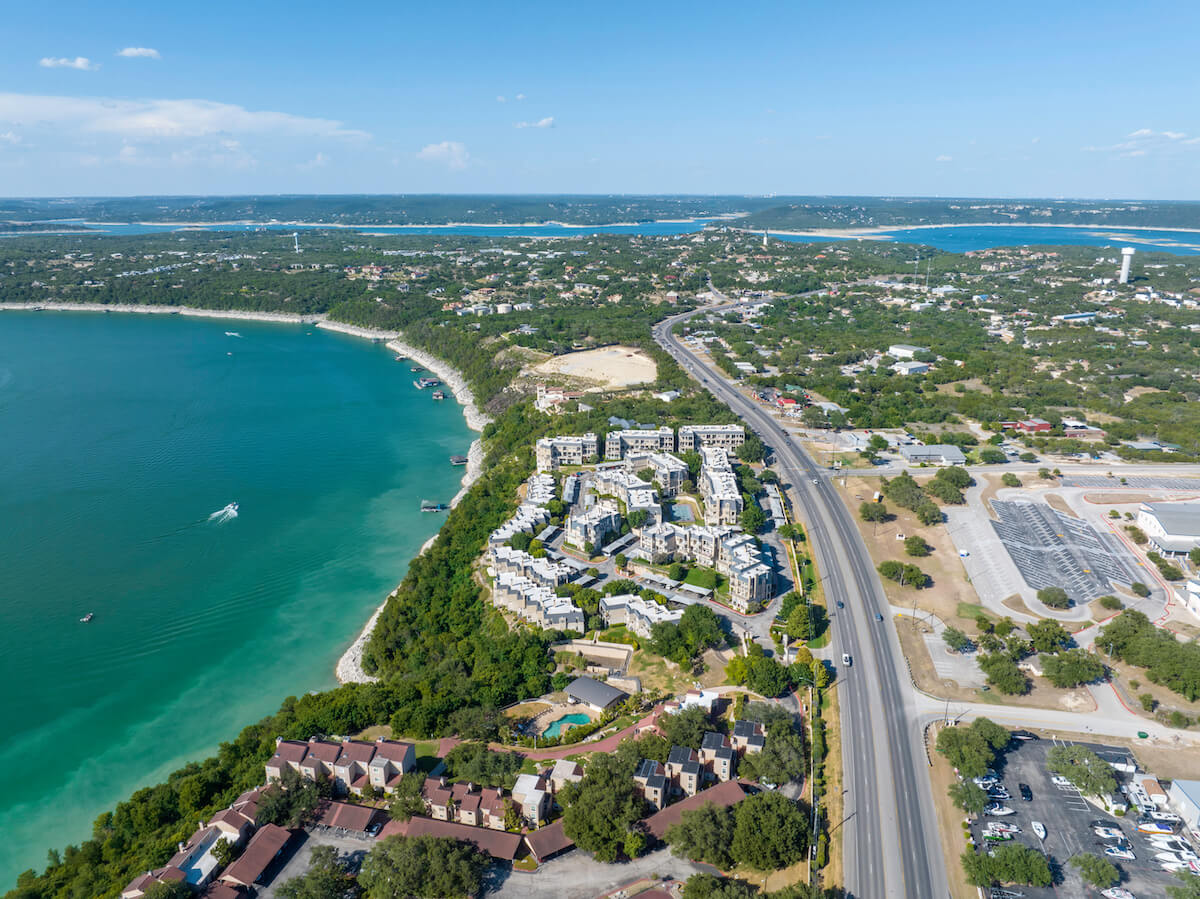 Residents of Austin's master-planned communities have the unique opportunity to take advantage of lakeside living. From Lakeside at Tessera to Westview On Lake Austin, both these environments are designed for outdoor activities such as biking and boating on the lake while taking in its majestic scenery.
These carefully planned towns offer a perfect balance between comfort and leisure when it comes down to enjoying nature at its finest without compromising access or quality amenities that come along with modern city life. Whether you're relaxing by tranquil waterfront views or exploring your surroundings through water sports adventures, there is something special about this way of living here in Texas!
Having easy access to idyllic locations like these brings just one more element to why many choose to settle into an area specifically crafted around two elements: relaxation combined with recreation surrounded by the natural beauty found near scenic bodies of water – all within reach from master planned hubs located next door Lady Bird Lake (Lake Austin).
Lakeside at Tessera
Lakeside at Tessera is an award-winning community on the North Shore of Lake Travis that promotes outdoor living and waterfront homes. Residents have incredible views with easy access to a wide range of activities, such as biking, swimming, fishing, wakeboarding, or hiking.
The luxurious amenities also include a club near the lake edge where residents can relax by their pool's waterfall side or take in spectacular sunsets around its fire pit. This exclusive paradise caters to those who wish to be active outdoors while enjoying majestic scenery and moments next to this grand body of water!
Westview On Lake Austin
Residents of the Westview On Lake Austin neighborhood are provided a luxurious and tranquil lifestyle near beautiful Lake Austin. The area offers large lots, various home styles, and easy access to outdoor activities such as swimming in the community pool or playing tennis on dedicated courts located nearby. Shopping centers as well as dining options provide city convenience which blends perfectly with lakeside living for an ideal balance sought by many residents in this desirable residential setting.
Choosing the Right Master Planned Community for You
Selecting the right master-planned community for your individual needs, tastes, and lifestyle is an important choice. To discover a suitable place to settle down, it's crucial to:
Study up on various master-planned communities located in Austin
See how they relate to what you value in life
Check ratings online
Take tours around each one
Interact with those that live there so as to obtain information about every area.
Investigate the services offered by all potential communities prior when deciding which one best corresponds with where you want your life path headed by taking time into consideration before making such major decisions. You can locate the ideal master-planned living space customized to fit solely for yourself. One which will improve not only the quality of daily lives but also match with whatever matters most deeply!
Summary
Residents of Austin's master-planned communities enjoy a mix of convenience, luxury, and nature. From family-friendly developments offering resort amenities to modern urban options boasting sustainable design, or secluded lakeside havens, there is surely one that caters perfectly to all your needs. Explore these thoughtfully designed neighborhoods and experience the best life has to offer in vibrant Austin!
Frequently Asked Questions
What is the difference between a master-planned community and a regular neighborhood?
A master-planned community is a neighborhood structured with certain lifestyle benefits in mind, such as swimming pools, fitness centers, and parks. These amenities are intended to give people living there an improved quality of life due to their convenience and fostering a sense of community. Security within the area tends to be higher as it is usually fenced off or monitored too.
The layout for this type of environment has been carefully thought out so that those features which make up the commune can best provide residents with comfort and leisure activities like recreational spots or exercise opportunities from gyms etc. Essentially creating more than just somewhere they reside but instead makes them feel at home while also giving them various services not available in other neighborhoods without planning from scratch ahead of time – known technically as 'master planning'.
Are master-planned communities more expensive than urban areas?
Master-planned communities offer a great value and atmosphere, merging the convenience of city living with peaceful outdoor settings. Such residential areas are well-known for their various recreational opportunities, like parks, trails to take walks on, or playgrounds that make them very attractive places for families seeking relaxation. These types of neighborhoods have reduced crime levels compared to metropolitan regions.
What types of amenities can I expect in a master-planned community?
Residents living in master-planned communities have access to a plethora of amenities, such as community centers, swimming pools, fitness facilities, and golf courses. All these recreational opportunities give homeowners the chance to stay healthy and engage with their fellow citizens through events and activities that are often held by these neighborhoods.
Apart from providing an environment for residents where they can interact socially together. Those who live in organized settlements also benefit from having nearby parks which enhance not just leisure but overall quality of life standards too. Master-planned locations also offer other key perks such as convenience due to proximity – people enjoy being able close-by points like grocery stores without ever leaving the vicinity of their homes or larger master-planned complexes!
How do I choose the right master-planned community for my needs and preferences?
Investigate all the local master-planned communities to determine which is most suitable for your lifestyle, desires, and requirements. Spend time researching so you can make a prudent choice. Examine each of the master-planned developments in your region relative to your way of life, tastes, and needs before selecting one that meets them best. Don't overlook any pertinent details about these organized districts while making up your mind as this will help ensure you pick wisely.
Are there any lakeside master-planned communities in Austin?
Austin is home to several master-planned communities with waterfront living and outdoor activities, such as Lakeside at Tessera and Westview On Lake Austin. These carefully constructed neighborhoods offer the perfect blend of convenience and relaxation for residents who want an idyllic lake lifestyle.