Things to Do Around Lake Austin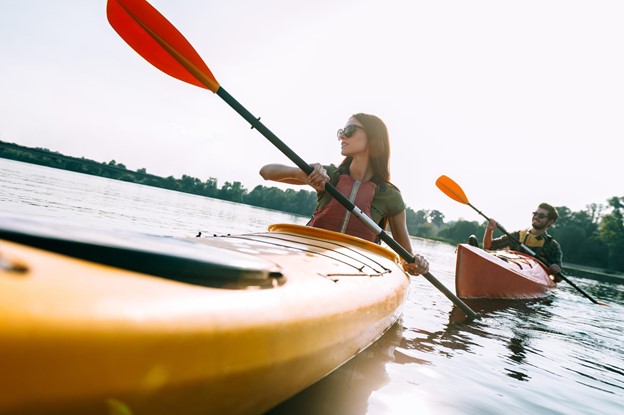 If you've recently moved to the Lake Austin area, you may be trying to find activities or fun excursions to participate in. After all, there's no better way to meet the community and nearby neighborhoods than by venturing out. Luckily, there are plenty of activities for a range of hobbyists — no matter if you love the outdoors or not.
Here are some of the activities — both on the water and the shore—  you can do around Lake Austin to help you fall in love with the area even further.
Water Sports and Activities
At nearly 1,600 acres, Lake Austin provides plenty of surface area for water-borne activities. Luckily, there are plenty of businesses and amenities nearby that can help you enjoy any water sports activity further. These include:
ATX Boat Rentals
ATX Boat Rentals has several locations, but its Lake Austin location provides plenty of rental supplies that can support any waterside adventure. Their convenient location is also near the downtown Austin area, so you can enjoy the local entertainment before or after your water sports adventures.
Barton Springs
Barton Springs, a naturally-occurring hot springs, is one of the best places to relax and have fun with your family. Here, children can play and swim while you enjoy the scenic surroundings. It's a unique place where there are no distractions of boats or other water sports that are disturbing. Even if you come as a couple, you'll enjoy that calming water, especially on that hot summer.
Float On Boat Rentals
Float On Boat Rentals is also another good option if you're looking for a boat rental, especially if you have little experience with driving boats. You don't have to ride a boat to enjoy it in Lake Austin. If you're not an experienced person, you have to rent a boat with a captain. However, if you are a pro, you can get one without a captain, and enjoy the cheaper prices.
Either way, when you rent your boat, you will be able to enjoy Lake Austin water sports of your choice.
Splash Boat and Ski Rental
From boats to jet skis, pontoons, and even water toys, Splash Boat and Ski Rental has plenty of water supplies available so you can have the best time of your life. If you happen to change your mind, you can also appreciate their 14-day cancellation policy.
These Lake Austin jet ski rentals require a person to be 18 and above to drive, and 21 and above for boats. Renting hours may start at two hours, and you can increase your fun time as much as you want.
Texas Rowing Center
For those that want a more relaxing waterside experience, Texas Rowing Center has plenty of kayaks, canoes, and paddleboards available for rent. If you're a lover of kayaks, there are plenty available for one or two people. With safety jackets, you can explore all these beautiful sceneries with your friends or loved ones without distractions.
Wake Riderz
Whether you're hosting a fun birthday bash or a bachelor party, Wake Riderz provides piloted boat roads for any occasion. With this kind of boating experience, you can give your sole attention to your loved ones and the actual experience instead of worrying about the mechanics of boat safety.
Land Activities
Apart from watersports, you can enjoy a wide variety of land-based activities around Lake Austin. These activities include;
Lonestar Equestrian Center
Here you'll enjoy your favorite horse riding activities. Whether you're a skilled rider or not, their instructors will guide you through the entire process. The best thing is that this place has been offering these horse riding activities since 2007, so expect a lot of professionalism and expertise. This center also offers year-round lessons and instructional camps during the summer.
Maverick Horseback Riding
In addition, Maverick Horseback Riding company provides plenty of horseback riding adventures for any horse lover to enjoy. Here there are adequate horses for friends and family. With their skilled personnel guiding the way, you can explore the beautiful scenery around lake Austin.
Pennybacker Bridge
As one of the most iconic landmarks around the Lake Austin area, the Pennybacker Bridge is also more than just a beautiful sight. Whether driving, biking, or even walking; it's a perfect place for everyone. There are nearby cliffs, and you can access them easily through the sandy trail to get a better viewpoint of Pennybacker Bridge. During the evening, you can catch the sunset as you get the best views of Lake Austin.
Restaurants
There are also many restaurants in the Lake Austin area to enjoy your favorite meals. Take your pick from top chefs' seafood, tacos, and other popular cuisines. These restaurants include:
Hula Hut: Hula Hut is one of the restaurants that allow you to enjoy water scenery as you enjoy your meal. This unique combination of Mexican-Polynesian cuisine truly represents the melting pot that is Austin, Texas. The best thing about this place is the patio sitting area on the water.
Torchy Tacos: You can tacos virtually anywhere around Lake Austin, but Torchy Tacos stands out among the rest with their high-quality ingredients.
Abel's on the Lake: Here you'll enjoy any mixed drink with your favorite burger right off the scenic water of Lake Austin.
Shopping
There are many shopping centers around Lake Austin. These shopping places include;
Mira Vista: This is a one-stop-shop that you quickly access in Lake Austin. Here you can grab some food, go for a doctor's check-up or even get some clothes for hiking. The best thing is that there is ample parking, so you don't have to worry about leaving your vehicle in an unsafe place.
Lizzylu: This novelty shop provides gifts and cards that you can surprise your loved ones with when you're having fun in Lake Austin. In addition, you can shop for other things such as home décors and stationery.
Beehive: Both trendy and vintage clothes are available at this shop.