Tips for Transplanting Your Old Plants to Your New Home
, Mar 2, 2022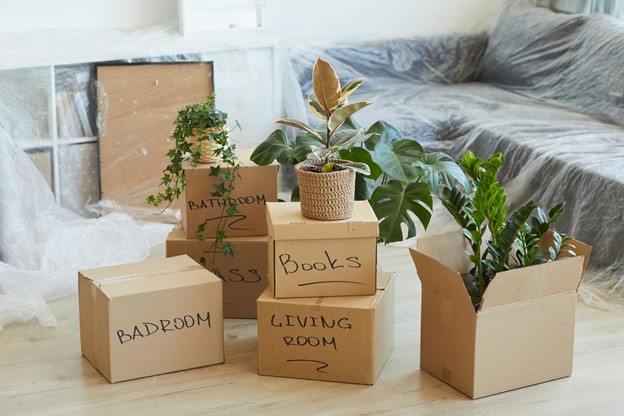 Whether you have a green thumb or not, there's no denying that plants add something special to your home. When you're ready to take that next step and move into your dream home, you may find yourself wondering how to move your plants and keep them healthy during the process. The answer isn't always simple, but there are some things you can do to help your plants adjust to their new environment.
Keep in mind that outdoor plants can be a little more difficult to transport as they are usually bigger and have deeper root systems. Therefore, there are various considerations such as the size of the root balls on your outdoor plants, sunlight during transport, and how to keep them watered while moving and buying a new home.
Let's go over some tips on how to move your plants with care, keeping them happy throughout the entire process.
Size up the Seasons
If you're moving in the summer, it's important to understand that moving your plants can be a little more challenging as the warmer temperatures and natural sunlight from outside may cause stress for those not used to it. It can help to give them a nice deep soak before you leave. This will allow their roots to be adequately hydrated when they're moved and increase humidity to protect against rapid temperature changes during transport.
That said, it's best to move your plants either before or after the summer months. If you can do so during the fall and winter months, it will be a massive help since these seasons offer natural shade from the heat and light, allowing your outdoor plants' roots to recuperate and grow new roots for next spring.
Consider the Climate
If your plants are used to the climate in one area, you should carefully consider how they will handle a change in climate after moving. For example, if you are buying a home in the southwest U.S. and you are moving and bringing plants from the northeast, there will be less rainfall and more sunlight and you'll need to adjust accordingly.
Some tips for climate adjustment:
Keep the root balls wet, and use a shade cloth to help protect plants from too much sun.
Orient your plants so that they get the most sunlight through the day while replanting them in soil rich with dark leafy compost, such as coffee grounds.
Be careful to avoid overwatering plants as they adjust. Remember that plants will need less water when moving from a cold climate to a warmer one.
If you're unsure how to adjust your plants for a different climate, you can always reach out to local gardeners in the area you're moving to and ask them for advice on how best to do so.
Understand Plant Differences
When it comes to moving plants, keep in mind that each sort of plant requires a specific amount of attention, has its own set of difficulties, and has different state requirements for inspection.
If you're moving plants across state lines, it's important to check the state laws and regulations for plant inspection and quarantine. Oftentimes, certain states require a plant inspection certificate if you're moving outdoor plants out of the area.
Invasive
Invasive plants are also often tightly regulated. Even if they're legal in your state, you might find yourself questioned about the plants' origins or why you're moving them into another area. Remember that invasive and noxious weeds are illegal in some states and must be carefully monitored during a move.
You can search for specific plant regulations at the USDA's Animal and Plant Health Inspection Service. Or check the Department of Agriculture website to determine which invasive species are legal in your area and what you need to transport them.
Prone to Pests
Keep in mind that some plants, such as tomatoes and certain fruit trees, often attract pests like aphids or spider mites. So while it may be tempting to bring your favorite shrubs and trees with you when moving, you'll need to consider whether the stress and shock of a move could weaken their immune systems and make them more susceptible to disease.
Optimal Growing Conditions
The ideal conditions for some plants aren't always the best for others. For example, cacti and succulents do better with less water, while tropical plants need a lot of it. So if you're moving from a place with optimal conditions for your outdoor plants to one with less favorable living conditions, you'll need to consider how this will affect your plants.
When moving with potted plants, be sure to keep them in their original pots so you can transport them carefully and avoid injuring the roots or stems. You'll also need to consider how different soil types will affect your outdoor plants. For example, if you have a plant used to growing in acidic soil, moving it to a place with more alkaline soil could kill it.
Additionally, soil conditions may vary whether you buy a house near the suburbs, a central city area, or a lakeside home. Environments can range from different temperature zones, light exposure, and humidity. In some cases, it might be best to find new homes for your outdoor plants rather than risk stressing them with a move.
Lifespan
When moving, it's essential to know whether the plant you're moving is a perennial or an annual. Annuals finish it in a single season, whereas perennials may live for three years or more.
You can move many perennials while they're in bud or even in bloom. Transplant on a cloudy day if possible to prevent the plant from losing moisture from its leaves. If you don't want to wait for the weather, transplant them right before sunset. This way, the plant can relax without being stressed out by a day of sunshine.
As for annuals, you'll need to consider these plants' life cycles. For example, if you're moving them before they finish their flowering stage, the new location's effect on those plants may be short-lived.
Plan How To Pack
As you prepare to move with your plants, remember that how you pack them will make a huge difference in whether they survive the trip. If possible, it's best to remove the plants from their pots and transport them in plastic bins or containers without any soil spillage. You can also wrap each plant individually with newspaper before moving them into cardboard bins.
Remember that all types of plants will benefit from some extra protection during their journey into the great outdoors or indoors, depending on where they're ultimately headed. Bubble wrap, cushioning peanuts, and shipping boxes are effective ways to protect your outdoor plants.
Other plant packing tips include:
Use landscaping fabric to wrap your pots for easy storage.
Consider using plastic-lined trash bags or cardboard containers to give indoor plants additional support when moving.
Be sure to line your moving boxes with a sheet of cardboard for extra protection.
Even if you have experience with moving, transporting outdoor plants can be stressful if you don't know what to expect.
Water, Water, and Water Again
Whether you're moving plants indoors or outdoors, remember to keep them hydrated throughout the whole process. For outdoor plants, it's best to water them several days before moving so they can absorb as much moisture as possible.
Keep indoor plants' soil damp and air humid while you're packing and during the journey. If the moving truck is hot and dry, place your plants in a cooler with some ice packs to keep them hydrated. When you arrive at the new location, water indoor plants immediately and place them in a shaded area until they can be placed in direct sunlight.
Pick a Time of Day
Since moving can be stressful for plants, it's best to move them during a time of day when they don't have as much sunlight or heat exposure. For example, consider moving your outdoor plants early in the morning before the sun is too intense. Or, wait until late afternoon after the sun goes down and the temperature cools.
Be Gentle
When moving your plants, it's important to be as gentle as possible. Any pulling or tugging on the plant's stems or leaves can stress them out and cause some falling leaves.
When Digging Up
Before digging up your plants, water them well. Then use a trowel to dig a ring around the plant, being careful not to cut any of the roots as you do so. Next, lightly pull at the plant to break it from the ground, ensuring that you get the whole root structure. If the root ball is very dry, make sure to soak it in water for a few hours before moving.
When Moving
When moving your plants, be sure to hold the stems and leaves as you transport them. Don't lift pots by their rims and avoid making sudden movements or jolts. Remember to place plants with similar requirements next to each other in the moving truck, and don't forget to check them regularly for any signs of stress.
If you happen to damage a plant during your move, have no fear. When you're taking good care of your plant at its new home, the damage will heal over time.
As for how you move your plants, it's generally best to move them yourself. Shipping and moving companies may not be familiar with the specific needs of your plants, making it more likely that they will suffer some sort of damage. Additionally, some companies don't allow plant transportation due to the restrictions and regulations surrounding the movement of plants.
When Replanting
Once you've reached your new home, take the plants out of their containers and soak the roots in water for an hour or two before replanting.
If you're replanting indoor plants, make sure to choose containers with good drainage. Also, remember that some plants may require deeper pots depending on their root structure. Finally, while you're at it, consider adding new soil or peat moss to the bottom of the pot before replanting your plant.
If you're replanting outdoor plants, place them in a shady or sheltered area for a few days. The added sun exposure may stress the plant's leaves and reduce overall health.
As you replant, use tactics that will protect the plant from further damage, such as placing a layer of landscaping fabric around the root ball to keep it secure or lightly patting out air pockets to let the water do most of the settling.
When Monitoring
Check your plants regularly for signs of damage or stress, and tend to any problems as soon as they arise. If a plant is too stressed from moving, it may take weeks, months, or even years to regain its health — so always keep up with regular care.
If a plant is dropped or falls during the moving process, it's okay to trim off any broken leaves and allow the plant time to heal. If a leaf starts to turn brown in a spot that wasn't previously damaged, just cut it off.
Other ways to salvage plants that don't transplant include:
Take cuttings from the plant before moving and replanting those.
Keep the rooted plant in the pot with some fresh soil or fertilizer to keep it alive, then replant later on when you have a larger space for it.
Transplanting is a delicate process that takes time and care to be successful, but it doesn't have to be stressful. With these tips, you'll be moving plants successfully in no time.