4 Major Health Reasons You Should Live by the Lake
, Mar 2, 2022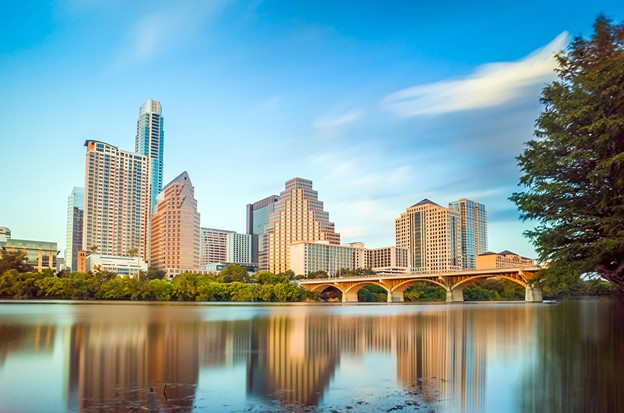 The state of Texas is noticing a major increase in its population, and Austin is no exception. Many cite an increase in job opportunities, relatively affordable real estate, and lower taxes in comparison to other states. However, one thing about it that's always been popular about Austin is the nearby lakes.
Though lakefront property is an appealing way to socially distance without being too cooped up, regardless of the reason, deciding to buy a new property can lead to browsing numerous listings in a variety of locations. Looking at photos of lake life make it seem glamorous, but there's actually more to it than the beauty. In fact, living by the lake is good for your mental and physical health.
Let's take a look at some of the ways lake living can improve your overall health.
1. Air Quality
If you've ever gone on vacation to a lake or beach, you probably noticed that the air just felt fresh and clean. This is because water can charge the air with negative ions, helping your body absorb oxygen easier.
Clean, fresh air is especially helpful for people with lung conditions such as asthma. However, increased oxygen flow to the lungs is beneficial to our bodies in many other ways.
For example, it can improve your digestive system, blood pressure, and heart rate. Fresh air helps your immune system by improving the functionality of your white blood cells as well.
The most well-known benefit of fresh air is the boost it gives to your mood and concentration. Both sunshine and fresh air increase our serotonin levels, which is the chemical messenger in our bodies associated with happiness and stress.
2. Outdoor Activities
Speaking of health benefits, exercise is essential to your health as well. Ever notice how happy (and tired) you feel after a satisfying workout? An increase in your mood is one immediate benefit to exercise.
Physical activity also helps prevent cardiovascular disease, lowers your blood pressure, and improves cholesterol levels. And of course, the most frequently talked about benefit from exercise is weight management.
Most people know these benefits to exercise but actually trying to solidify a routine to do so can be intimidating. That's where living near a lake can come in. With lakefront property, there are plenty of options for outdoor activities.
Doing your physical activity outdoors can marry the benefits of fresh air and exercise. Fishing, kayaking, paddle boarding, and swimming are just some of the things you can do at the lake.
3. Sunny Conditions
Sunshine is one of the best mood enhancers, and it's completely natural. As we've mentioned before, sunlight boosts your serotonin levels. If you've ever noticed that you're feeling worse than usual in the cold or rainy months, the lack of sunlight is likely why.
Another benefit from the sun is Vitamin D, or the vitamin that's most associated with bone health. Keep in mind that you don't need a ton of time outside to reap the benefits of Vitamin D. Many experts say it only takes five to 15 minutes to get these benefits.
The sun can also help treat some skin conditions. According to the World Health Organization, UV radiation exposure can help psoriasis, acne, jaundice, and eczema in moderation. However, wearing sunscreen is still important to prevent sunburns and other sun damage. Overall, living in a sunny area can be beneficial to your health.
4. Calming Atmosphere
Stress can be taxing on both your mental and physical health. If you've ever experienced a particularly stressful time in your life, you'll know about the trouble falling asleep, the headaches, and the high irritability. Eliminating and managing the stressors can be difficult, but once you do you'll notice the improvements in your health. That being said, some places can be better for your mental health than others.
In many cases, living near a lake means that you have fewer neighbors and a greater connection with the outdoors. Being away from the noise and bustle of today's world can be a relief if you're already living a high-stress lifestyle.
Financial Investment
Consider how investing in a profitable property can contribute to reducing your stress. The value of your home in the future can cause you a lot of worries. It's important to remember that waterfront properties are considered prime real estate.
Living near the relaxing atmosphere of a lake is a rare but highly desired commodity. These properties can see a notable increase in value over time, especially if the property is well maintained.
Before buying property by the lake, you should inspect the land and waterline. These factors coupled with a desirable location will greatly determine how well the value of your home will hold up.
Lake-Life Considerations
Like house hunting in any other location, you should consider the places near your home and what you have access to. Living near a metropolitan city can give you increased access to healthcare, food, and activities for reducing stress, which is important for your mental health.
Here are some things to consider when looking at the cities near your desired property:
Are there any healthy dining options? If you're considering property by the lake to benefit your health, it's important to consider access to healthy food options. A healthy diet and appropriate exercise work together to keep your body strong and healthy.
Where could you go if a medical emergency happened? Would you have to travel far to find a specialist? Being located near a variety of competent hospitals or specialists can help you prioritize and/or maintain your health.
What are the nearby roads and highways like? You should consider this not only for your own shopping convenience but also during inclement weather. Will poor weather make traveling difficult?
What kind of utilities are available to you? Some homes by the lake can have a private septic system rather than a public sewer. Determining if you're in charge of your own sewage is essential for budgeting and home maintenance. Look into the service options for electricity, cable, and internet. Living away from the city can make these utilities more expensive than usual.
What are the closest options for schooling? If you've got children, scoping out the education options is pretty important. Ideally, your family will receive the best education they can with a reasonable commute time.
Regardless of where you live, a balanced diet and adequate health care are important for your health. When you consider pairing them with all the health benefits we've listed here, a lake home can b a great option for someone who is willing to relocate to benefit their health.