Schools in Round Rock, TX: Top 10 Best Schools in 2023–24
, Sep 18, 2023
If you are situated in Round Rock, Texas, and seeking a great school for your child, the impressive offerings of the Round Rock Independent School District should be highly considered. This district is famous for its inclusive learning environment as well as the top-tier academic institutions spread throughout the city. In this post, we aim to shed light on these schools' distinguishing features while also providing insights into their accomplishments. Hopefully aiding parents when making such an important decision about their children's education.
Key Takeaways
Round Rock ISD is an A-rated public school district with a diverse student population and an excellent reputation.
The district offers specialized programs, extracurricular activities, Gifted & Talented Programs, sports teams, and more to foster learning and development.
Parent involvement is encouraged through initiatives such as volunteering opportunities and parent-teacher organizations.
Exploring Round Rock ISD: An Overview
Round Rock ISD is a public school district situated in Round Rock, Texas, and home to 34 elementary schools, 11 middle schools, as well as 6 high schools. The 2018 accountability score given by the TX Education Agency was an A grade while it scored 91 on its TEA STAAR component scaled assessment.
The student population of Round Rock ISD reflects diversity with enrollees hailing from various ethnic backgrounds including White, Hispanic, Asian American, and African-American communities along with students who come from multi-racial families. To nurture such a multicultural atmosphere within the campuses of this large district, anti-bullying strategies have been implemented coupled with extensive staff training which promotes cultural awareness thereby creating a welcoming inclusive environment for all children attending these educational institutions.
Round Rock ISD's Reputation
Round Rock ISD is held in high regard, obtaining both 'excellent' and 'very good' rankings. An example of this strong school system can be seen at Round Rock High School – a public institution placed 1,062 nationwide. This excellent standing has become an attractive feature for many families relocating to the city due to its superior educational opportunities.
Diversity and Inclusivity
Round Rock ISD is an outstanding district that values diversity and inclusion, striving to make sure every single student feels included. In order for students' needs to be met, the school offers a multitude of services including counseling sessions, mentoring programs, as well as support groups.
By providing these resources, Round Rock clearly demonstrates its commitment to each pupil's overall well-being within this wonderful district.
Top 5 Elementary Schools in Round Rock
Round Rock ISD is home to some of the finest elementary schools around. These top 5 institutions – Cactus Ranch, Canyon Creek, Laurel Mountain, Patsy Sommer, and Elsa England – offer superb educational experiences that focus on excellence for students from different walks of life.
The following section will explain why these are considered the best school choices in Round Rock when it comes to public education options. Everyone has something special going for them. Whether it's extra-curricular activities or well-designed curricula centred on student success.
By selecting one of these excellent primary learning facilities you can be sure your child is getting a solid foundation as they embark upon their academic journey in this beloved city!
Forest Creek Elementary
Forest Creek Elementary in Round Rock. Texas is known for its excellent academic achievements and dedicated teachers. It has been recognized as one of the top 30% of schools statewide with high scores on math and reading proficiency tests. The school provides a stimulating learning atmosphere through its committed staff who are passionate about education excellence. Parents can be assured that Forest Creek Elementary is an ideal choice to ensure their child's success academically within the state of Texas.
Great Oaks Elementary
Great Oaks Elementary in Round Rock. Texas is an outstanding option for families searching for a supportive school environment. With 726 students enrolled from Kindergarten to 5th grade, this small community prides itself on its unique approach to learning that promotes each child's individual abilities and talents. Great job! Oaks seeks to create a close-knit setting where kids can work together as they grow academically.
Anderson Mill Elementary
Located in Austin's Northwest area, Anderson Mill Elementary is a top-rated Round Rock ISD school providing students from PreK to 5th grade with an all-encompassing education. As part of the Dual Language program, learners are exposed to new languages and cultures. Making them better equipped for success globally.
This excellent school offers kids plenty of activities outside class which help sharpen key life skills as well as pursue hobbies they enjoy, truly a great setting for little ones!
Top 3 Middle Schools in Round Rock
Round Rock ISD offers three outstanding middle schools – Walsh, Canyon Vista, and Pearson Ranch. All of these facilities provide a variety of qualities that meet the individual needs of their students as they progress through elementary school to secondary education.
To gain an insight into why these Round Rock middle schools are so renowned. We will investigate the specific features each has to offer in order for families to make informed decisions regarding which one is right for them or their child(ren).
Canyon Vista Middle School
Canyon Vista Middle School, located in Northwest Austin, Texas, is widely known for its strong academic standards and remarkable STEM programs. Educators at this school aim to provide students with the right skills needed to face current technology-driven times. From teaching them robotics engineering to coding, these classes offer a diverse set of experiences aimed at fostering growth in pupils.
This institution offers an outstanding learning environment as well as all the necessary resources that will help families achieve their goals when it comes to providing their children with quality education.
Cedar Valley Middle School
Cedar Valley Middle School, a school situated in Austin, Texas, is dedicated to helping its students realize their potential and attain academic success. It provides an accommodating learning atmosphere along with various clubs and sports that allow scholars the chance to delve into activities beyond regular classes.
The educators and personnel of this Texas institute are keen on creating opportunities for individuals seeking extracurriculars within their interests while encouraging them through stimulating support.
Walsh Middle School
Located in Round Rock, Texas, Walsh Middle School is renowned for its hardworking teachers and their steadfast devotion to student achievement. With a wide array of curriculum options as well as various extracurricular activities provided at the school, pupils have many avenues to explore Growth and Development within themselves. Parents can actively participate by way of volunteering or even joining any parent-teacher organization present – thus creating an engaging learning environment that promotes collaboration among everyone involved. At Walsh Middle School, excellent education is prioritized over all else, making it one of the top choices for middle schooling in Texas.
Top 2 High Schools in Round Rock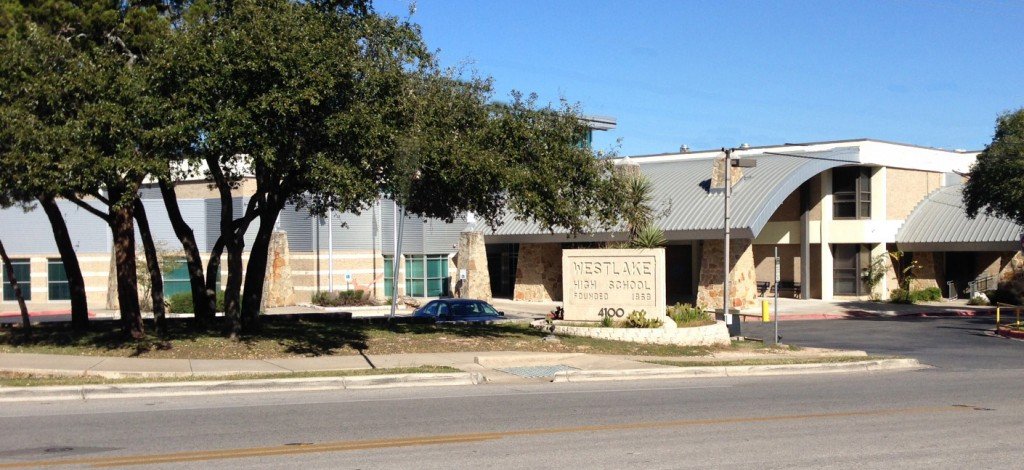 As your kid is on the brink of enrolling in a high school, it becomes imperative to find one that meets their needs. For this purpose, we present you with two remarkable institutions located within Round Rock ISD – Westwood High School and Round Rock High School. Both are extremely respected centers offering varied superior courses alongside various extra-curricular activities for the students' flourishing growth.
So now let's explore what these marvelous learning spaces have to offer individually!
Westwood High School
Westwood High School, situated in Austin, Texas, is renowned for its educational excellence. Its academically rigorous course offerings include International Baccalaureate® and Advanced Placement® programs. Combined with a low student-teacher ratio of 16, students receive personalized attention from their dedicated educators. This exceptional high school also boasts competitive sports teams that challenge and engage pupils throughout their learning journey at Westwood. The combination of these characteristics makes it one of the most sought-after institutions for secondary education in the Austin/Texas area as well as beyond!
Round Rock High School
Round Rock High School in Texas is a great option for your child's education and offers various specialized programs to cater to different student interests. There are also plenty of opportunities for parents, such as volunteering or joining parent-teacher organizations, that make the Round Rock TX community stronger by promoting collaboration. This helps create an atmosphere that supports high academic achievement among students at this outstanding school.
Specialized Programs and Extracurricular Activities
To the curriculum that Round Rock ISD schools already offer, they provide extra offerings and activities to cater to a variety of student needs. This includes Early Childhood Special Education Services, Special Olympics participation as well as Speech and Language Pathology Services in order for all students within Round Rock ISD to be given assistance towards their academic journey or any personal success goals. These various programs being made available by this district help ensure the growth of its students through enriching experiences.
Gifted and Talented Programs
In Round Rock ISD, students are presented with the opportunity to delve deeper into their interests and talents within Gifted and Talented Programs. These programs not only support high-achieving students in boosting critical thinking skills but also help them express creativity through collaboration among peers. These specialized activities offer a platform for learners to reach their highest potential while exploring new territories of learning. This program provides an enriching environment that aids each student's growth as they navigate challenging courses pertinent towards building successful future outcomes.
Sports and Athletics
Round Rock ISD offers a wide selection of sports and athletic activities for students to choose from that combine recreation with competitive aspects. Students can locate an activity that is tailored to their interests, helping them remain physically fit while also teaching valuable life lessons such as collaboration, self-discipline, and tenacity.
Through the Round Rock district's programs, both team sports participation or individual ones are available. Either one encourages personal growth along with physical healthiness among students in this area.
Arts and Clubs
Located in Round Rock, TX, Round Rock ISD provides students with a variety of opportunities to explore their passions and interests. Arts programs such as Visual arts, Music Theater, and Dance allow learners to immerse themselves in creative disciplines. There are various clubs available that provide an environment for the development of essential skills. Debate Club through Robotics Club or Environmental Clubs, fostering meaningful relationships among fellow pupils at the same time. By participating in these activities offered by RRISD students gain enriching experiences that accompany them throughout their lives.
Parent Involvement and Support
Round Rock ISD schools rely heavily on the involvement of parents and their support for students' success. Studies have demonstrated that when parental participation in education is encouraged, academic achievement increases along with enhanced social abilities.
To facilitate parent engagement in student learning, Round Rock ISD has set up various programs such as family seminars, and citizen committees and also developed special activities suited to particular age groups. These are all aimed at helping parents become a part of their child's educational process too.
Volunteering Opportunities
Round Rock ISD provides opportunities for parents to get involved in their child's school experience. Parents can help out by participating in classroom activities with teachers, accompanying field trips, and engaging in sporting events or other programs. Becoming a volunteer is simple. Round Rock ISD has created a webpage containing information on the process of registering as one. Individuals interested are encouraged to visit this page for Details if they desire to become an active member within the community supporting education initiatives and events!
Parent-Teacher Organizations
In Round Rock ISD, Parent-Teacher Organizations provide a way for parents and educators to work together in order to better the learning experience of students. These organizations offer an avenue for people involved with education at RRISD—namely those responsible as guardians of students and teachers themselves—to communicate ideas that might improve student achievement.
By participating in meetings, lending help through volunteering, or taking part in fundraisers held within this district one is able to open up more possibilities between these two pivotal groups while also creating a warm atmosphere conducive to academic success among children attending Round Rock schools.
Great Round Rock Neighborhoods
Forest Creek | Vizcaya | Oaklands | Behrens Ranch | Mayfield Ranch | Cat Hollow | Teravista | Hidden Glen | Sendero Springs | University Heights | Stone Canyon | Siena | Sonoma | Paloma Lake
Summary
Round Rock ISD is an exceptional school district in the Round Rock area, providing students with a great education within its welcoming and supportive environment. The schools offer many unique programs to cater to each student's individual needs as well as lots of extra-curricular activities that can enhance learning opportunities. As well as this, there is a commitment to diversity & inclusion combined with excellent academic performance and strong parental involvement, which shows just why it provides such good standards of education.
Frequently Asked Questions
Does Round Rock TX have good schools?
Round Rock Independent School District is rated highly, earning an A grade from Niche.com and coming in as the 35th-best public school district in Texas. This renowned area serves up to 48,000 students with a student-teacher ratio of 15:1. Round Rock TX is one of the best schools around for families living there!
What is the ranking of Round Rock schools?
Round Rock ISD has earned a well-deserved A grade according to Niche.com, and is placed as the 35th best public school district in Texas – an impressive standing that demonstrates Round Rock's ability to provide families with exceptional educational options. School quality is certainly no issue here!
What schools are in Round Rock Texas?
In Round Rock, Texas, there are numerous educational institutions to choose from. These include Cedar Ridge High School and McNeil High School, as well as Round Rock High School and Risd Early College. Anderson Mill Elementary is also included in this selection along with Blackland Prairie Elementary, Bluebonnet Elementary, Brushy Creek Elementary C D Fulkes Middle School, Cactus Ranch Elementary Caldwell Heights Elementary plus Canyon Creek Elementary. Lastly, two other establishments available here for students are S T E P – Detention center and JJAEP (Juvenile Justice Alternative Education Program).
What school district is Round Rock in?
Round Rock Independent School District is located in southern Williamson County and northwest Travis County, Texas. It provides educational services to over 48,000 students from prekindergarten up to 12th grade.
What specialized programs are offered in Round Rock ISD?
Round Rock ISD offers a selection of tailored programs to meet the needs of their students, which include Early Childhood Special Education Services (ECSE), Speech and Language Pathology Services, Alternative Education as well as Special Olympics.