Popular Lake Travis Neighborhoods
nkats, Mar 7, 2022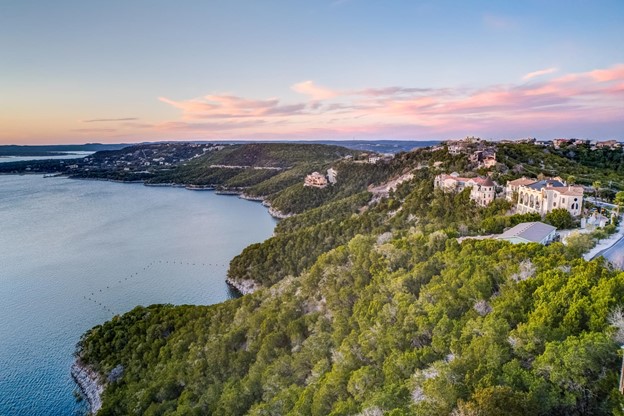 If you're looking to move to a new place, you'll benefit greatly from researching the neighborhood you are considering before you buy a home. Each community has its unique feel and offers different types of homes for sale.
One of the most important things you should research is any local amenities — especially those that occur outside if you're an outdoor person. If you're looking to move to Austin, look for areas close to Lake Travis— it's one of the most pristine lakes in Texas. It offers lots of great activities and amenities for locals and tourists alike.
You may assume that the most popular neighborhoods are around the water when you hear about Lake Travis. While this is generally true, several desirable communities aren't directly on Lake Travis. However, most of these communities offer amenities and proximity that make them incredibly popular with residents in the area. Consider a few of the most popular Lake Travis neighborhoods explored in this article.
1. Apache Shores
If you've been around the Lake Travis area, you may have seen Apache Shores. This neighborhood is especially trendy because it has direct access to Lake Travis, offers boat docks for residents, and has a park for picnics or hikes. It's a great place to live if you want to be close to the water without having a home directly on the lake.
Homes here are relatively affordable and offer a serene country feel.
2. River Place
River Place is an ideal neighborhood if you love gated communities and want quick access to Lake Travis. It isn't directly on the water but offers boat ramps for residents and has a clubhouse with pool tables, a fitness center, ping pong tables, a hot tub, and a sauna.
The homes in this community are built with the best possible materials and offer a wide range of amenities within each home. They also have a unique security system that makes residents feel secure when they're at home alone or away on vacation. This neighborhood is vast and has several different sections with varying prices and styles of homes, so you can easily find something to meet your needs.
3. Belvedere
Belvedere is another community that isn't directly on Lake Travis, but it has several amenities like pools, spas, and game rooms. It also offers covered boat slip storage for residents.
The area is gated, which can help provide residents with an added sense of security.
Lakeway is a popular community because it offers a safe environment to live with Lake Travis and the Colorado River nearby. It isn't as large as some of the other communities on the list, but its location makes it incredibly easy to access everything from shopping to dining out.
The homes here offer a range of different styles from condos to homes. It's also a great place to live if you have children because the local school system is considered one of the best in Texas.
5. Falconhead
Falconhead is a gorgeous community that isn't as large as others on this list, but it still offers plenty of desirable amenities like pools and spas. There are also some great trails for hiking and biking nearby.
It's easy to find homes in this neighborhood with various styles available.
6. Flintrock Falls
Homes in Flintrock Falls are priced pretty high, but they offer excellent amenities like pools with waterfalls and hot tubs lining the poolside. There are also several workout facilities on site.
The homes here are incredibly stylish yet cozy, so if you're looking for something modern, this area may be a good choice for you.
7. Lake Pointe
If you're looking for a community with an incredible view of Lake Travis, then Lake Pointe is the one for you. This neighborhood is surrounded by several bodies of water and provides residents with boat slips and direct access to trails and parks along the shoreline.
The homes here offer a range of different styles from ranches to homes with modern finishes. If you love the idea of having waterfront access but aren't entirely sold on living directly on Lake Travis, then this area is an excellent choice for you.
8. Rocky Creek
Rocky Creek is a neighborhood that offers homes with private boat storage and access to the community pool and fitness center. It's also close to various parks and trails for hiking, biking, or just exploring nature.
There isn't any public transportation available in this area, so you'll need a car if you choose to live here.
9. Rough Hollow
If you're looking for an area that focuses more on safety and offers amenities like pools, spas, and fitness centers, then Rough Hollow is the one for you. This community even has a 24/7 security guard patrolling to ensure that everyone remains safe while they're here.
They offer a range of styles, from condominiums to townhomes. This area is smaller than others on the list, so it tends to be more family-friendly for those with children or who plan to start a family in the future.
10. Spanish Oaks
Spanish Oaks is one of the most luxurious areas to live in Lakeway if you have a large budget. It offers everything from boat slips to pools and spas with beautiful views of Lake Travis. The homes here are more expensive than others on this list, but they're worth every penny because they also offer unique features like high-end finishes and solid wood cabinets.
You'll find that this area has a strict policy about rentals which can be good for keeping out unwanted neighbors, but bad if you want to rent out your property when you're not around to use it.
11. Steiner Ranch
If you're looking for a more traditional neighborhood feel, then Steiner Ranch is the one for you. The homes here are incredibly modern, and they've earned several awards for their beautiful designs.
There's also an on-site school if you choose to live here with your family or plan to have children in the future.
This is a community that caters mainly to retirees or those looking for low-maintenance living. It's perfect if you want to look out your window and see nothing but the woods surrounding you.
There is little public transportation here, so you'll need your means of getting around.
13. Sweetwater
This community is perfect for those who love the idea of having waterfront views but don't want to live directly on Lake Travis. The homes here are decorated with beautiful water views and are situated in areas where you can still enjoy fishing or kayaking even if you're not swimming right off your private dock.
While there's no pool or other amenities on-site, it's close enough to everything you need that you should be able to get by without them. There is a small amount of public transportation in this area and the Rough Hollow Country Club. This is for those who'd like to enjoy a round of golf from time to time.
14. Serene Hills
This area isn't too far from local restaurants and even has its golf course should you wish to enjoy a few holes. There's also no shortage of nearby hiking trails if you enjoy spending time outdoors or want to get away from the hustle and bustle of city life for a little while.
Houses within this area are within walking distance of great schools like Sweetwater Elementary and Bee Cave Elementary.
15. Lago Vista
This is a tiny area where most homes are situated right on Lake Travis. You'll see some beautiful views while taking a walk or driving through the neighborhood, and it's also home to one of the oldest scenic drives in Texas, which gives you plenty of reasons to spend your day outdoors.
You'll find that there are several amenities on-site, including a pool, jacuzzi, and tennis courts if you're looking to relax after a long day at work or want something fun to do with your family on weekends.
16. Hudson Bend
This is a very secluded neighborhood that will require you to drive at least 30 minutes outside of Austin, but it's worth the extra time once you see how beautiful your home here will be. The Hudson Bend homes can be more expensive than average, and even more for luxury estates near the lake.
You'll find plenty of natural beauty nearby for those who love to take long walks or spend time outdoors. There's also plenty of nearby shopping and restaurants if you'd rather stay home, but the drive there might be enough to convince you otherwise.
17. Reserve at Lake Travis
This is where you'll find the most luxurious homes on Lake Travis if money isn't an issue. The prices vary depending on your taste, but these are some of the largest houses around and come with every possible amenity you could want or need on-site, including several pools, game rooms, and even a butler's quarters.
There are also community events on occasion. That is if you want to get out of the house once in a while.
18. The Hollows
This secluded community requires you to drive at least 20 minutes to get here from Austin. There are only around 200 homes in this neighborhood, but it's well worth the hassle of finding your way out there once you see what it has to offer.
The homes typically come with several amenities on-site and beautiful views of the water. There's also a very high level of security here to keep you from worrying about anyone breaking in while you're home.
There are plenty of areas to live around Lake Travis, and while some may be more convenient than others depending on your tastes and local amenities, all of the homes here offer something worth checking out. Whether you're looking for a great selection of restaurants, family-friendly parks, or just generally have a good time  — you'll find exactly what you're looking for within the area; no matter which neighborhood you call home.
If you want a home near the water with plenty of amenities and a community feel, make sure to check out Lake Travis while you're searching for the perfect place to live in Austin.