Austin has been a boom town for decades due to our robust job growth. As long as we can remember, Austin has been listed as one of the "Fastest Growing Cities in the US" (and is often listed as #1.) Our high quality of life, relatively low cost of living, educated job force, and "weirdness" all contribute to this. However, Post-COVID has seen an unprecedented boom. Why?
Continued Job Growth
Tesla, Apple, Google, Facebook, Indeed, & VRBO are all companies who have increased their presence in Austin dramatically in the recent past. These are also all highly recognizable companies. You probably haven't heard of QSAM Biosciences, Eleiko, Alpha Paw, Sentry Kiosk, Ametrine, 8VC, Truelytics, or Digital Realty Trust. These are only a few of the "other" major companies who have relocated their HQ to Austin very recently.
https://www.bizjournals.com/austin/news/2021/02/08/these-headquarters-have-moved-to-austin-in-2021.html
Relative Affordability
Even though we're rapidly appreciating, Austin is still a relative bargain. It makes sense that we would be considerably cheaper than The Bay Area, Manhattan, or Seattle. The fact that we're considerably less expensive than Denver or Portland indicates that we have room to grow. More details are available here.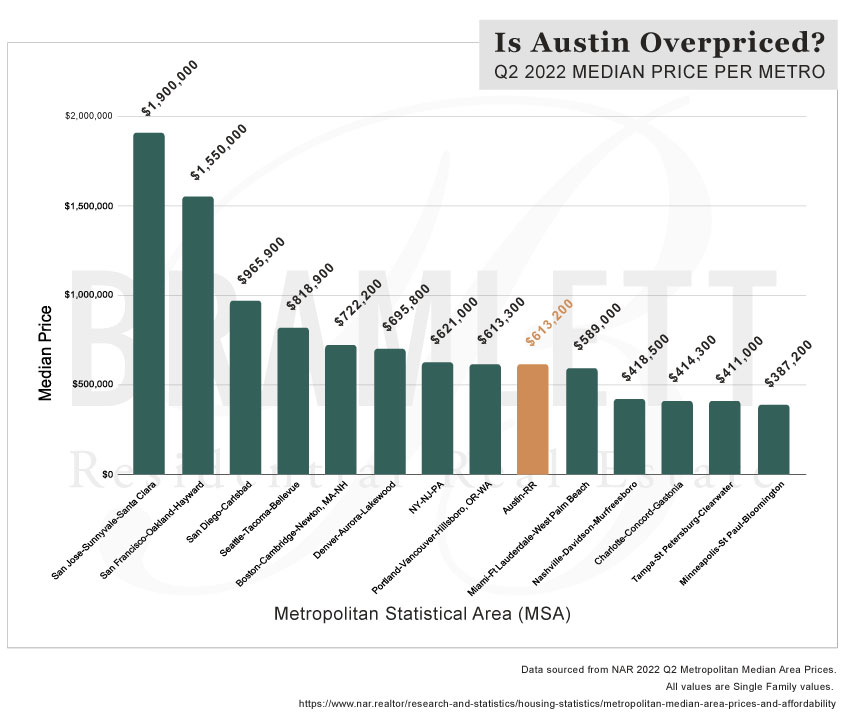 Historical Housing Shortage
Austin was already in a housing shortage before this recent boom. The broader market has consistently been in the <3 Months of Inventory range for 5+ years, which is considered a seller's market. We already needed to play catch-up prior to the boom, and the inventory problem has only worsened after the boom.
Lower Tax Burden
Austin has a comparatively high tax rate, but Texas has no state income tax. Many tech-heavy states (like California) have very high state income tax rates. When you compare the overall tax burden between Austin and these states, Austin wins by a decent margin.
Remote Workers
Due to COVID, many workers (and almost all tech workers) now work remotely, from home. Many tech companies have announced that this change will be indefinite and are allowing their employees to live anywhere in the US (or world) that they would like. These remote workers now place a high priority on physical space and are looking at less expensive markets where they can buy a larger home and still maintain a high quality of life. Austin tops many of their lists as an option. This demand is new and unexpected, and it was caused 100% by the changing dynamics caused by COVID.
Is Austin in a Bubble?
We don't think so. True bubbles are relatively rare in real estate markets. Beyond that, the buyers in Austin are largely owner-occupants with 20% or more down payment in their homes. These owners are unlikely to dump a property if there is a temporary flattening (or drop) in values. This boom is very different than 2007 (during which Austin fared incredibly well) and unlike any of the true bubble markets in Las Vegas, Phoenix, etc that did exist before the 2008 crash. More on this is available here.